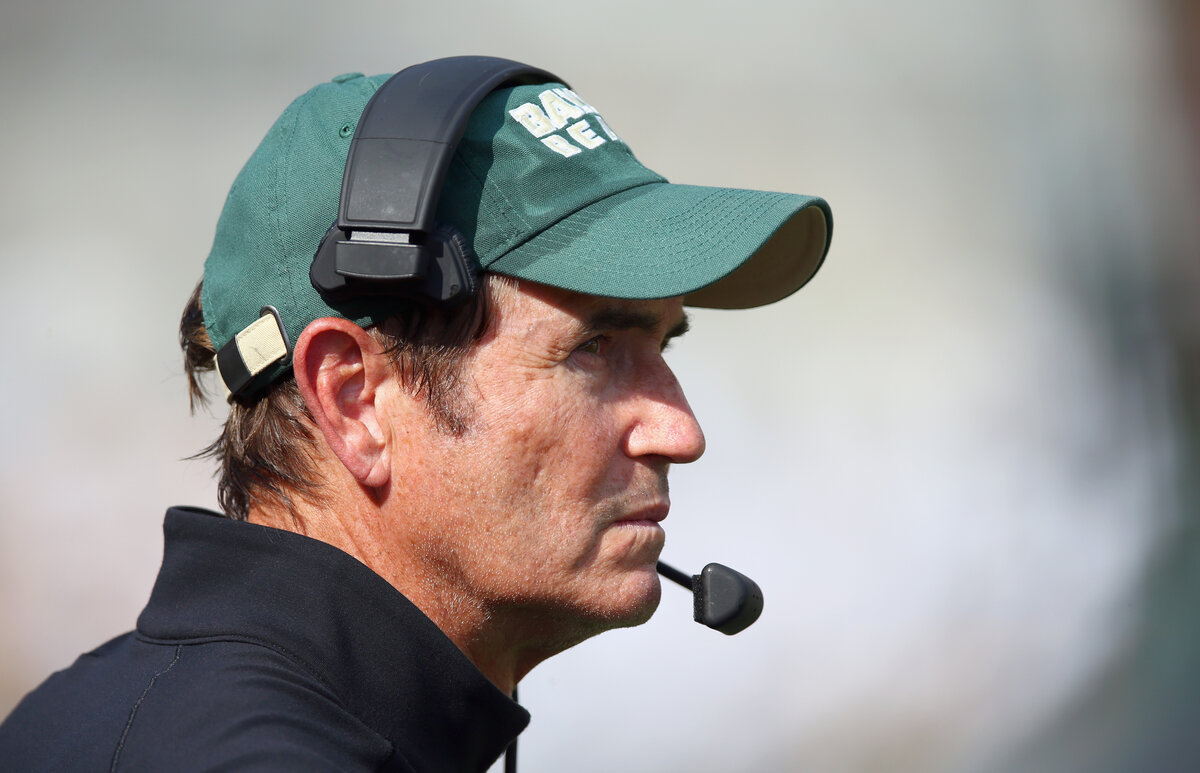 Disgraced Baylor Football Coach Art Briles Went Back to School to Land His Latest Coaching Job
A sexual assault scandal cost Art Briles his head coaching position at Baylor in 2016. Briles is now a successful high school football coach.
Time flies quickly, something former Baylor Bears head coach Art Briles can certainly confirm.
December 29 will be five years since Briles coached his last game at the college level. A successful coach at Houston and Baylor, Briles lost his job in the spring of 2016 for his alleged role in a sexual assault scandal.
Briles just can't stay away from football, though. Nearly five years since Briles last roamed the sidelines in a college football game, the veteran head coach — now working at a Texas high school — is returning to the public eye.
A sexual assault scandal cost Art Briles his job at Baylor
RELATED: Baylor's Sexual Assault Scandal Changed Everything for Patriots QB Jarrett Stidham
Related post url: 
It is impossible to talk about the good Art Briles did on the field without transitioning into everything that happened off it.
Across 13 seasons as a college head coach, Briles went 99-65 and won three conference championships. Two of those came at Baylor in 2013 and 2014, a time where Briles turned the Bears into one of college football's top programs.
Then came a sexual assault scandal that rocked the world.
Baylor fired Briles in May 2016 after an investigation revealed university officials covered up alleged rapes and other sexual assaults involving student-athletes.
According to ESPN, a 2017 lawsuit alleged 31 football players committed 52 "acts of rape." Briles lost his job, while school president Ken Starr, athletic director Ian McCaw, and Title IX Coordinator Patty Crawford each resigned amid the scandal.
Crawford told The New York Times earlier this year that the school, as a whole, had a sexual assault problem.
"It was overwhelming and football was definitely not the worst," she said.
Briles has not coached at the college level since then. His son, Kendal, is the offensive coordinator at Arkansas.
Briles took over at a Texas high school last year
RELATED: Art Briles Hired as Football Coach After Baylor Scandal
Related post url: 
After a brief stint coaching in Italy, Art Briles returned stateside in 2019 to coach Mount Vernon High School in Mount Vernon, Texas.
Mount Vernon went 8-3 last season and lost in the first round of the Texas high school playoffs.
The Tigers opened the 2020 season with six consecutive victories. Mount Vernon ended October with a 7-2 record.
Art Briles is returning to the public eye
RELATED: Robert Griffin III Is Convinced He Can Be an NFL Starter Again
Related post url: 
After several years of quietly going about his business, Art Briles is returning to the public eye and making his voice heard.
Clay Travis, the founder of Outkick, recently had Briles on his radio show. Travis has said numerous times over the years that Briles was unfairly fired and used as a scapegoat.
Outkick obtained documents that expanded more on the school's sexual assault problem. 
Outkick revealed that lawyers from Pepper Hamilton, the firm hired to investigate the allegations, found 100 allegations of sexual assault at Baylor. Depositions reviewed by Outkick found that eight of the 100 allegations involved athletes and five involved football players. 
Those lawyers and the Baylor board of regents "only discussed the allegations involving the Black football players," according to Outkick.
Tevin Elliott, a former Baylor linebacker, was the only Baylor player from the Briles era who received a rape conviction. Elliott is currently serving 20 years in prison for two rape charges against a former Baylor female student-athlete.
Another ex-Baylor player, Shawn Oakman, was found not guilty of rape after a three-day trial in 2019. Oakman played in the XFL earlier this year.
Briles told Travis that he is still bothered by the scandal and how many lives were affected. However, Briles is pleased that "some facts that would get out and clear my name."
Like Sportscasting on Facebook. Follow us on Twitter @sportscasting19.