Disgruntled Eagles Star Zach Ertz Could Find a Surprise Landing Spot in the NFC
Zach Ertz is still a member of the Philadelphia Eagles — a bit of a surprising reality for anyone who's been following the team over the past year.
Ertz has been connected to trade rumors as early as last year's offseason. However, no conclusion has been reached up to this point. Ertz has been active during training camp and the preseason. He currently projects to be on the Eagles roster for Week 1.
With that said, things can change in a matter of moments in the NFL.
Zach Ertz has been a popular trade candidate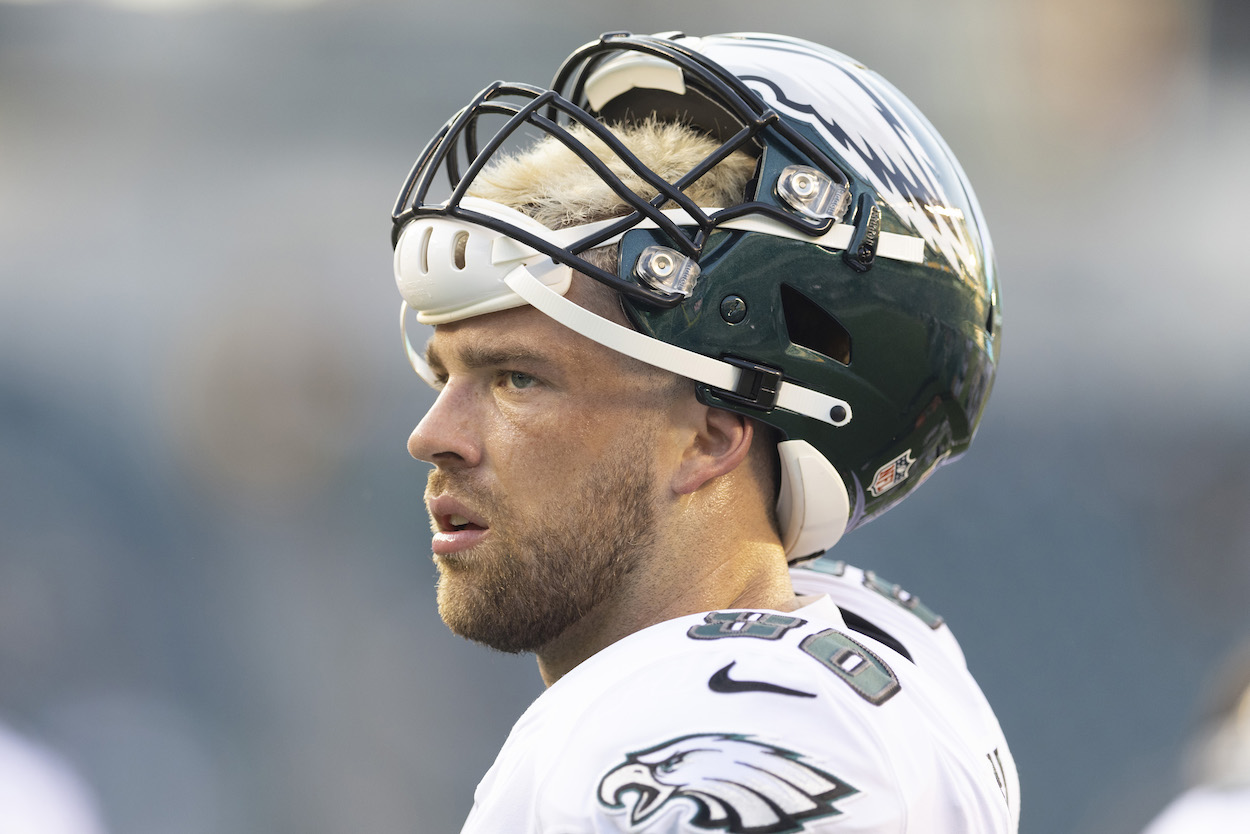 Ertz entered the 2020 season demanding a new contract extension. A demand that was failed to be met by Eagles general manager Howie Roseman. Ertz begrudgingly played out the entire season in Philadelphia, but not without controversy and confusion.
Ertz recorded his worst season in the NFL to date, only logging 335 receiving yards. Heavy trade rumors also picked up around the trade deadline regarding the star tight end's availability. The rumors failed to settle down during the offseason, as Ertz has been connected to numerous teams like Buffalo, Indianapolis, and Green Bay.
Obviously, none of those rumors came to fruition, but that doesn't mean the possibility of Ertz being traded before Week 1 is completely dead. The Eagles have a younger tight end in Dallas Goedert, who they're looking to build around, and one can only assume that Ertz and the Philadelphia front office still aren't on the best of terms. Outside of his personal failed contract negotiations, Ertz is also a close friend of Carson Wentz.
Ertz presumably wasn't happy seeing his buddy benched, traded, and then bashed by the city of Philadelphia.
Roseman has remained insistent that Ertz will be an Eagle this year, but as previously stated, things can change in a matter of moments in the NFL. Thus enters the all-of-the-sudden tight end needy Minnesota Vikings.
The Vikings desperately need help at tight end
Every year, there's always one team that experiences crushing injuries at a position, causing them to emerge as desperate trade partners.
Funny enough, this isn't the first time the Vikings would go begging the Eagles for help.
In 2016, the Vikings lost starting quarterback Teddy Bridgewater to a knee injury that forced their hand regarding the trade market. They offered a first-round pick to the Eagles in exchange for Sam Bradford, who had recently lost his starting job due to the arrival of Wentz.
Fast forward to 2021, and the Vikings and Eagles could be looking at a near-identical situation.
The Vikings lost TE Kyle Rudolph during free agency and are without Irv Smith and Tyler Conklin due to injury. They're desperate for help at TE, and Ertz still has top-five potential at the position.
It's improbable that Minnesota would offer much in terms of value considering Ertz's expiring contract and poor 2020 campaign. Still, a third or fourth-round pick feels like a reasonable return. That's reportedly been Roseman's asking price for Ertz dating back to 2020. The logic checks out on Philly's end as well.
Keep an eye on Zach Ertz at the trade deadline
If Ertz isn't dealt before Week 1, keep an eye on him at the trade deadline.
It makes little sense for the Eagles to hold onto Ertz for the entirety of the 2021 season. Finding a trade partner to salvage some value out of him makes sense. Whether that's with the Vikings or another team, only time will tell.
All stats courtesy of Pro Football Reference.