Karl-Anthony Towns Stubbornly Wants to Finish What He Started, Despite Rumors of Dissatisfaction
When the Minnesota Timberwolves sustained their latest self-inflicted wound in September with the firing of president of basketball operations Gersson Rosas, superstar Karl-Anthony Towns' three-letter response via social media sent shockwaves through the organization. The Timberwolves fired Rosas in the wake of internal strife within the office and an extramarital affair with a staff member outside it.
Towns was the No. 1 overall pick in the 2015 NBA Draft. Despite delivering two All-Star seasons and an All-NBA year in 2017–18, Minnesota has reached the postseason just once since drafting him. Making matters worse for the Timberwolves? That five-game loss to the Houston Rockets in 2018 was the franchise's lone playoff appearance since 2004.
The Minnesota Timberwolves are the NBA's worst team since 2004
In 2004, the Minnesota Timberwolves rode NBA MVP Kevin Garnett to the Western Conference Finals. There, they fell to the Los Angeles Lakers despite having the top seed. No team in the NBA has won fewer games since 2004–05 than the Wolves.
Minnesota has just two winning seasons since 2004, a 44–38 mark in 2004–05 and their 47–35 campaign in 2017–18.
The Sacramento Kings have matched an NBA record for playoff futility with 15 consecutive seasons without a berth. But even they have a better record since 2004–05 than the Timberwolves by a considerable margin. Only three teams have sub-.400 winning percentages in that span: the New York Knicks (530–822, .392), the Kings (531–827, .391), and Minnesota (485–865, .359).
Despite the presence of Karl-Anthony Towns, Minnesota isn't much better in the six seasons he's been there. The Wolves have a .399 winning percentage with Towns on this club, a bottom-five record in the NBA. Only the Chicago Bulls, Orlando Magic, Knicks, and Phoenix Suns have been worse.
Karl-Anthony Towns remains committed to the franchise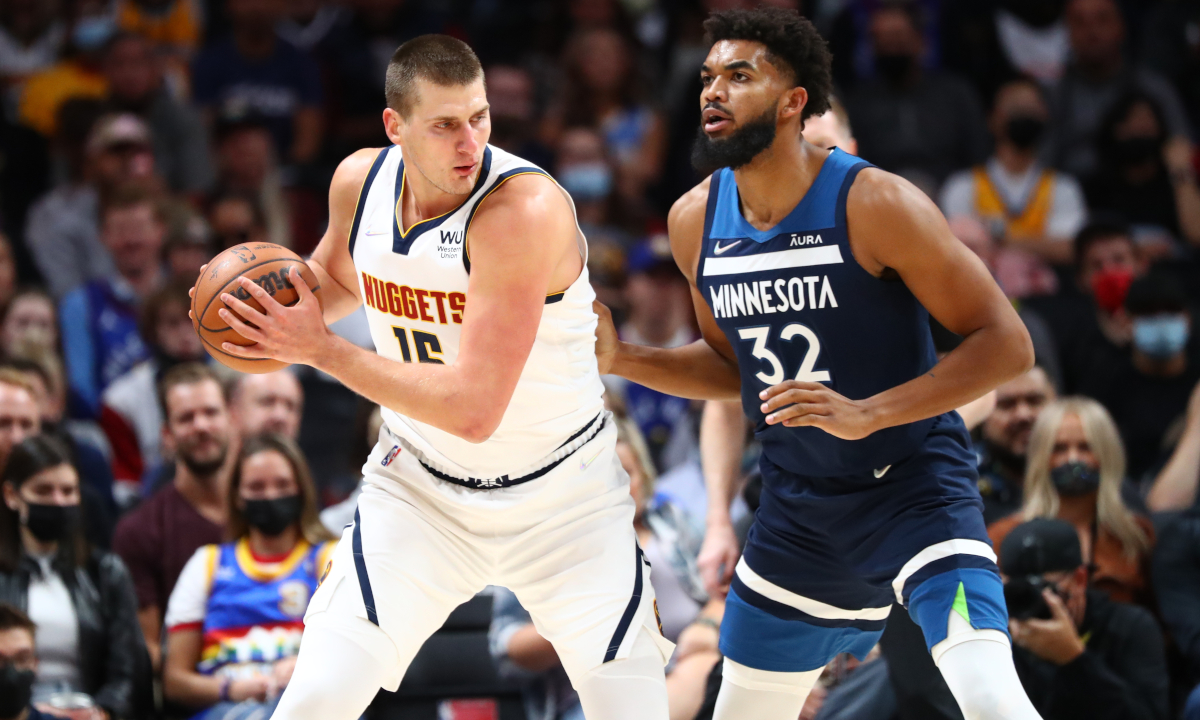 It's a gross understatement to say the last two years have been difficult for Karl-Anthony Towns. On the court, the Minnesota Timberwolves have gone 42–94, had a coaching change, are now on their third personnel director, and have rotated 29 players through an ever-revolving door in the locker room.
Off the court, Towns lost his mother in the early days of the COVID-19 pandemic. He's also missed 51 games due to injuries.
He's faced criticism because Butler and former coach Tom Thibodeau have had success since leaving the Twin Cities. The reigning MVP, Nikola Jokić, was a lowly second-round pick the year before Towns went No. 1. As he told Jon Krawczynski of The Athletic, Towns enters 2021–22 both angry and with things to prove:
"I went into this offseason mad as hell seeing my contemporaries in playoff positions with me home."

Karl-Anthony Towns
He also understands the way to turn it around isn't by accumulating more stats. Even in a sub-par year by his standards, Towns averaged 24.8 points per game last season. But he also shot below 50% overall for the first time. He also posted his worst 3-point shooting figure (38.7%) since his second season.
"I just always keep saying that I believe in winning," Towns said. "I don't know if people believe that statement, but I really meant it. And I really want to win here."
But have the Timberwolves put enough around their superstar to turn it around?
The pressure is on both Karl-Anthony Towns and the Minnesota Timberwolves
The Minnesota Timberwolves added talent last season with No. 1 overall pick Anthony Edwards, who played every game while averaging 19.3 points a night. Karl-Anthony Towns' longtime friend, D'Angelo Russell, is entering his third season in Minnesota. But he's been injury-plagued for most of his career. Last season, D-Lo played in just 42 games. He appeared in 12 of 14 games after he came over from the Golden State Warriors in February 2020.
Minnesota added defensive grit by acquiring veteran guard Patrick Beverley in August. But he was their only significant addition. Instead, the Timberwolves must look inward for improvement.
It starts with Karl-Anthony Towns. Despite his initial reaction to Rosas' firing, he doesn't want to leave the job unfinished with the Minnesota Timberwolves. Can that hunger and anger translate into more wins for a franchise desperate for them?
Statistics courtesy of Basketball Reference and Stathead.
RELATED: Karl-Anthony Towns Demands Kyrie Irving and Others Have a Good Reason for Not Getting Vaccinated: 'Just Don't Give Me a ****** Excuse Why'