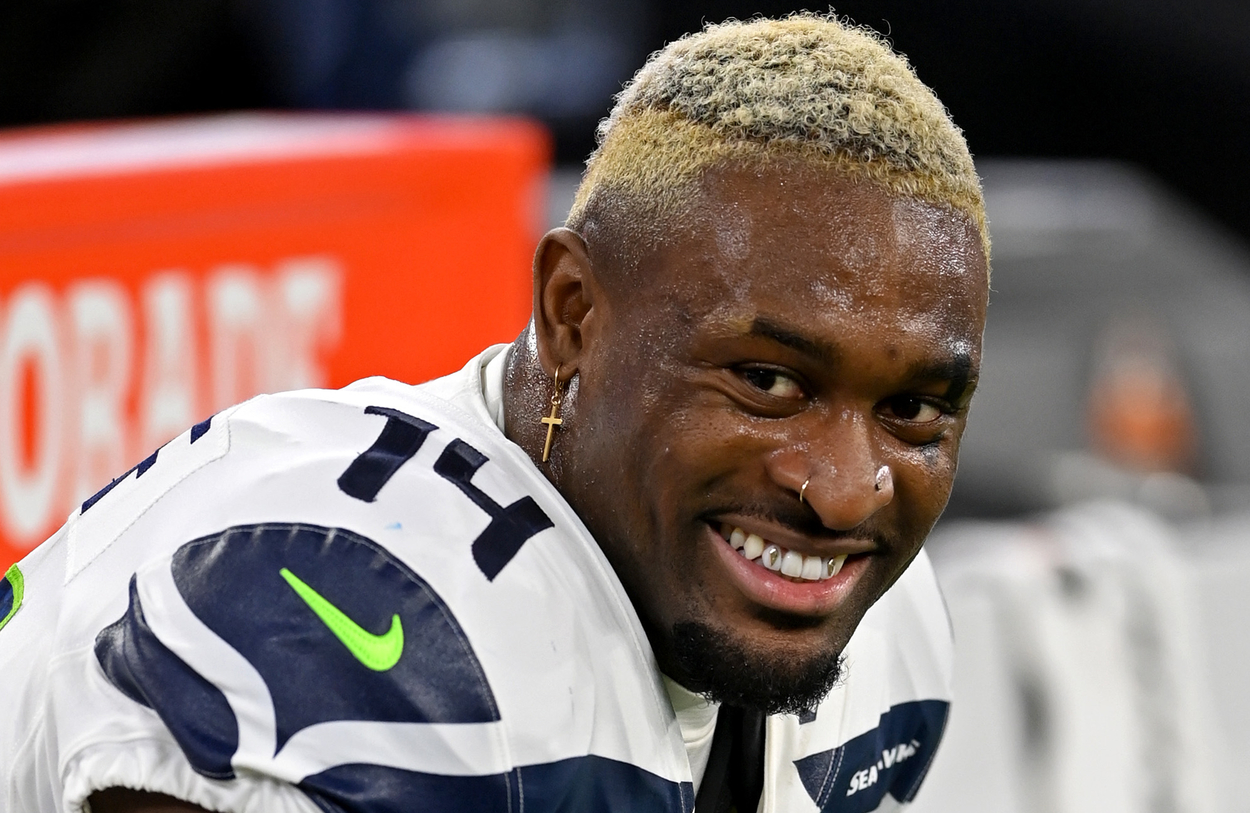 DK Metcalf: 3 Potential Landing Spots for the Seahawks' Star Receiver
Who should try to acquire Seattle Seahawks receiver DK Metcalf? Three teams, including a potential AFC Super Bowl contender, instantly come to mind.
The Seattle Seahawks have already ended the Russell Wilson era in an abrupt and shocking fashion. Whether or not star receiver DK Metcalf will be next to leave the Pacific Northwest remains to be seen.
Although the Seahawks have insisted Metcalf isn't available, the reality is that he's an established 24-year-old wideout entering the final year of his rookie contract. There will likely be at least one team, if not plenty more, willing to give up the farm and an extra cow for the Ole Miss product's services.
For this list, we are not going to put together cohesive trade packages. Instead, we will only focus on teams that should call the Seahawks and at least try exploring a potential deal if they haven't yet done so.
Based on consideration of the aforementioned prerequisites, the best teams in question stack up as follows:
Kansas City Chiefs
The good news in Kansas City is the Chiefs already have one Super Bowl trophy in the Patrick Mahomes era. However, the thought of the All-Pro quarterback eventually hanging up his cleats, permanently sending Jackson Mahomes to Mars, and walking away from football with only a single ring should trouble Chiefs fans until the next championship parade.
Metcalf's presence would certainly help the Chiefs' chances of winning another Super Bowl in the coming years.
Chiefs head coach Andy Reid has coached his share of superstar receivers, and Metcalf would join a pass-heavy team with arguably the league's top quarterback under center. Such a move would also keep the Ole Miss product out of the NFC, which could absolutely appeal to the Seahawks given the receiver's talent and age.
Metcalf also wouldn't need to worry about targets being divided up between him and Tyreek Hill, seeing as the latter now plays for the Miami Dolphins. Kansas City has the draft capital to make this happen, and as objective football fans, we're rooting for it.
New York Jets
The Jets tried going all-in to acquire Hill, and they only missed out when the Chiefs' star receiver decided he'd rather live in Miami and play for the Dolphins. Gang Green has also been linked to Tennessee Titans receiver AJ Brown — who the team has insisted they will not trade — and Metcalf in recent weeks.
The Athletic's Connor Hughes recently disputed a report that the Jets offered the 10th overall pick in exchange for Metcalf. However, such a move would make sense, especially if the Super Bowl 3 champions can keep the fourth overall pick and use that selection on an offensive lineman.
The 6-foot-5, 235-pound Metcalf would be a welcome addition to a Jets organization that hasn't made the postseason since he was 13 years old. A Jets offense featuring Wilson throwing to Metcalf, Elijah Moore, and Corey Davis would be capable of putting up numbers not seen since Ryan Fitzpatrick teamed up with Brandon Marshall and Eric Decker in 2015.
We apologize to Jets fans for making them read that sentence. Don't read it again. Save your eyes.
Philadelphia Eagles
The Eagles still own two first-round picks, and we get the feeling they'd be willing to give up one if it means landing Metcalf and signing him to an extension. Third-year quarterback Jalen Hurts is entering a pivotal season, and there would be no room for excuses if the dual-threat signal-caller failed to make the most of Metcalf as his No. 1 receiver.
It feels safe to suggest the Seahawks won't want to keep Metcalf in the NFC, and it is worth noting the Super Bowl 48 champions won't face the Eagles until 2023 — barring a showdown in the 2022 playoffs, of course. The addition of Metcalf would certainly help the Eagles' hopes of reaching the postseason for the first time since January 2020.
Coincidentally, the Eagles' last postseason game came against Metcalf and the Seahawks; the rookie hauled in seven receptions for 160 yards and a touchdown in Seattle's 17-9 Wild Card Round victory that night.
It's always interesting when things come full circle, isn't it?
Like Sportscasting on Facebook. Follow us on Twitter @sportscasting19.