Do Cam Newton and Andrew Luck's Short-Lived Primes Make Them NFL Busts?
After nine seasons with him as the starting quarterback, the Carolina Panthers are expected to release Cam Newton, according to ESPN's Adam Schefter. While the 2011 No. 1 overall pick has had a lot of success, Newton has struggled at times with the Panthers too. He is not the only quarterback to recently be selected No. 1 overall and to have success but also struggle, though. Andrew Luck was the 2012 No. 1 overall pick with the Indianapolis Colts and now Luck is retired. Because of there being high expectations for both quarterbacks, can we now consider them to be busts?
Cam Newton's ups and downs with the Carolina Panthers 
Cam Newton was a star rookie with the Panthers in 2011, earning Pro Bowl honors and the NFL AP Offensive Rookie of the Year award. Newton also played well in his second season but did not earn Pro Bowl honors. He and the Panthers struggled to win in those first two seasons, though, as they went 6-10 in 2011 and 7-9 in 2012.
Newton then went back to the Pro Bowl in 2013 and the Panthers were finally a good team. They went 12-4, ultimately losing in the Divisional Round. 
However, they took a step back in 2014, going 7-8-1. Newton missed two games that season and did not make the Pro Bowl. They still made the playoffs, though, and lost in the Divisional Round.
Then 2015 was easily the peak of Newton's time with the Panthers. Newton led Carolina to a 15-1 record and to the Super Bowl where they eventually lost to the Denver Broncos. Newton also won the NFL AP MVP award. He threw for 3,837 yards, 35 touchdowns, and 10 interceptions in 2015. That is in addition to running for 636 yards and 10 touchdowns.
After that season, though, Newton's play declined drastically. The Panthers went 6-10 in 2016 and Newton's touchdown-to-interception ratio was only 19-14. Carolina went 11-5 in 2017, but Newton still threw for 16 interceptions, the most since his rookie season. His stats were a little better in 2018 as he threw 24 touchdowns compared to 13 interceptions, but the Panthers went 7-9. Then in 2019, Newton only played in two games due to injury.
Additionally, Newton has only run for over 600 yards once since 2015 and has not been back to the Pro Bowl since then either.
Andrew Luck's injury-prone career
Andrew Luck also started his career hot as he earned three straight Pro Bowl selections in his first three seasons. He also led the Indianapolis Colts to three straight 11-5 seasons. He and the Colts even made it to the AFC Championship Game in 2014. Luck had a lot of yards and touchdowns in 2014, throwing for 4,761 yards and a league-leading 40 touchdowns, but he always struggled with turnovers as he had 16 interceptions.
After getting to the AFC Championship Game, though, the Colts were never that good with Luck again. He only played in seven games in 2015 and went 2-5, throwing 15 touchdowns and 12 interceptions. Luck came back and had a good 2016 season, but the Colts went 8-8 for the second straight year and missed the playoffs for the second straight season. Luck then missed all of 2017 due to injury, but came back and led the Colts to a 10-6 record in 2018 and earned his fourth Pro Bowl selection. He also earned the NFL AP Comeback Player of the Year award, throwing for 4,593 yards, 39 touchdowns, and 15 interceptions.
Luck dealt with an injury again in the offseason after 2018, though, and ultimately announced his retirement right before the 2019 season began. 
Newton and Luck failed to reach expectations, but aren't busts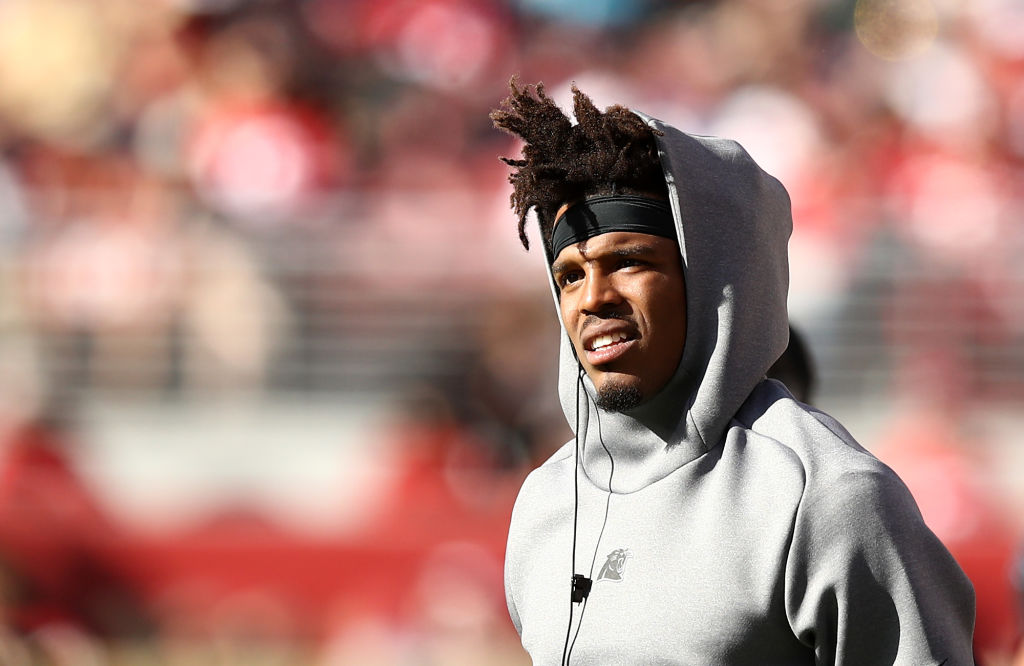 Cam Newton and Andrew Luck both certainly had great success with their teams. Their failures also had a lot to do with their teams not putting them in the best situations. So, they probably are not busts. However, their shortened primes at least make it a reasonable conversation.
When comparing them to other quarterbacks who were selected No. 1 overall like Peyton Manning, John Elway, and Troy Aikman, yes they are busts. However when you compare them to No. 1 overall picks like JaMarcus Russell, Sam Bradford, and Tim Couch, no they are not busts.
You can also compare them to quarterbacks in their draft classes. When comparing them to Jake Locker (2011) and Blaine Gabbert (2011), no they are not busts. When comparing them to Russell Wilson (2012), yeah they are busts. 
It is simple, though, Luck and Newton are not actually busts. They both had a lot of success statistically and led their teams deep into the playoffs at least once. However, they did not ultimately live up to expectations with their teams and they certainly weren't as successful with them as former No. 1 picks Peyton Manning and Troy Aikman were with theirs. Maybe Newton can change the narrative with another team, though.