Do the Oakland Raiders Need To Replace Derek Carr at Quarterback?
Derek Carr threw as many touchdown passes to the Kansas City Chiefs as he did to his own teammates in a 40-9 loss to the Chiefs on the road in Week 13. It was Carr's second dud of a performance in a row, and it dropped the Oakland Raiders to 6-6 on the season after they were in prime position to potentially make the playoffs as a 6-4 team just two weeks ago.
The Oakland Raiders have missed the playoffs in 15 of their last 16 seasons. While there is still time to save this season and return to the playoffs, Jon Gruden and General Manager Mike Mayock have a big decision coming up in regards to Derek Carr. Is this the quarterback they believe can take them to the next level, or is it time to start looking elsewhere for a replacement?
Derek Carr was benched against the New York Jets
Derek Carr throws a pick-6 against the #Jets who are now up 34-3.pic.twitter.com/27veMpmXbw

— Dov Kleiman (@NFL_DovKleiman) November 24, 2019
There are some potential explanations for a slow start against the New York Jets last week. Traveling across the country to the East Coast to play a morning game is a notoriously tricky spot for West Coast teams. Also, with the team riding a three-game winning streak heading into that one, being overconfident against the lowly Jets and perhaps looking ahead to this battle for the AFC West is a common pitfall that teams in similar spots fall into as well.
These excuses might account for a slow start. But to get absolutely demolished 34-3 by the New York Jets is unacceptable. And while the whole team looked bad in the loss, Derek Carr looked particularly bad, completing just 15 of his 27 passes for 127 yards with an interception. Carr had such a bad day under center that he was replaced by back-up quarterback Mike Glennon to wrap up the game.
His struggles continued against Kansas City
Carr carried the bad momentum from that game into this week's loss to Kansas City. On the first drive of the game, Derek Carr threw an interception that would set the tone for the rest of the game, allowing Kansas City to take an early 7-0 lead at home. On the Raiders' next possession, Carr threw the ball away at the first sign of trouble on 3rd-and-8, much to the chagrin of his teammates and Raiders fans around the nation.
Down 14-0, Carr threw an interception that was returned 46 yards for a touchdown to essentially wrap up the game before the first half had even come to a close. Carr padded his stats with a meaningless touchdown on the final drive of the game, but still ended up with only 222 passing yards, one touchdown, and two interceptions.
Carr is just an average quarterback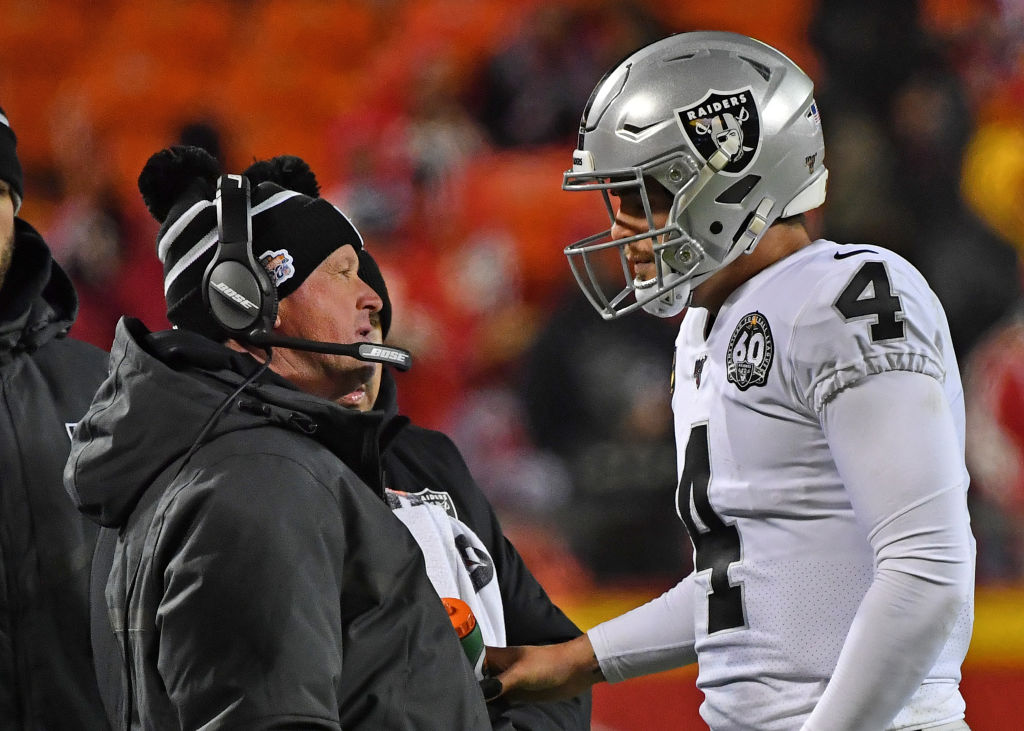 Derek Carr is, statistically, an average quarterback. He ranks 14th in the NFL in passing yards with 2,843, tied-for-15th in touchdown passes with 16, and 13th in passer rating at 98.6. He has some great games in which he looks like more, and he has some terrible games in which he looks like less. But at the end of the day, he's a middle-of-the-pack kind of guy.
If he had an elite defense behind him, he'd be good enough to win a Super Bowl with. But on a team like the Raiders, in a brand new NFL market like Las Vegas, the team might need more than just an average quarterback to sell tickets and to thrive.
Carr is still under contract for two more seasons at a relatively reasonable cap hit of around $21.5 million in 2020 and $22.1 million in 2021. Oakland isn't going to find an upgrade over Derek Carr in the free agent market, but the team would be wise to strongly consider trading up for a quarterback or taking a flier on the injured Tua Tagovailoa in the 2020 NFL Draft.
This would create some buzz around the team and allow the Raiders time to develop a quarterback prospect while Carr is still under contract at a decent price. Derek Carr certainly has a place in the NFL as a quality game-manager, but the Las Vegas Raiders are going to need more.