Doc Rivers Found out About Kawhi Leonard Deal While Eating Sushi
In an NBA offseason full of big moves and surprises, the Los Angeles Clippers arguably pulled off both the biggest move and the biggest surprise of all. With Kevin Durant out for the 2019-20 season with a ruptured Achilles, Kawhi Leonard was the crown jewel of this free agent class coming off of an NBA Finals MVP performance. Leonard chose the Clippers over the Los Angeles Lakers and Toronto Raptors; a minor surprise to some, but the Clippers were always in the running.
The surprise element came in the form of Paul George, who agreed to Leonard's master plan by asking Oklahoma City GM Sam Presti for a trade to the Clippers. As head coach of the Clippers, Doc Rivers knew that all of this was in the works before the general public did; but until it went official, he was glued to his phone waiting for Kawhi updates like the rest of us were.
Good news over a sushi dinner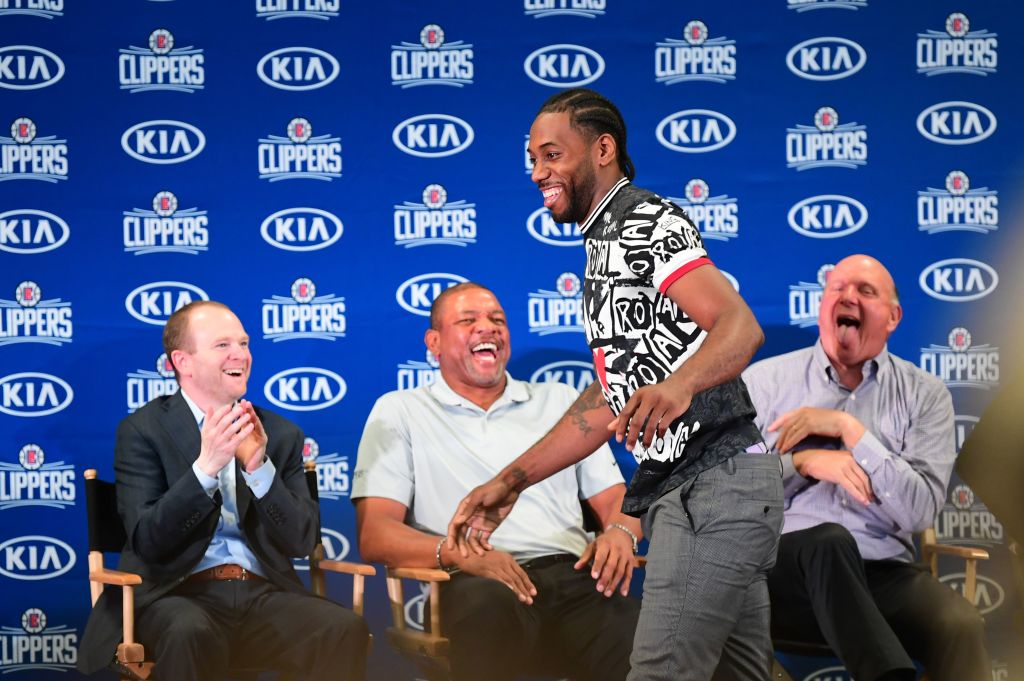 ESPN's Ramona Shelburne broke down how Doc Rivers received the news;
"Clippers coach Doc Rivers was at dinner at Nobu, an upscale sushi restaurant in Malibu, with a group of friends. He'd been told to stay close to his phone all night, knowing the deals for George and Leonard were close." Shelburne's account continued, "Finally, the text from Lawrence Frank, the Clippers' president of basketball operations, came in: 'It's done. Call me as soon as you can.'"
"I remember going, like, 'Yessss!'" Rivers recounted. "And the security guard was like, 'I got a feeling I know what that 'yes' is about.'"
After receiving the great news, Doc Rivers was understandably fired up. Those paying attention at Nobu that night could have had the scoop before Adrian Wojnarowski. When the security guard smiled knowingly at Rivers, the coach reportedly couldn't stop laughing.
Speaking of fired up…
Does anyone have more energy than Los Angeles Clippers owner Steve Ballmer?
The 63-year-old billionaire bought the team in 2014 and has been a popular source for photo opportunities and internet memes ever since. Ballmer wears his heart on his sleeve during Clippers games and press conferences, and Wednesday's press conference to introduce Paul George and Kawhi Leonard was no exception.
"I have these notes, but I gotta say, I'm just fired up to be here today!" Ballmer exclaimed, "It's pretty cool! It's pretty damn cool! Wooooo!"
Steve Ballmer has been a polar opposite of former owner Donald Sterling. Love or hate his zany personality and antics, Ballmer has lived up to his promise of investing in this team both on and off the court.
The Clippers get their "Jordan"
"He is the most like Jordan that we've seen. Like, there's a lot of great players," Rivers said on an ESPN NBA Finals preview show. "LeBron [James] is phenomenal, [Kevin Durant] is phenomenal. Not that [Leonard] is Jordan or anything like that, but he's the most like him. Big hands, post game, can finish, great leaper, great defender, in-between game, if you beat him to the spot, he bumps you off. Then, you add his three-point shooting."
Nevermind that we've seen Kobe Bryant, a far more accurate comparable to Jordan. Rivers knows this, but he was making a sales pitch to Kawhi Leonard. And he got fined $50,000 for it.
That was $50,000 well spent. In Kawhi Leonard and Paul George, the Clippers finally have the pieces in place to make a legitimate run at their first NBA Championship.