Doc Rivers Has Zero Sympathy for Ben Simmons' Latest Airing of Grievances Against the Philadelphia 76ers Coach
Never assume the situation between Ben Simmons and the Philadelphia 76ers is incapable of becoming stranger. After sources close to Simmons aired a new list of grievances against the organization and coach Doc Rivers, the veteran NBA bench boss fired back with both barrels. The latest twists add another chapter to a contentious standoff between player and team that's gone on since Philadelphia's inglorious exit from last season's playoffs.
Simmons is unhappy that Rivers didn't do enough to connect with him last summer. That despite the Defensive Player of the Year runner-up admitting he didn't respond to efforts by his coach to make contact.
It's a level of drama a scripted television series would throw out for being too far over the top.
Ben Simmons' camp reached out to ESPN
The rift between Ben Simmons and the Philadelphia 76ers goes back further than the team's seven-game loss to the Atlanta Hawks in the Eastern Conference semifinals.
Daryl Morey was named president of basketball operations in Philadelphia in November 2020. Shortly after that, the star of his previous team, James Harden, started making noise about wanting the Houston Rockets to trade him.
There were rumors of a Simmons-for-Harden deal circulating for several weeks before the 2017–18 NBA MVP ended up with the Brooklyn Nets.
When the Australian left-hander played poorly for the Sixers in the playoffs, both Doc Rivers and Joel Embiid made statements less than supportive of Simmons.
According to Ramona Shelburne of ESPN, the three-time All-Star was frustrated with Rivers not coming to see him during the offseason:
"Simmons doesn't dispute that he didn't reply when Rivers texted and called him several times over the summer asking to see him," Shelburne wrote. "Bit in hindsight, Simmons feels Rivers and the Sixers could have done more, like show up at a well-known gym in the San Fernando Valley where he was training."
When Rivers learned about the comments, he promptly doused the coals with gasoline.
Doc Rivers is not sympathetic to Simmons' grievances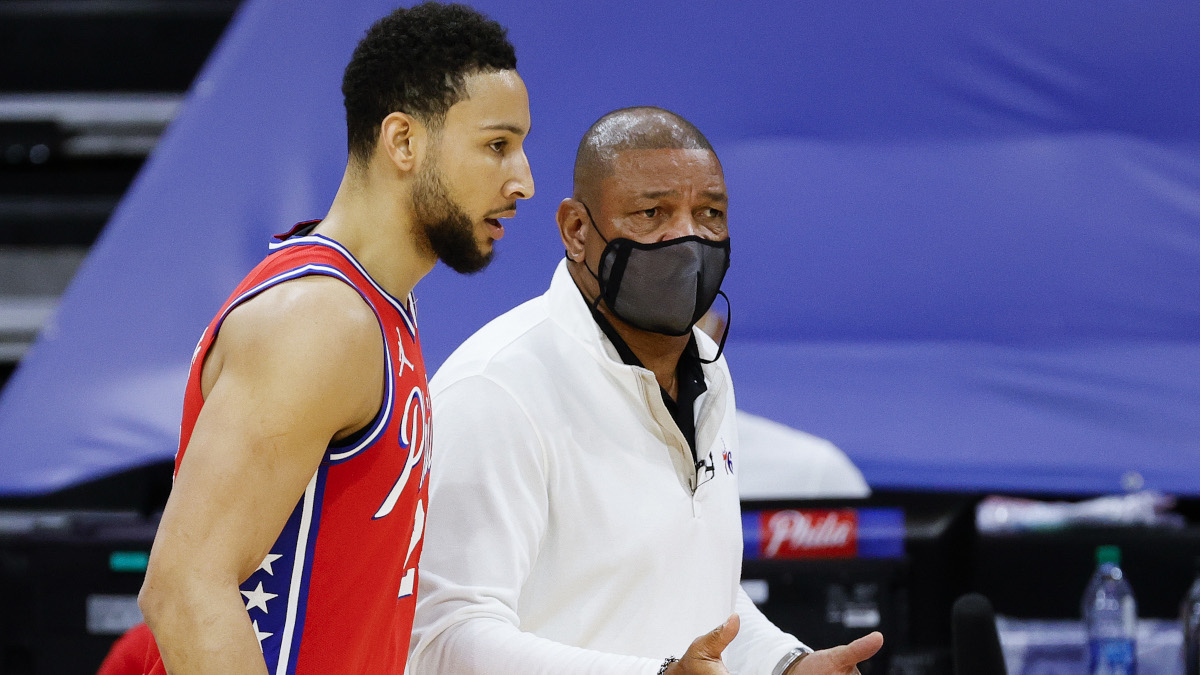 In an exclusive interview with Tom Moore of the Bucks County Courier Times, Sixers coach Doc Rivers didn't give a lot of weight to any of the claims made by Ben Simmons in the ESPN piece.
"It's all posturing," Rivers said. "That's why you haven't heard me — I don't get involved in all that stuff. I'll leave that up to the front office and Ben's camp. I'm staying out of that part. But, listen, some of this stuff I laugh at, and I feel bad. I think Ben's a good kid. I want Ben to do well."
Rivers told reporters, "I don't know the answer to that question right now," when asked after the Game 7 loss if Simmons could be the point guard in the future. Embiid also called out his teammate for passing up an open dunk in the fourth quarter of the game.
The veteran NBA coach said his job requires him to speak the truth, a job that is sometimes uncomfortable:
"We need people to tell us the truth. Unfortunately, as a coach in the NBA, I have to do it a lot. I've accepted it as a coach over the year. Some handle it well (and) some don't. Sometimes I don't deliver it well, even though I try. I'm not perfect, either."
It's accurate Rivers will never make a shortlist for an official diplomatic posting.
"At the end of the day, everything I try to do is about winning," the 2008 NBA championship-winning coach said. "The people who can handle that can handle me very well. The people that can't probably don't handle me well. And I don't lose an ounce of sleep over it."
It also became clear again the Embiid-Simmons dynamic is irretrievably broken.
Ben Simmons and Embiid is now Simmons vs. Embiid in Philadelphia
People close to Ben Simmons claim the star is upset that Embiid appeared to blame Simmons for the Atlanta series. According to Shelburne:
"Simmons did not blame Embiid for Embiid's poor showing in the playoffs against the Toronto Raptors in 2019."
The 76ers are fining Simmons again for games missed. The levies against the two-time All-Defensive selection are more than $19 million, with fines for 43 missed games and a one-game suspension for refusing to enter a drill during practice. That incident occurred after he reported to the team late in the preseason.
Meanwhile, Embiid intimated the team doesn't need to make any additions. Presumably, that includes Morey's goal of convincing Simmons to return to the court.
On the other hand, Doc Rivers has the sound of a man who wishes the entire mess would end sooner rather than later.
"I always have supported Ben," Rivers said. "I want him to do well. It's just the excuses and all that stuff. One of the things I tell all my players is that respect is a two-way street, especially these young guys. You can't expect to ignore us or not listen and then want us to do something different to you. You have to respect each other to be successful in life."
One thing is clear out of the most recent developments. If Morey plans to move Ben Simmons before the NBA trade deadline on Feb. 10, his job just got more complicated.
Like Sportscasting on Facebook. Follow us on Twitter @sportscasting19.
RELATED: NBA Trade Deadline: A Potential Donovan Mitchell Problem in Utah Proves Daryl Morey and the Sixers Are Right to Hold Onto Ben Simmons