Does Bobby Wagner Deserve to Be NFL's Highest-Paid Inside Linebacker?
While Russell Wilson is the heart and soul of the Seattle Seahawks offense, Bobby Wagner is the same on the defense. Wagner has solidified himself as one of the best defensive players in the league over the last five years, and his contributions to the Seahawks defense can not be understated.
Wagner received a three-year, $54 million extension on Thursday that will kick in for the 2020 season when he turns 30. The Seahawks are clearly committed to their star linebacker as $40.2 million of that contract is fully guaranteed. This was an excellent deal for Bobby Wagner, but was it an excellent one for the Seahawks as well?
Wagner is an elite inside linebacker
Bobby Wagner's surface stats and personal accolades are impressive enough to tell the story.
From 2016 through 2018, Wagner has averaged 89 solo tackles and 57 assist tackles per season. Over that stretch he has forced three fumbles, defended 20 passes and intercepted four passes, returning one for a 98-yard touchdown last season. Wagner has made it to the Pro Bowl in each of the last five seasons, been selected first-team All-Pro in four of the last five and was second-team All-Pro in 2015.
But digging deeper, the advanced stats are even more impressive. Per the PFF, Wagner is the best run defending inside linebacker in the league allowing only 2.24 yards after contact over the last three seasons on the 169 snaps that he reached the opposing ball carrier first. He has also been elite in coverage ranking in the top-six among inside linebackers over last three seasons in forced incompletion percentage (10.6%), allowed catch rate (73.2%) and passer rating allowed (88.5).
Bobby Wagner's most impressive trait is his tackling. In 417 tackle attempts over the last three seasons, Wagner has missed only 13 for an incredibly low 3.1% missed tackle rate that easily ranks the best at his position. It's no wonder Wagner was one of only four players in the NFL this season to receive an overall rating of 99 on Madden 20.
And a great leader as well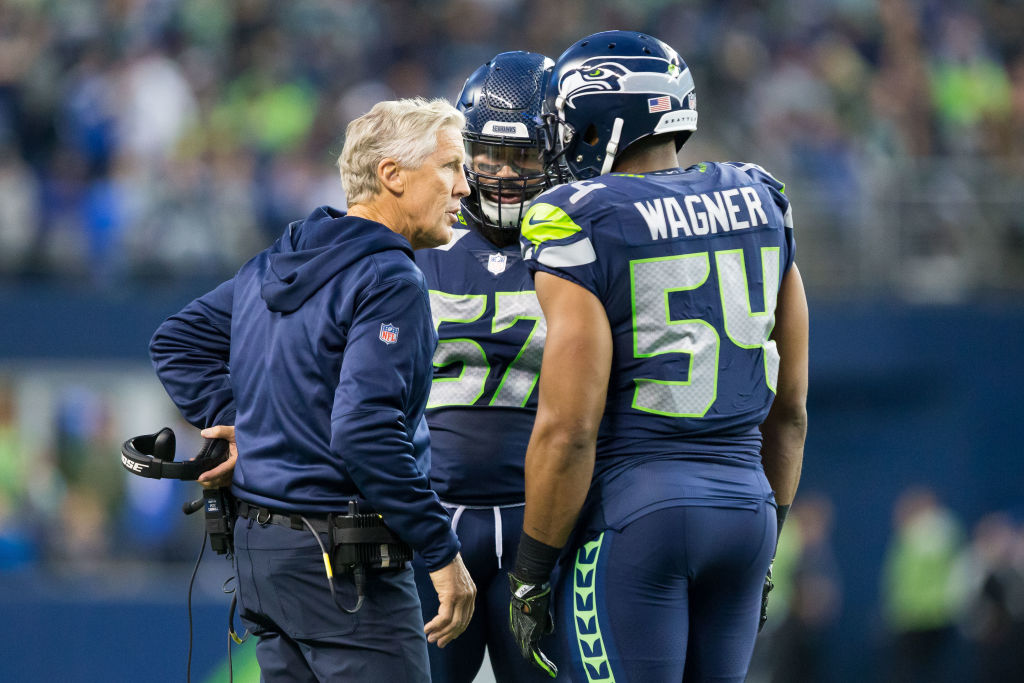 Bobby Wagner never threatened to skip organized team activities even while he was in the process of negotiating this extension. While most players holdout from all team functions until their contract demands are met, Wagner showed up to. He told the media that he was "helping the young guys, doing whatever I can. Just being a leader, you want to send the right message, you want to be here to support the guys."
Head Coach Pete Carroll emphasized the same thing during OTAs; "[He is] doing what he has always done. He has been leader. He has been an integral part of everything that we've ever been about and he's continuing to do that. The decision to do what he's doing at this tempo is, is a good decision for him right now."
Carroll was quick to praise his franchise linebacker again after the contract was signed Thursday. "He's never done anything that doesn't represent class and character and leadership. I'm not even talking about his performance, just the person that he has always been, and he will continue to be that for us. That's just the guy that we know, and we love, and we are happy to have on our club."
A risk worth taking
There are no guarantees in football. Maybe Bobby Wagner's game takes an unexpected turn for the worse over the next four seasons. Maybe the durability that has kept him on the field in every game for three straight seasons dissipates as he plays into his 30's. Maybe this deal is one that the Seahawks eventually come to regret.
Running a team comes with tough decisions. The Seahawks know this well; they've lost the entire Legion of Boom in recent years. Earl Thomas left the team this offseason and Frank Clark was traded away.
Big-money decisions like the one the Seahawks made to extend Bobby Wagner's contract are the ones that make or break franchises. And without a crystal ball, only time will tell if this decision was the right one.
But if you can't invest top-dollar to a man with Bobby Wagner's talent and character, who can you invest in? Win or lose, this extension was a move the Seahawks had to make.