Does Dale Earnhardt Sr. or Dale Earnhardt Jr. Have More NASCAR Wins?
Dale Earnhardt Sr., one of the greatest all-time NASCAR drivers, proudly wore the nickname "The Intimidator." Beyond the late star's awards and $70 million in net worth, Earnhardt was known for his unyielding presence at the track. He was also known as "The Man in Black" based on his signature track attire. Earnhardt Sr. also was peerless maximizing the speed of his car, even after NASCAR mandated restrictor plates to cut down on crashes.
Dale Sr. began racing at age 23 against his father's wishes, a championship short-track racer in North Carolina. Nonetheless, Dale Sr. dropped out of high school to pursue his dream of being a NASCAR champion.
He was proud of being the father of fellow racer Dale Earnhardt Jr. as he followed him into racing. Less successful in his personal life than in his career, Dale Sr. was married three times, the first one at the tender age of 17. It was with his second wife, Brenda Gee, that he had Dale Jr. and Kelly King. Dale and Kelly are co-owner of JR Motorsports, a professional stock car racing team.
Dale Earnhardt Sr.'s historic career
RELATED: 10 Worst Car Accidents in NASCAR History
Dale Sr. 's 27-year racing career is the stuff of legends. His path toward greatness began in 1979 when he won NASCAR Rookie of the Year and finished seventh in points with one win and 17 top-10 finishes. All of this took place with Dale Sr. missing four races with a collarbone injury.
During his career, Dale Sr. drove for Rod Osterlund Racing, Richard Childress Racing, and Bud Moore engineering. The elder of the racing Earnhardts proved his mettle in a highly competitive sport by competing in more than 600 races over 27 years, often driving while injured.
Dale Earnhardt Sr.'s career ended with a crash that took his life in February 2001 at the Daytona International Speedway. His career tally included 76 NASCAR Cup Wins, induction into the NASCAR Hall of Fame, and seven Winston cup Championships.
Dale Earnhardt Jr. carries the torch
RELATED: Do NASCAR Drivers Pee in Their Suits? Dale Earnhardt Jr. Admits 'When You Gotta Go, You Gotta Go
Ralph Dale Earnhardt Jr., better known simply as Dale Jr., had a rough upbringing, living with his father's second wife until her house burned down. That catastrophe brought Dale Jr. to live with his father and a stint at military school as a result of his delinquent behavior. During high school, Dale Jr. attended a high-performance driving school, which led to him joining his father's racing team at age 17.
Dale Jr. had immediate success winning NASCAR Busch Series Championships in 1998 and 1999. His 2000 season was a breakout with two wins, three top-five finishes, and five top-10s. That year saw Dale Jr. make history when he raced against his father and half-brother Kerry at the Pepsi 400 and the Michigan International speedway.
The Earnhardts head to head — who had more wins?
RELATED: Father-Son NASCAR Drivers Tony and Dean Roper Tragically Died in Crashes Just 1 Year Apart
Comparing the records of father and son shows some remarkable achievements.
Dale Sr. had 676 NASCAR Cup Series races over 27 years with 76 wins and 428 top-10s. He also had 136 NASCAR Xfinity Series races over 13 years with 21 wins and 75 top-10s.
Dale Jr. had 631 NASCAR Cup Series races over 19 years with 26 wins and 260 top-10 finishes. In his Xfinity Series, he had 142 races in 24 years with 24 wins and 94 top-10s.
The last NASCAR win for Dale Jr. was the 2015 Quicken Loans Race for Heroes 500. His father's final victory came in 2000 Winston 500 at Talladega, Alabama.
Growing up Earnhardt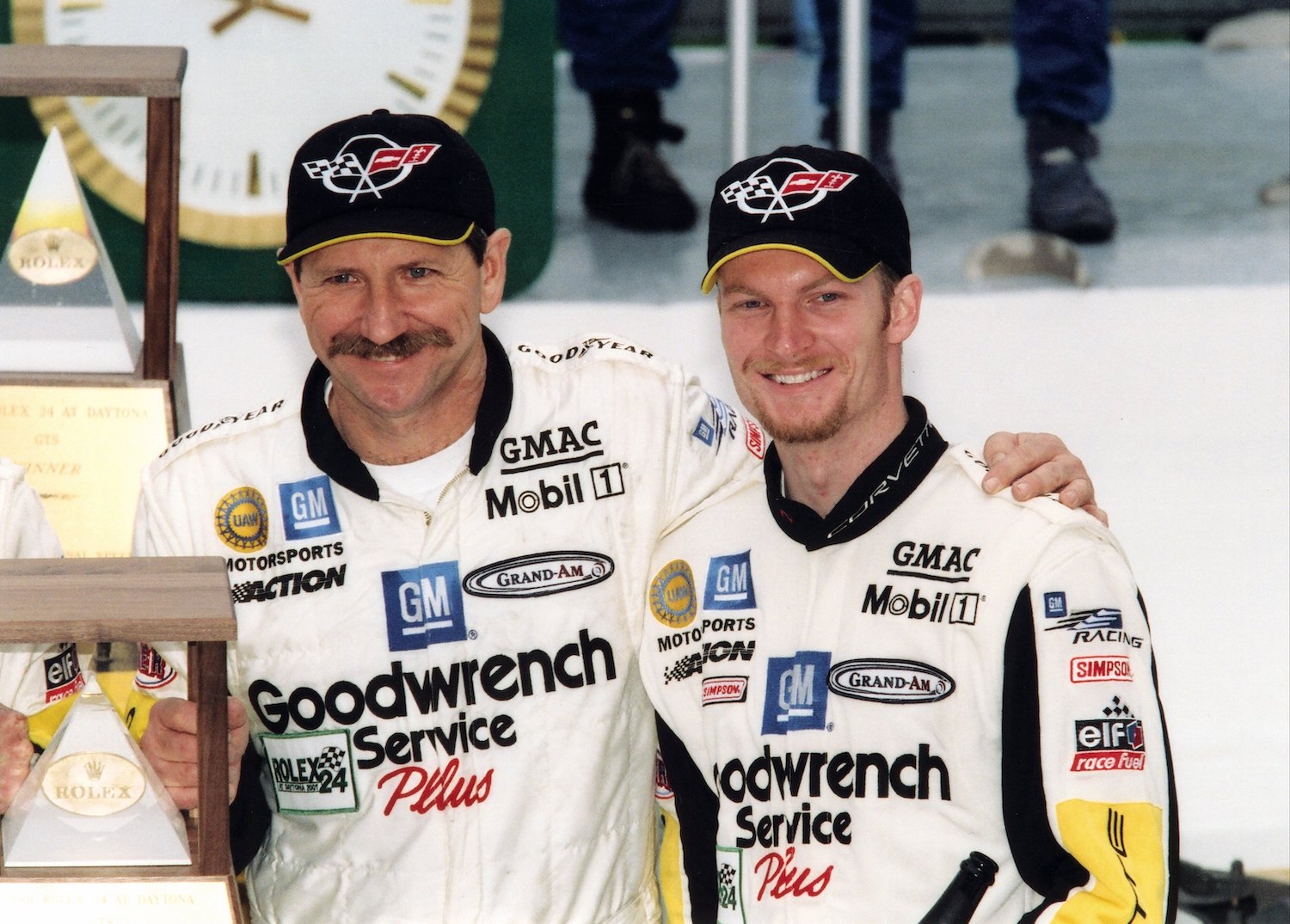 Dale Earnhardt Sr. had a demanding relationship with his son. Dale Jr., talking about his time growing up in the shadow of this great man, reveals he never knew where he stood with his dad.
"He looked at me as, you know, 'I don't know what he's going to amount to," Dale Jr. said in an interview about his early days, according to altdriver.com. "I don't know what this kid's gonna do. I don't know what skills he has or whether he's ever going to get his act together."
Things took a turn for the better after Dale Jr. began his racing career.
"That's when [he] had his arm around me, we were doing s*** together, we had sponsor deals and promotions together," Jr. continued in the same interview. "We were doing photoshoots together. I saw him all the time, and we talked about all kinds of [things]. We talked about life, girls, everything but racing. We didn't talk about racing much, which is fine. And it was awesome."