Does De'Aaron Fox Deserve a Max Extension this Fall?
The Kings will have to make a big decision when the NBA season ends. De'Aaron Fox is one of the few draft picks who's worked out in Sacramento, and he's one of the best young point guards in the NBA. With a potential max contract for Fox this offseason, the time is now to question if his output is worthy of that distinction.
Considering the moves they have and haven't made to put him in a position to succeed, they don't really have a choice. 
De'Aaron Fox is the Kings' best draft pick in years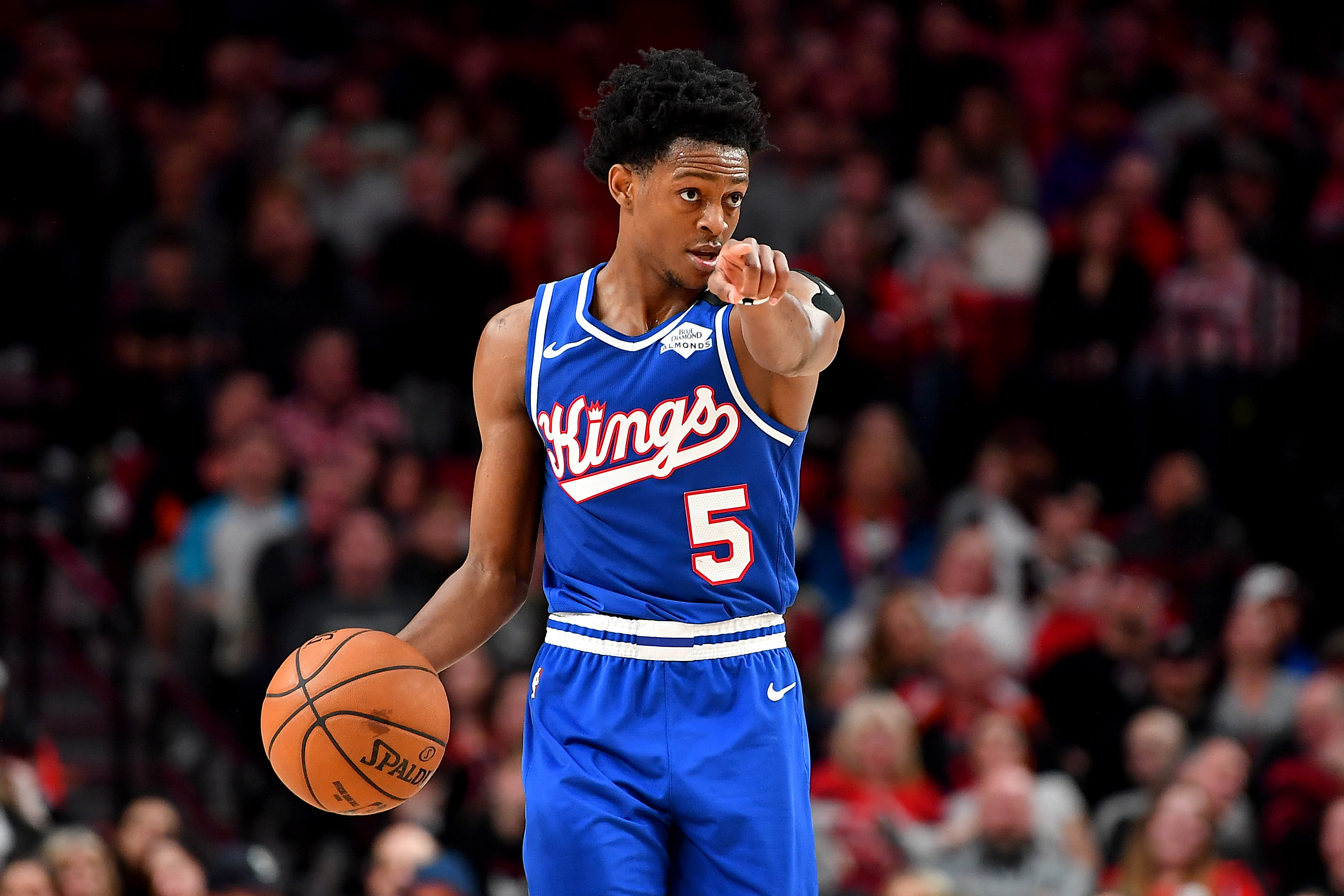 RELATED: James Harden Used His Massive Wealth to Become an Owner of the Houston Dynamo
The Sacramento Kings have had nine first-round draft picks in the last seven years. Here are nine of those selections:
Ben McLemore
Nik Stauskas
Willie Cauley-Stein
Georgios Papagiannis
Malachi Richardson
Skal Labissiere
Justin Jackson
Harry Giles
Marvin Bagley III
There are a lot of busts on that list. But their one undeniable hit during this time is the reason the team has a future. His name is De'Aaron Fox.
The fifth pick in the 2017 draft, he's developed quickly into the cornerstone of the franchise. Fox led the team to a surprising playoff push last season. Before this season was suspended, he was one of only three players to average at least 20 points, seven assists, four rebounds, and one steal per game. The other two are James Harden and Russell Westbrook. 
It's fitting that Fox and Westbrook have similar numbers. Their games have a lot in common, namely their exhilarating athleticism. Fox is a blur in the open court. His footwork and handle also make him nearly impossible to guard in a half court setting. 
Fox's pros and cons
RELATED: Giannis Antetokounmpo's Father Still Serves as Inspiration After His Tragic Death
You would think a player as skinny as Fox would shy away from contact. But he has no qualms about attacking the rim with impunity. He draws a foul on 18.3% of shot attempts, the highest rate in the NBA among point guards, reports Cleaning the Glass. Only two players are averaging at least 20 points and six free-throw attempts while playing fewer minutes per game than Fox: Giannis Antetokounmpo and Zion Williamson. 
Crucially, Fox has enough poise and control to understand when the time is right to slow the game down, both to keep himself out of foul trouble — per PBP stats, he's only been called for five charges this season — and to find his slightly less physically gifted teammates. 
There are still some significant steps Fox needs to take to fulfill his potential. The most obvious improvements are regarding his shooting. Rather than pull a Ben Simmons, Fox is taking more shots per game and a higher variety of threes. His form looks solid, but the shots do need to go in. His below-average free-throw percentage remains around 70%, so it's unlikely he ever becomes a knockdown shooter. But he needs to be around league average to open up more passing and driving lanes.  
Fox isn't great at defense either, although it's not like the Kings have the second coming of Dennis Rodman backing him up on pick-and-rolls. He can annoy other guards on the ball, but he struggles to maneuver through screens or keeping track of his man off-ball.
But these are minor details for one of the best young players in basketball. Fox is a 22-year old point guard whose already been in the All-Star conversation. For the first time in a decade, Sacramento has a building block that won't get blown away in the wind.
The Kings made one mistake building the team around Fox
If only they had another young star to put next to Fox. They had a great chance to do so in the 2018 draft, but they didn't for unclear reasons. Kings General Manager Vlade Divac chose to take Marvin Bagley III with the second pick.
The next player selected (and then traded by the Atlanta Hawks) was Luka Doncic. The Hawks caught plenty of flak for trading a future superstar, but Sacramento was also idiotic for passing on him. Having both Fox and Doncic would make the Kings one of the most exciting teams — not a sentence written about the team in two decades.
None of this is to say that Bagley isn't a talented player. It's just that it's likely he'll never be as good as Doncic.
Does De'Aaron Fox have to prove anything in the bubble?
That decision also means that Fox's value to the franchise is as high as it can be, and they'll soon have to pay him a salary in line with that importance.
Under the designated rookie rule, Fox will be eligible to sign a five-year extension (at a max salary of 25 percent of the cap) this offseason. The Kings may try to negotiate a slightly smaller deal, but they don't really have choice but to pay him. Sacramento isn't a destination for prime free agents at the best of times, and they've already committed a lot of money to Buddy Hield and will have to pay Bogdan Bogdanovic after refusing to trade him at the deadline.
Max contracts aren't about talent; they're about value. For small market teams who can't woo the next unhappy All-Star to their team, developing stars via the draft is the only way to compete. It's either that or total, inescapable, irrelevance.
Still, there are worse players to throw your money at then Fox. Even if he can't drag the Kings into the playoffs (they're three games back of the No. 8 seed going into the bubble) he's shown more than enough to convince everyone that he's worth the money surely coming his way.