Does Jimmy Garoppolo Have a Girlfriend, or Is the 49ers QB Currently Single?
Jimmy Garoppolo is a celebrated quarterback for many reasons. Since 2017, the San Francisco 49ers star has made appearances in the news. Occasionally, it's about Garoppolo's love life. The 29-year old NFL star allegedly has had a total of three dating relationships.
Amongst the three, most people know Boston model Alexandra King. Learn more about these women and the issues surrounding their alleged relationships.
Jimmy Garoppolo's past relationships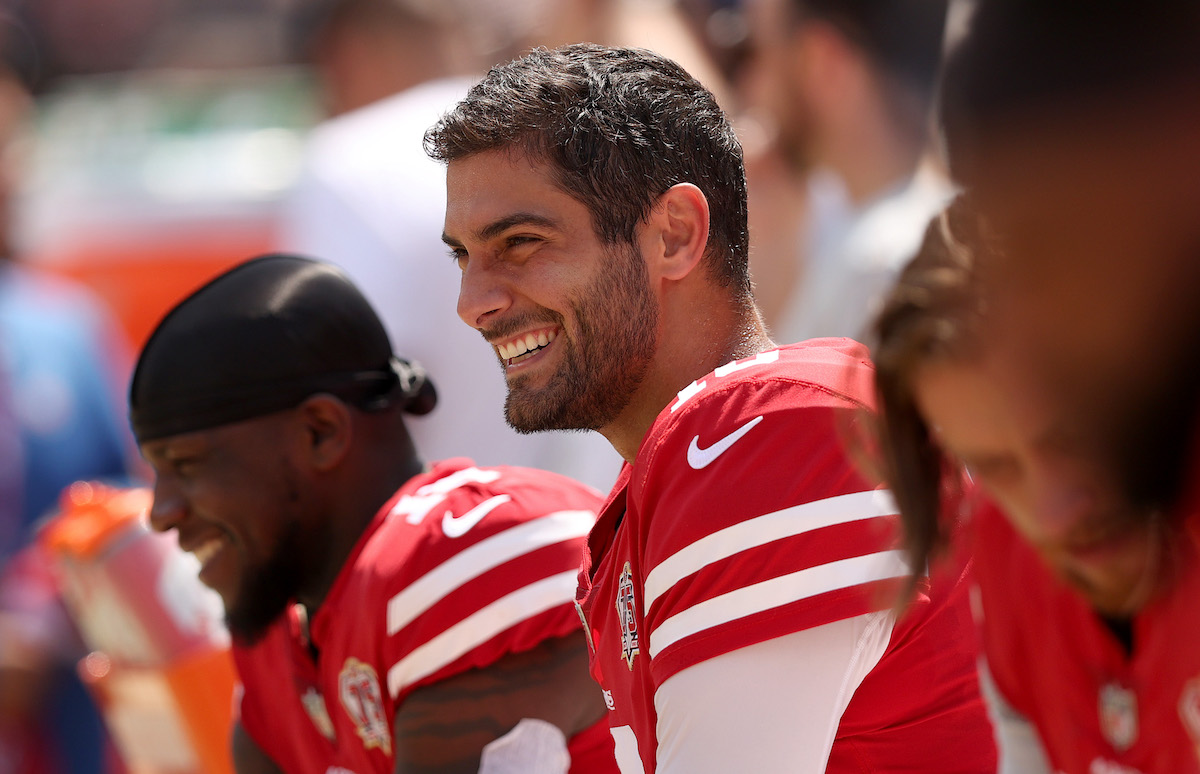 Alexandra Rose King
Alexandra is a popular Instagram model and social media influencer. Most of her posts feature the latest trends in fashion and showcase expensive lifestyles. She came into the public eye after announcing her relationship with the 29ers star, reports Fan Buzz. Astonishingly, Garoppolo himself never acknowledged the relationship.
Kiara Mia
Rumors about the relationship between porn star Kiara Mia and the quarterback started after the 2018 ESPY Awards when they publicly had dinner together. Later, they left their table holding hands, sparking news that they were dating.
Garoppolo denied these reports and even announced being private about his issues by saying this was a learning experience. It may have shown the quarterback that other people were scrutinizing him even when he thought no one was watching.
Garoppolo's current girlfriend
As much as Garappolo's professional life is open to the public, he keeps his personal life under wraps. Currently, he appears to be single, although his love life continues to be a secret.
He may have surfaced publicly with his dates on several occasions but always denies having a girlfriend. He says that after his breakup with Alexandra, he has not had any other relationships. With all this information in the public, Garoppolo is single for now.
Garoppolo hit on Erin Andrews during a post-game interview
Garoppolo joined Erin Andrews after the 49ers' 28-25 win over the Arizona Cardinals where the team moved to 8-0. His response to Andrews made the internet go crazy. During the Fox Sports interview, Garoppolo responded to her question about being undefeated. He finished with, "Feels great, baby."
After the interview, the internet blew with allegations of Garoppolo hitting on Andrews with those words. Later, when Garoppolo was asked about it at another press conference, he was surprised by the clip's amount of attention. He said he never expected the clip to blow up as it did, then finished: "It is what it is, but yeah — I'm excited to be 8-0, baby."
To justify himself, Garoppolo says he likes saying "baby"; he says it like 500 times during a game, including around his teammates. The media laughed at his comments, and he doubled down on his interaction on Twitter.