Does Kawhi Leonard Deserve an All-Defensive 1st Team Spot Over Anthony Davis?
NBA awards are a big deal, both in terms of prestige and financial bonuses. All-NBA, Most Valuable Player, and NBA All-Defensive tend to be the most hotly debated selections. This year, the competition for All-Defensive teams is especially fierce. Many stellar players may fall to the Second Team — or bumped entirely.
The Athletic polled 33 NBA coaches to find out who they'd pick for All-Defensive First and Second Teams. One surprising result: Clippers forward Kawhi Leonard narrowly edged out Lakers forward Anthony Davis for a First Team spot. Let's look at why that happened and how these stars stack up on the defensive end.
How the All-Defensive voting broke down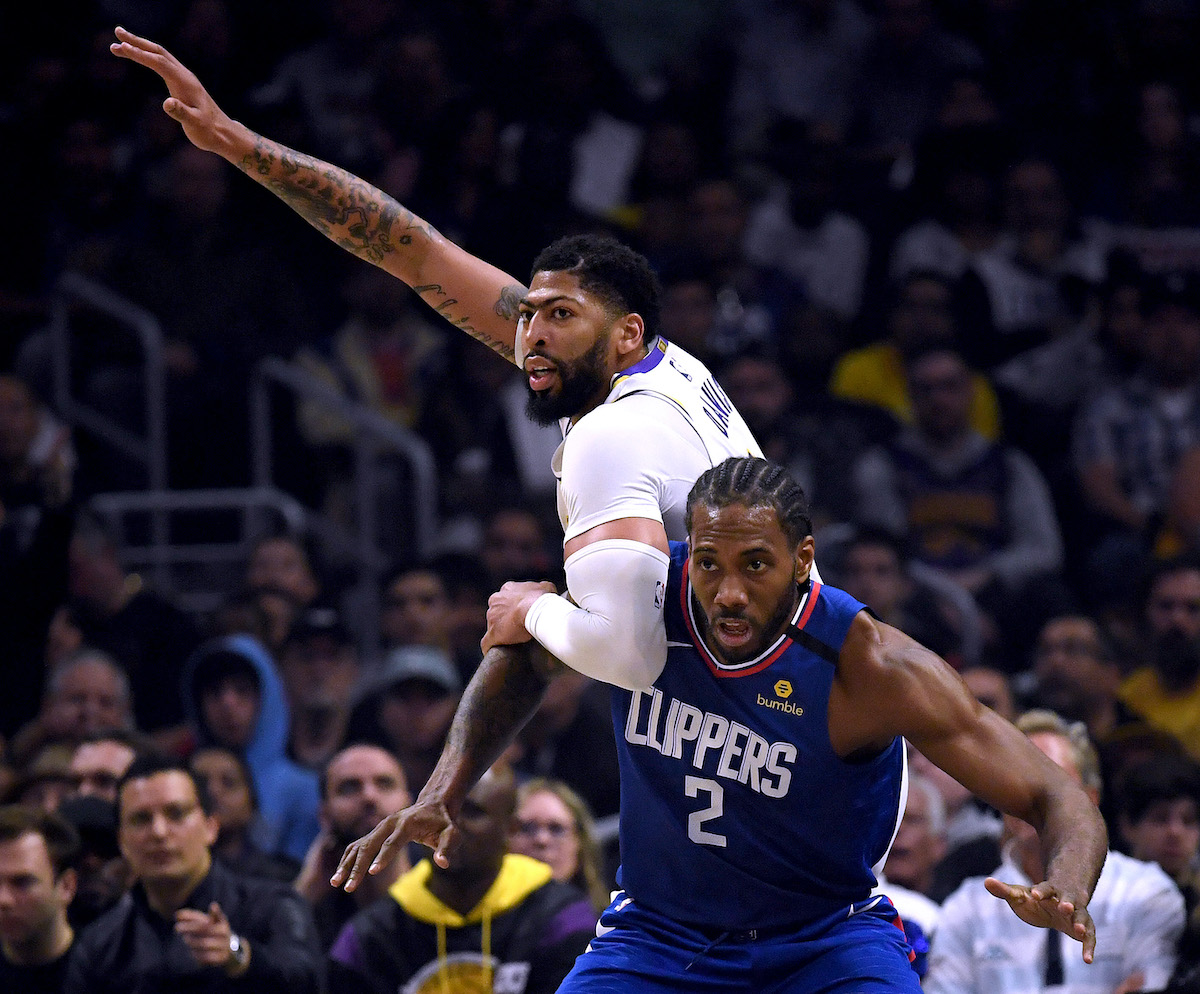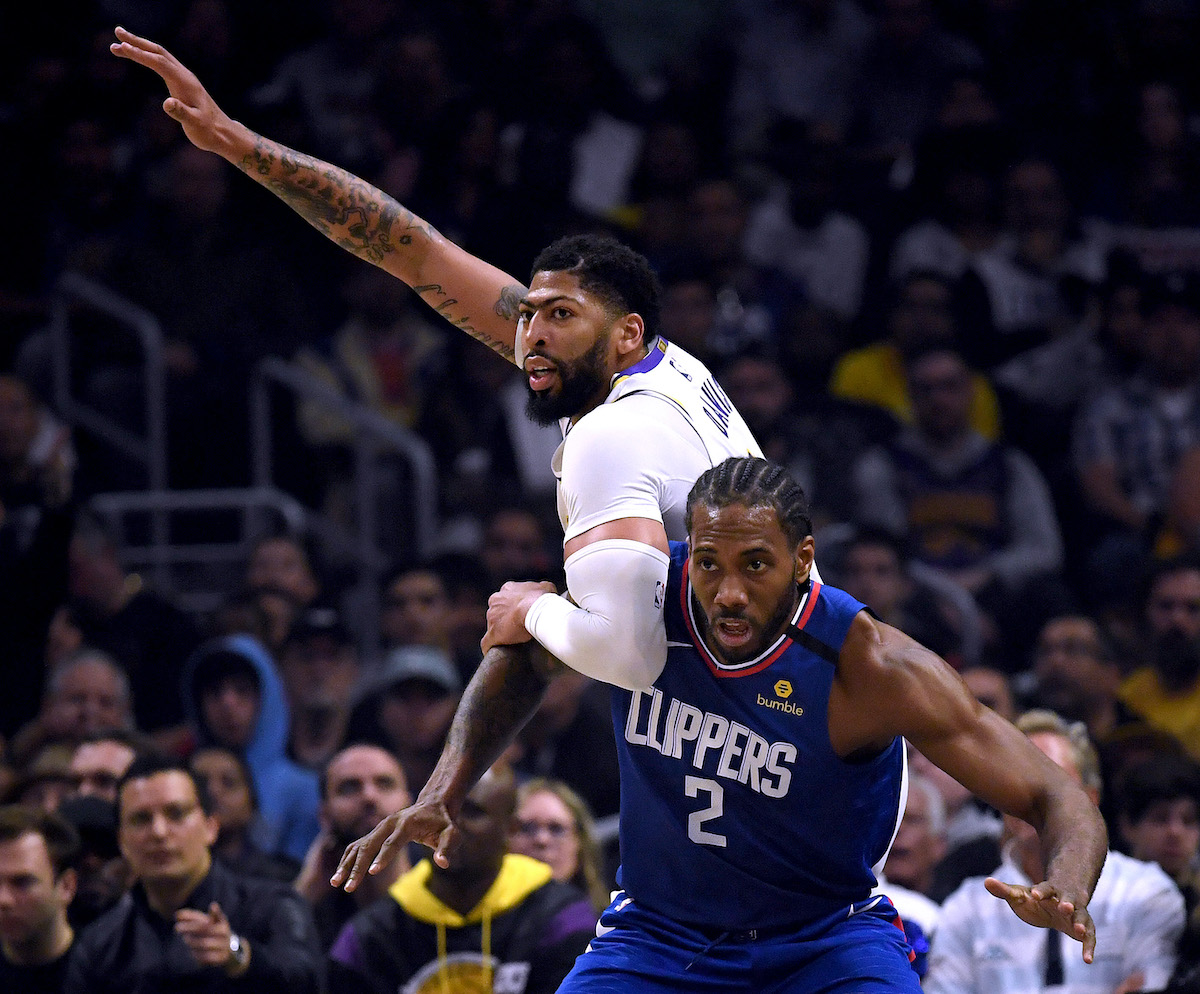 The voting system is pretty straightforward. Each First Team vote is worth two points; each Second Team vote is worth one point. The players with the highest point totals in each positional category (one center, two forwards, and two guards) receive First Team selections. Bucks' superstar Giannis Antetokounmpo locked down the first forward spot with 25 First Team votes and five Second Team votes, or 55 points, details The Athletic.
Leonard received 20 First Team votes and 10 Second Team votes, giving him 50 points. Davis, meanwhile, received 19 First Team votes and 9 Second Team votes, for a total of 47 points. One of the biggest knocks against Davis was that spent much of the season splitting time between forward and center positions, making him a less clear-cut pick as a forward.
Leonard's case wasn't totally clear cut either. For one thing, he played in fewer games than Davis, suiting up for just 51 of the Clippers' 64 games. Davis, on the other hand, played in 55 of the Lakers' 63 games. Still, Leonard's exceptionally strong and quick hands, as well as his iron-clad discipline ultimately gave him the edge over Davis.
Defensive Player of the Year considerations
The Athletic's poll also collected votes from 23 head and assistant coaches for the 2019-20 NBA Defensive Player of the Year honors. Each voter ranked their top three choices in order, which is the same way that media members do it when conducting the actual vote. In the DPOY results, Leonard failed to crack the top three, instead coming in at the No. 4 spot.
Leonard received two first-place votes (worth five points each), five second-place votes (worth three points each), and three third-place votes (worth one point each), for a total of 28. Davis received four first-place votes, seven second-place votes, and three third-place vote. Davis' total of 44 points put him No. 3 overall, behind Jazz center Rudy Gobert and Antetokounmpo.
 The discrepancy between All-Defensive and DPOY voting can best be explained by the fact that position is not a strict consideration when it comes to DPOY. In other words, Davis didn't have to be judged within the stricter confines of centers or forwards, but could just be evaluated based on his impressive defensive performance overall.
A closer look at Kawhi Leonard and Anthony Davis's defensive stats
To understand how Davis and Leonard compare defensively, it helps to zoom in on the specific stats this year. In his 55 games, Davis racked up 134 blocks and 82 steals — good for 2.4 and 1.5 per game, respectively. Leonard, meanwhile, had 92 steals and 31 blocks—1.8 and 0.6 per game, respectively.
Those raw counting numbers would seem to suggest that Davis was far more impactful on the defensive end. Yet they only convey a small part of the ways in which a player contributes to team defensive. The advanced stat known as Defensive Box Plus/Minus (DBPM) helps to paint a more holistic picture.
In the 2019-20 season, Davis currently holds a DBPM of 2.8, whereas Leonard's DBPM sits at 2.5. That difference confirms that Davis has contributed slightly more to his team's defensive performance than Leonard — even if he doesn't end up earning an All-Defensive First Team selection.