Does Lamar Jackson Have a College Degree?
Many people who go to college do so to get a good education and earn a degree, so they can get a good job that pays good money after graduating. That's not always the plan for big-time college football players, though. Their goal is the same — to make big bucks after college — but they don't need a degree to achieve that. Instead, they go to college to improve their game and impress NFL teams enough to become a high draft pick. That is their path to earning millions of dollars, so even though most NFL players attended college not all of them have degrees. Let's find out if Lamar Jackson has a college degree.
Lamar Jackson's college football career was impressive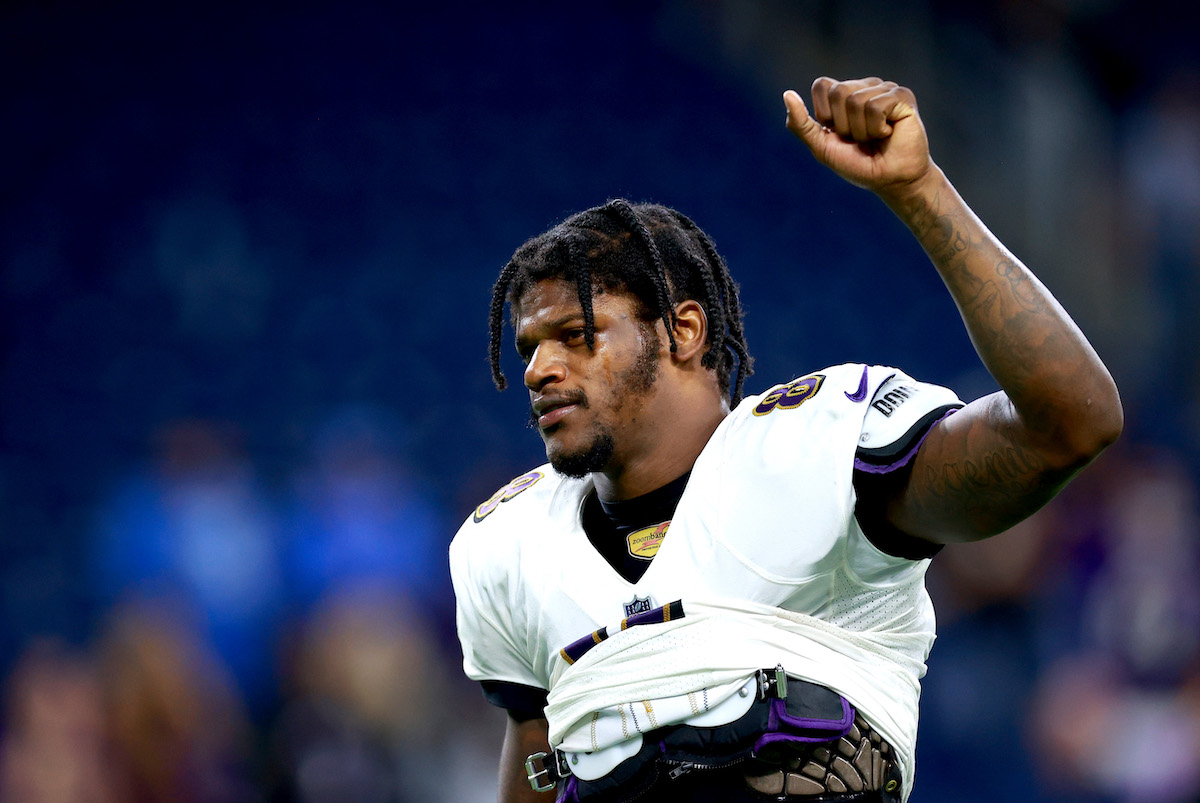 The NCAA gives us a look at Lamar Jackson's college football career as a quarterback at the University of Louisville from 2015 to 17. He was the Cardinals' starter all three years he was at the school, playing in 38 games during that span. He completed 619 passes out of his 1,086 attempts, a 57% completion rate. His 9,043 passing yards give him more than 8 yards/attempt. He threw 69 touchdown passes, with 27 interceptions. Jackson's career quarterback rating was 142.9. The dual-threat quarterback, who could advance the ball on the ground in addition to through the air, won the Heisman Trophy as a sophomore in the 2016 season.
Does Lamar Jackson have a college degree?
As the Courier-Journal reported, Jackson left Louisville after his junior year, forgoing his final year of eligibility, so that he could enter the 2018 NFL draft. He said he had "some of the best memories of [his] life" at Louisville, but he "made the decision to take the next step in [his] career and enter the 2018 NFL Draft." As a result of that, Jackson did not earn a degree.
Even though he didn't leave school with a degree, Jackson ended his collegiate career with a number of football honors. His most decorated season was his Heisman-winning year, when he completed 30 touchdown passes. Some of the honors he earned that season include the ACC Offensive Player of the Year and ACC Player of the Year. The Sporting News and Associated Press both honored him as their respective Player of the Year. He was voted the winner of the Maxwell Award, as the best all-around player, and the Walter Camp Award.
Jackson has had a strong NFL career to date
Declaring for the draft when he did ended up being a wise decision by Jackson. The Ravens took him at the end of the first round — No. 32 overall — and he has outplayed that draft position for the team. Pro Football Reference tells us he only made seven starts as a rookie in 2018, but when he became the full-time starter in 2019 Jackson quickly became one of the best quarterbacks in the league. He completed more than 66% of his passes while throwing for 3,127 yards. He threw 36 touchdown passes, which led the league, and had another seven touchdowns on the ground.
Jackson's big numbers in 2019 earned him NFL MVP honors that season. He had another good season in 2020 but took a bit of a step back, throwing for 2,757 yards and 26 touchdowns. His interceptions went up, from six in 2019 to nine in 2020, but having single-digit interceptions as a starting quarterback in the NFL is impressive.
The Ravens have made the playoffs each of the past three seasons but have yet to advance past the divisional round behind Jackson. Through Week 3 of this season, Jackson has the Ravens in first place in the AFC North with a 2-1 record.
RELATED: Lamar Jackson Doesn't Want You Getting Too Attached to His Current Image in a Ravens Uniform