Does LeBron James Hate His Father – Anthony McClelland?
LeBron James has spent almost half his life as one of the most famous athletes in the world. Still, he did not always have it easy. Growing up with a single mother and almost no relationship with his father, the NBA star was bitter about his situation. However, James' views on his father have shifted as he tackles fatherhood himself. So, how does LeBron James feel about his father, Anthony McClelland?
Who is LeBron James' father, Anthony McClelland?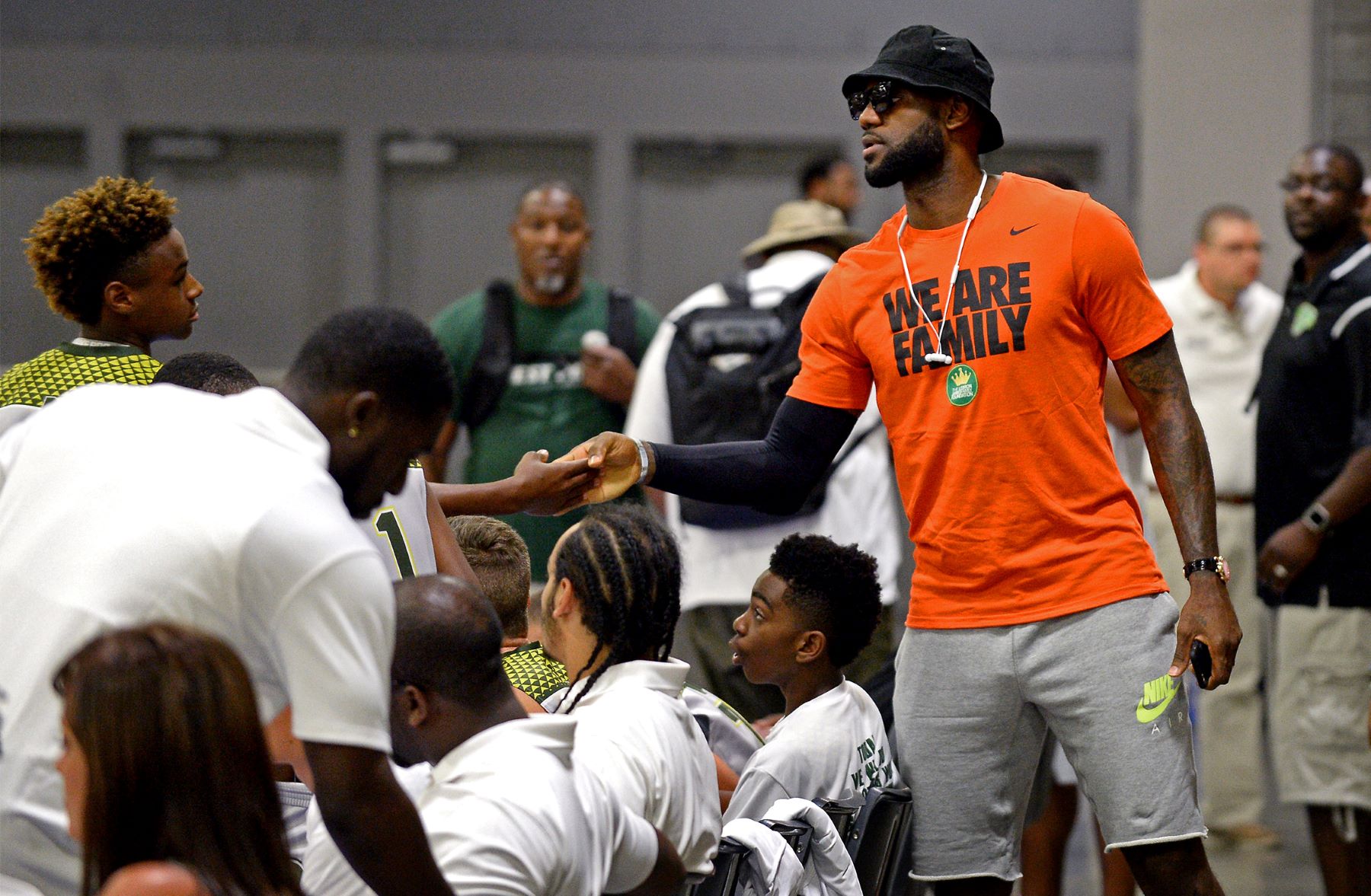 LeBron James was born when his mother, Gloria Marie James, was in high school. Not much is known about his father, other than the fact that he was not there for James growing up. While it's not confirmed, many believe LeBron James' father is a man named Anthony McClelland, reports Heavy.
McClelland was convicted of arson and theft when LeBron James was just a child, reports ESPN. As an ex-con, McClelland spent his life away from his superstar son. Gloria and LeBron James' dad were never officially a couple, which could explain his absence. He was never there in person or as financial support for James. In fact, the Lakers star has reportedly never even met his biological father. However, McClelland allegedly wanted to be a part of James' life in 2002, but the athlete declined. This was when LeBron began to take over the national spotlight in high school, and James either didn't have time or thought the request to meet was only made because he had become famous.
Understandably, James grew up bitter about his father's absence. He had to guide himself through things and was angry that somebody could stand by idly as he and his mom tried to make things work.
James' thoughts on his absent father and how it changed him
LeBron James has discussed how he took the bitterness that came with his upbringing, of not knowing his dad, Anthony McClelland, and turned it into inspiration. "My whole life I grew up resenting my father, everything was like 'F*** pops, he left me. Why would he do that to my mom?' James told Yahoo Finance. "… I was like if I ever met him, we going to blows right off top."
At 18 years old, James entered the NBA. He still had a lot of growing up to do as a person. Becoming a father at 19 and juggling his status as a young superstar humbled him. Watching his oldest son, LeBron "Bronny" James Jr., grow helped him appreciate what he had instead of dwell on what he lost as a child.
"As I got older and as I became more of an adult, I started to realize and think to myself well, 'Damn, what was he going through?' … Was it things that he couldn't control?" James explained. "He's the reason I am the father I am today. Because I always wanted to set an example and have the father figure in their lives, so they never had that resentment."
LeBron wants to be a better father than Anthony McClelland
Now a father of three, LeBron James has never shied away from championing his kids and ensuring they know how much he loves them. He may be a superstar NBA player and businessman, but he does not let this get in the way of what matters. 
While visibly supporting his kids, James has been criticized for his excessive participation in Bronny's basketball games, including dunk exhibitions and boisterous celebrations, according to Business Insider. However, when one considers everything he went through with his dad, it makes sense that he does so much for Bronny, Zhuri, and Bryce.
LeBron James might have an enviable life now, but that's because he chose to make lemonade from lemons and use his father's shortcomings to inspire his behavior. As his kids grow, they can be thankful James has so much motivation to draw from to ensure that he's the best dad he can be.
RELATED: LeBron James Couldn't Even Celebrate Passing Kareem Abdul-Jabbar on the All-Time Points List: 'It's Hard for Me to Speak on It Right Now'