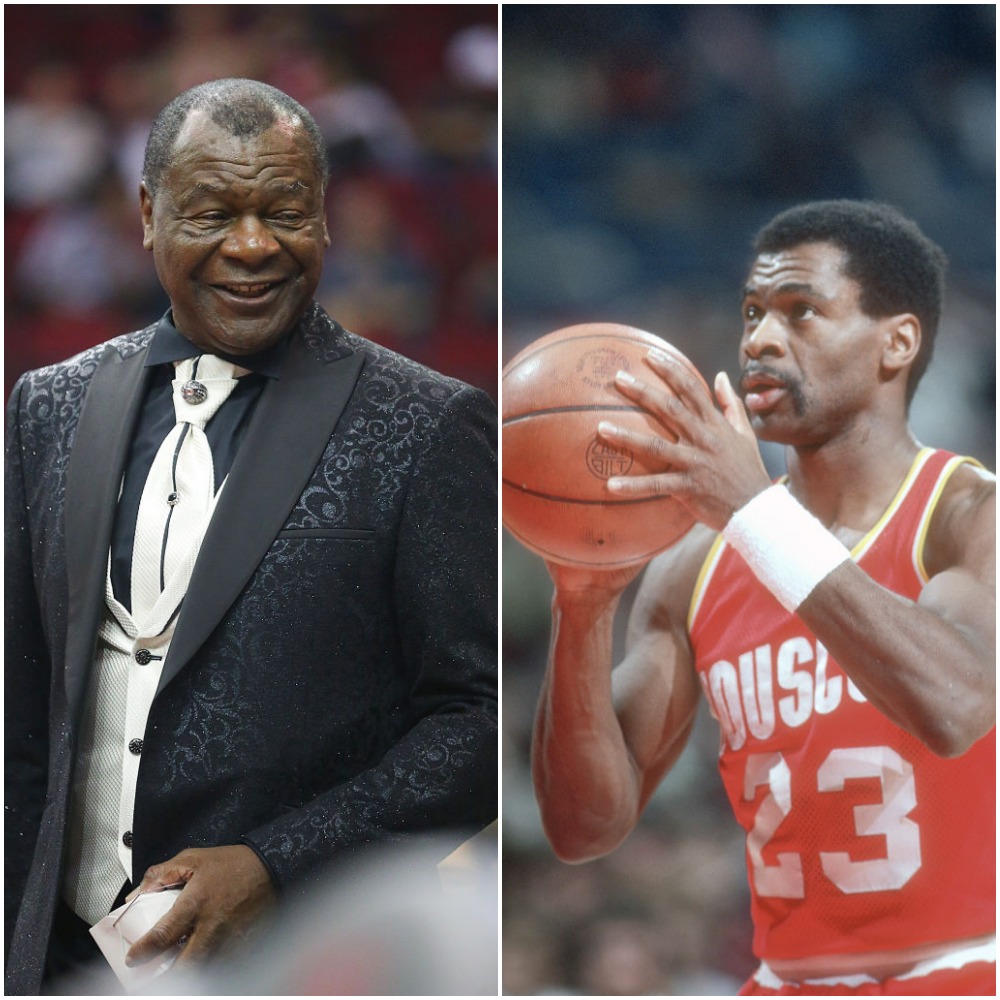 Does NBA Hall of Famer Calvin Murphy Have the Most Children Ever by a Former Athlete?
Calvin Murphy had a productive NBA career earning induction into the Hall of Fame in 1993. Off the court, Murphy was also quite productive fathering an astonishing number of children
Calvin Murphy is synonymous with the Houston Rockets. He played his entire 13-year Hall of Fame career with the club. In addition to his skills on the court, Murphy is also recognized for another impressive feat as one of the most prolific producers of children by any former athlete. Here's a look at Murphy's legacy both on and off the court.
Calvin Murphy has a Hall of Fame career with Rockets
At Niagara University, Calvin Murphy, was a three-time All-American as he scored 2,548 points in 77 games, an average of 33.1 points per game. Despite playing at a small school, Murphy was drafted by the then San Diego Rockets as the 18th overall pick, or first pick of the second round in the 1970 NBA draft.
Murphy transitioned smoothly from small-time school to the NBA as he played in all 82 games his rookie season and averaged 15.8 points and four assists per game. He made the All-Rookie team. 
His offensive game continued to improve throughout his career, including his best season in 1977-78, where he averaged 25.6 points per game. Despite the diminutive size of his 5-feet-9-inch frame, Murphy also developed a reputation throughout the NBA as a tough-nosed defender who wouldn't back down from anyone. 
Murphy is also regarded as one of the best free-throw shooters in NBA history. He led the NBA in free throw percentage twice and finished among the top five eight other times. He ranks third in the NBA record book for consecutive free throws made (78) and first for seasonal percentage mark hitting on 206 of 215 attempts for a .958 percentage, both feats happening in the 1980-81 season. 
Murphy's 17,949 points were a Rockets franchise record until Hakeem Olajuwon passed him. Murphy, who made the All-Star game in 1978-79, retired following the 1983 season. He was inducted into the Hall of Fame in 1993.
Calvin Murphy fathers 14 children with nine different women
While Calvin Murphy was leading the Rockets and setting multiple records on the basketball court, he was also quite busy off the court producing children. This all came to light in 2004 at trial when the Hall of Famer was accused of sexually abusing several of his daughters, a charge he was later acquitted of by a jury.
In court proceedings, prosecutors said Murphy tried to maintain a public image of having only one family, even though he had fathered 14 children with nine different women. He only married one of the women, according to prosecutors, and accepted her children. The other children born out of wedlock were instructed to keep their connection to him private and weren't supposed to call him "Dad."
Murphy's defense never denied he had all the children with the different women. It was a bizarre twist for a man who at the time was well-respected in the NBA community, and particularly in Houston, where he was a television analyst for the Rockets. Following the trial, Murphy returned to the broadcast booth where he currently works as a halftime and post-game analyst for local Rockets broadcasts.
What former athlete has the most kids?
Calvin Murphy's 14 children is an impressive number, but he's got company. Former NFL cornerback Antonio Cromartie has had 12 children with eight different women. He reportedly pays $336,000 per year to support eight of his children.
Boxing legend and another Houstonian George Foreman has 12 children of his own, seven daughters and five sons. He named all of his sons George so they would "have something in common." Foreman is just one of multiple boxers who has produced large numbers of children.
Evander Holyfield has 11 children with six different women and Muhammad Ali had nine children with five different women. Basketball is equally fertile as former Bulls NBA champion Jason Caffey has 10 children with eight women, and Willie Anderson has nine children with seven women.
But as the numbers clearly show, Calvin Murphy, is the unofficial top dog. He might have been small in stature, but he was a giant when it comes to producing children.