Does Tony Ferguson Have a Chance Against Khabib Nurmagomedov?
For the fifth time, the UFC is trying to get Tony Ferguson in the octagon against Khabib Nurmagomedov. The four previous times the fight was booked, one of the fighters had to back out at the last minute. It is a fight that UFC fans have been waiting years for, and if all goes well, then the two will meet April 18, 2020. He's probably the only UFC fighter with a shot to defeat Nurmagomedov, but how realistic is Tony Ferguson's chance to earn the win?

What we know about Ferguson vs. Nurmagomedov
Because of how far into the future this fight is, there aren't many details about it. That said, due to the brawl that happened after Nurmagomedov fought Conor McGregor in Las Vegas, Nurmagomedov has said that he wants his fights to happen outside of Las Vegas. That's why the location of this fight will be in Brooklyn.

Furthermore, the UFC isn't dumb. It has tried to make this fight happen for years, but every time, something goes wrong. That's why the UFC is almost definitely preparing a backup fighter. Justin Gaethje is the most likely person who'll be standing on the sidelines and wait to step in at a moment's notice.

Other than those things, the only other certainty about this fight is that you'll be able to buy the pay-per-view through ESPN. Everything else is an uncertainty, including whether or not this fight even happens.

Why Tony Ferguson has the best chance to win
There are many aspects of being a good UFC fighter, and having a strong mind is one of them. As John McCarthy, the UFC's most famous referee, said, Ferguson has one of the toughest minds in the UFC. Nurmagomedov got into McGregor's head and beat him, but he won't be able to do that to Ferguson.

Ferguson has been through a lot, including some personal issues regarding his family. Those things didn't stop him from winning fights, and because of that, many people think that Nurmagomedov won't be able to mentally break Ferguson.

In fact, in terms of mentality, Ferguson claims that he's already in Nurmagomedov's head. In a way that is true. Both men have wanted this fight for years, and both men, for multiple reasons, haven't been able to make it happen. Undoubtedly, both men, including Nurmagomedov, are constantly thinking about fighting the other man.

Furthermore, Ferguson claims that he has better results against the common opponents that both men have fought. Because both men have dominated the division for so long, they both have battled many of the same people. And Ferguson is right in his claim, as he submitted Gleison Tibau, a man that Nurmagomedov had a hard time beating.

Why Tony Ferguson doesn't have a chance against Khabib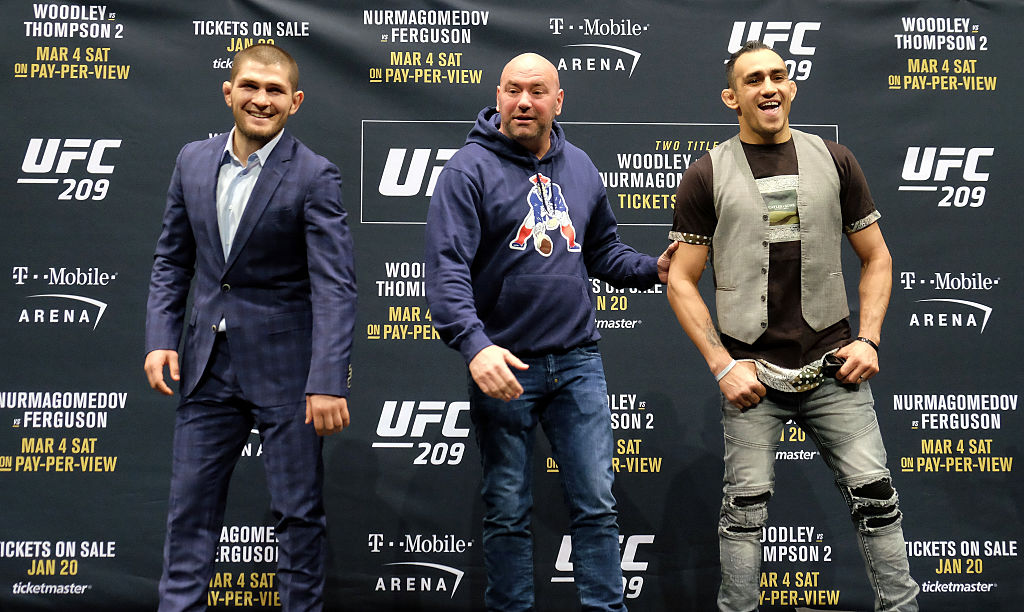 Tony Ferguson is mentally tough, but so is Khabib Nurmagomedov. As a kid, Nurmagomedov famously wrestled bears, and as an adult, he swims upriver to train. These insane exercises are a part of who Nurmagomedov is, and he is one of the toughest men in the UFC. In addition to that, McGregor, one of the best trash talkers in the UFC, failed to get into Nurmagomedov's head in the build-up to their fight.

Plus, in terms of comparing opponents, Nurmagomedov's actually beaten the last man to beat Ferguson. In 2012, Ferguson suffered his first and only loss in the UFC when he lost a unanimous decision against Michael Johnson. In 2016, Nurmagomedov wrestled and submitted Johnson in New York, thus showing that Nurmagomedov has performed better than Ferguson has in his past performances too.

Overall though, it's all a toss-up. As McCarthy said, Ferguson isn't going to mentally break against Nurmagomedov. And as Nurmagomedov has shown, he won't mentally break either. Both men have dominated the division for so long, and both have a path to victory. But fans don't care about that. Until both men step into the octagon and the fight actually starts, nobody's getting their hopes up just yet.