Does Tony Romo's New Deal Open the Door for Adrian Peterson?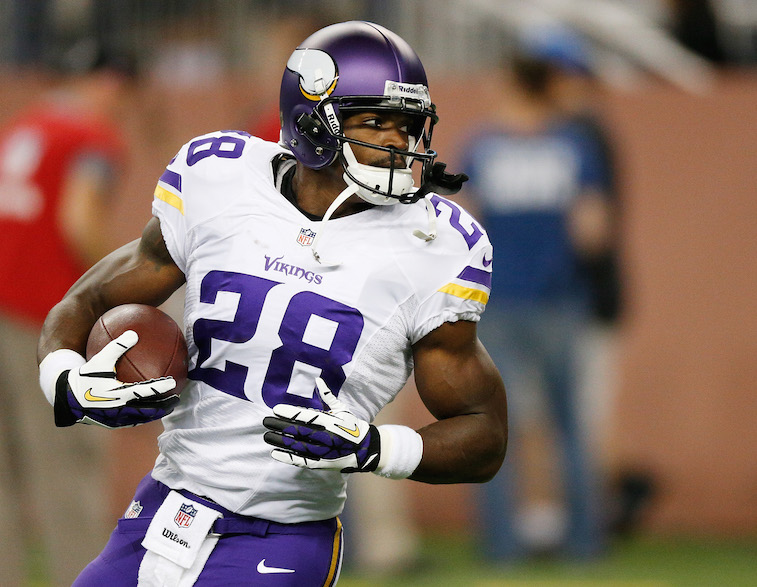 The Dallas Cowboys restructured quarterback Tony Romo's contract for the second time in two years last week. The move essentially converts the majority of Romo's salary for the upcoming season into a signing bonus, which frees up $12.8 million in salary cap space for the Cowboys in 2015 and also creates the very real possibility that the Cowboys will face serious cap issues in the coming seasons.
This move came on the heels of a report that former Cowboys running back DeMarco Murray had approached Romo and asked the four-time Pro Bowl quarterback to take a pay cut so he (Murray) could re-sign with the team. As it turns out, Murray eventually went on to sign a five-year, $40 million contract with the Philadelphia Eagles in a move that left a gaping hole at the running back position in the Cowboys' offense.
The Cowboys have been linked to Minnesota Vikings running back Adrian Peterson ever since it became public news that the 2012 NFL MVP had expressed his desire to play in Dallas during a phone call with Cowboys owner Jerry Jones in June. Peterson is under contract with the Vikings through the 2017 season, but that hasn't kept him from conveying his wishes to continue his career elsewhere, through his agent, multiple times this offseason.
As soon as the details of Romo's restructured contract became common knowledge, the Peterson-to-Dallas talks ramped up to an all-time high. As previously mentioned, Romo's new deal freed up $12.8 million in salary cap space for the Cowboys; Peterson's 2015 salary is $12.75 million. Seems like a perfect match, right?
Everything could change in a hurry should the Vikings choose to release their star running back, rather than keep or trade him. Either way, it appears as though the Cowboys are gearing up toward making a serious run at bringing in Peterson to replace Murray. The numbers match up, but does that mean there is truly a realistic chance that the Cowboys could end up with Peterson in their backfield in 2015?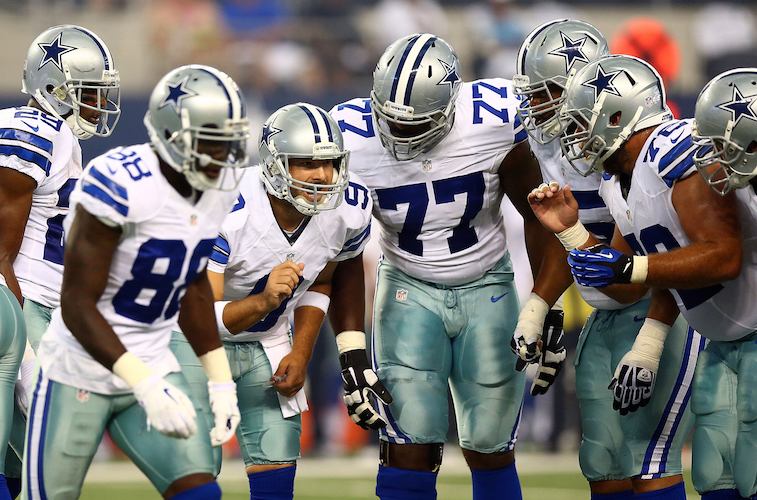 Simply put, the Cowboys cannot afford to take on Peterson's 2015 salary without re-working the contracts of other players on their roster. One of the team's first moves after restructuring Romo's contract was to re-sign inside linebacker Rolando McClain to a one-year, $3 million deal.
That move left the Cowboys with $14,622,218 million in cap space, which is actually only $10,063,212 when their projected rookie draft pick pool of money is factored in. Additionally, due to the unique contract that the team signed Greg Hardy to this offseason, it will need to budget cap space to account for up to $13 million for the controversial defensive end in 2015. Hardy's deal is effectively a per-game contract due to the uncertainty surrounding his status with the league's disciplinary office. If the NFL hands down a lengthy suspension to Hardy, then the Cowboys will have extra cap space in 2015.
If Hardy does not receive a suspension, the Cowboys will have to have the flexibility available to pay his $578,125 per game roster bonus without going over the salary cap. As it stands, the Cowboys appear to have restructured Romo's contract in order to clear up the money to sign McClain, and to account for the possibility that Hardy could have a salary cap hit of close to $13 million in 2015.
If the Cowboys were to reach a long-term agreement with wide receiver Dez Bryant, or if they were to possibly restructure the contract of cornerback Brandon Carr, then the idea of Peterson running out of the tunnel in a Dallas uniform in 2015 could become a reality. Bryant's franchise tag carries a salary cap hit of $12.823 million, and Carr's current contract carries a cap hit of $12.717 million. Truth be told, a long-term extension for Bryant will only create minimal cap savings for the Cowboys.
On the other hand, re-working Carr's current deal is already a near-must for America's Team, and if done correctly, it could have the ability to take on Peterson's contract and solve its issues at the running back position. Otherwise, there is very little chance Peterson joins the Cowboys in 2015.
All contract and salary cap data are courtesy of Spotrac.