Determined Ty Dillon Driving Like He Doesn't Need Friends to Succeed in NASCAR, Struggles in Opening 2 Daytona 500 Practice Sessions
Locked onto the bumper of rookie Harrison Burton, Ty Dillon was determined not to stay put. Three laps remained during the second last-chance qualifier for the Clash at the Coliseum. The top three finishers would advance to the glitzy exhibition.
Second place wasn't good enough for Dillon.
He bumped the NASCAR Cup Series rookie out of the way, bringing out what proved to be a costly caution period.
Dillon captured the race but was disqualified for jumping the final restart. His replacement? Burton.
Ty Dillon was determined to move up the Clash at the Coliseum qualifier field
On what seemed like a path of destruction, Dillon later spoke passionately about his second chance at a Cup career.
The grandson of Richard Childress doesn't need friends. He has family.
Earlier, in the final qualifier on Feb. 6, Dillon found himself in sixth place. It certainly wasn't good enough. Another rookie, Austin Cindric, was in his way.
But not for long.
Tapped by Dillon's new Next Gen machine, Cindric soon went for a spin.
Fox Sports analysts commented on Dillon's aggressive, but mostly clean, driving.
"I wasn't worried about anybody being mad," he said in an interview at the Los Angeles Memorial Coliseum, released on social media.
On Lap 30, Dillon, coming off a strong ride on the outside, and Alex Bowman tangled. Determined to qualify, Dillon continued his charge until he hit the accelerator too soon on the restart.
"I was trying to roll some speed, and I rolled quicker before Bubba (Wallace) decided to go," Dillon said. "I'm sure it looked worse than inside the car. NASCAR has got to make the call, unfortunately. I'm not mad at NASCAR. I hope they stub their toe tonight. All in all, I'm not mad. I had fun."
Dillon struggles to keep pace during the first two Daytona 500 practice sessions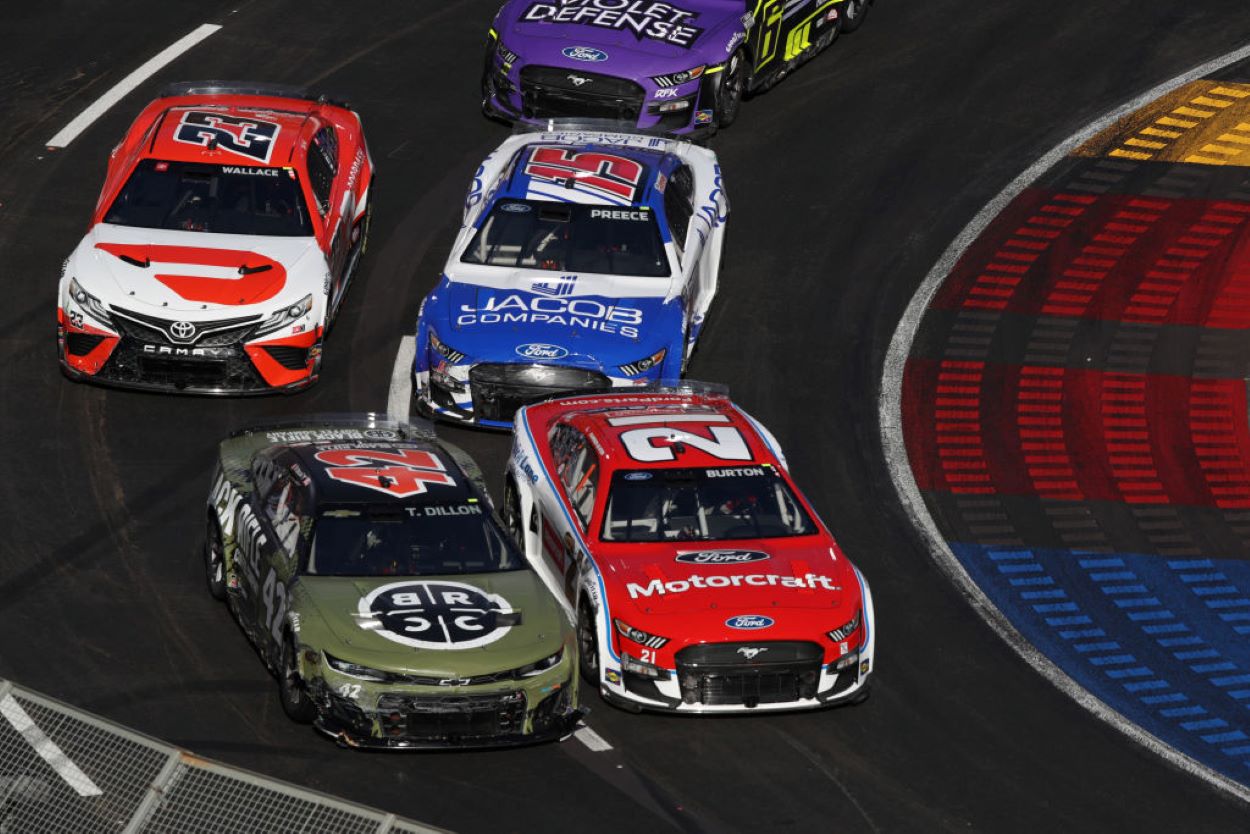 NASCAR didn't stub its toe. The Clash at the Coliseum developed into a ratings bonanza, attracting 4.28 million viewers.
Dillon, however, stubbed his team's big toe on Feb. 15 during the opening of Speedweeks at Daytona International Speedway.
During the two practice sessions, Dillon's No. 42 Chevrolet fell back in the pack.
With most of the teams focused on generating new drafting data, defending champion Michael McDowell topped the field with a speed of 192.736 mph. Dillon was a disappointing 31st at 182.448 mph. He dipped to 180.513 mph in the second practice session, paced by Ryan Blaney's speed of 192.588.
Dillon remains determined to carve out a career after a year off from a full-time Cup ride. While he admitted after the Clash he likely wouldn't have caused so much chaos if it were a points race, he remained unapologetic.
He doesn't seem to care about making any friends. He wants to keep his seat with Petty GMS Motorsports more.
Dillon: 'Everyone's mind frame should be the same'
"I did all I could," Dillon said. "I hope the fans enjoyed it."
They did.
On most NASCAR streams for the next few days after his DQ, Dillon was trending. Not bad for a driver who has just six top-10 finishes in 166 Cup starts. In parts of eight seasons, 2019 proved to be his most "efficient" campaign. In his third of four full seasons with Germain Racing, Dillon's average finish was 20.56.
No wonder he feels so much pressure.
"Everyone's mind frame should be the same," he said.
If "everyone" didn't know just how determined Dillon was before LA, just ask Burton and Cindric and Bowman and …
Like Sportscasting on Facebook. Follow us on Twitter @sportscasting19.
RELATED: Ty Dillon, Austin Cindric, or Harrison Burton: Who Will Be the First to Win a NASCAR Cup Race?