Dolphins Head Coach Brian Flores Doesn't Mince Words When Discussing Tua Tagovailoa's Future in Miami As Deshaun Watson Rumors Continue to Swirl
Things are getting strange in southern Florida for quarterback Tua Tagovailoa and the Miami Dolphins.
Not that there hasn't been enough tension already. The Dolphins were a team that many thought would be the darling of the 2021 season. Instead, Miami is 1-5 on the season and dead-last in the AFC East. Brian Flores, once thought of an up-and-coming head coach, is under pressure to turn his team around, and Tagovailoa's future with the franchise seems to be up in the air.
At the very least, Tua has the support of his head coach. Whether or not he has the support of the greater organization as a whole is still up in the air, but at least that's a place to start.
How did Tua Tagovailoa and the Miami Dolphins get here?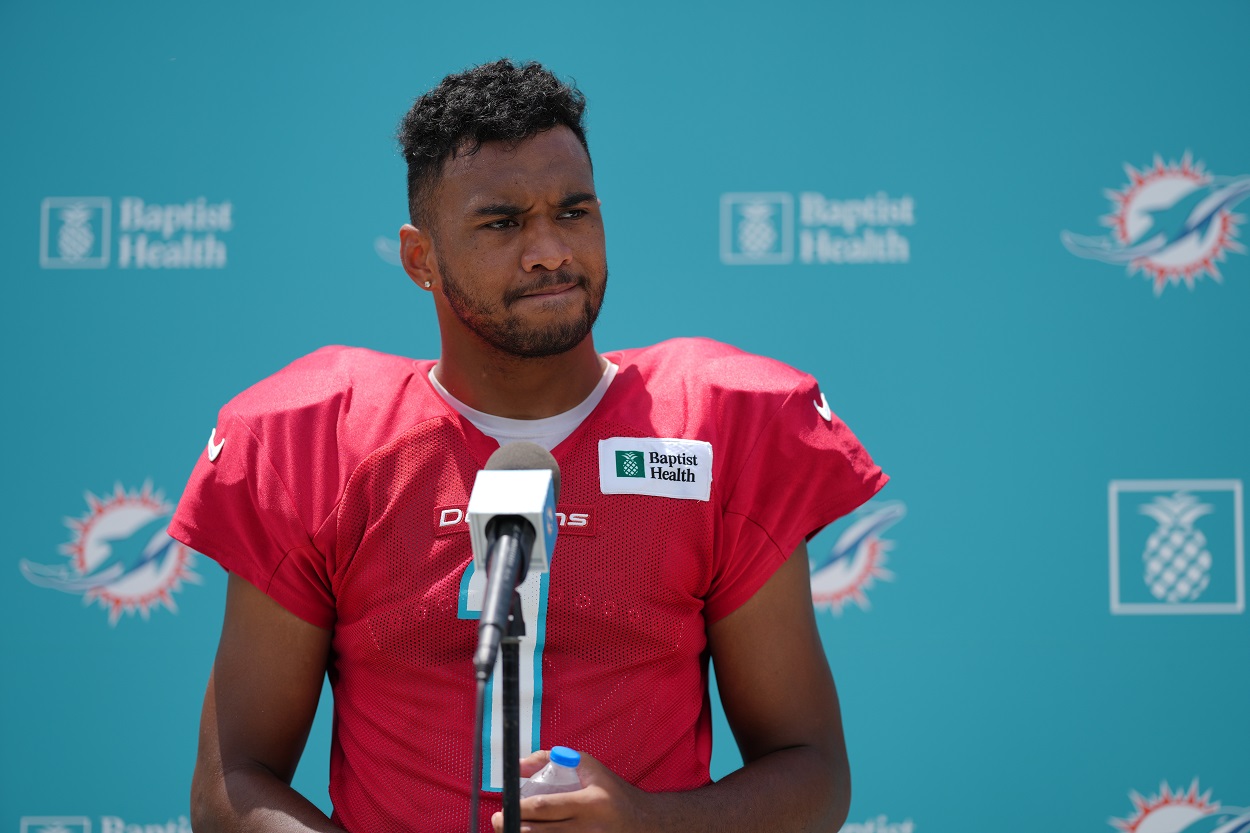 If you just looked at the Dolphins' situation in a vaccume, it would seem that the organization is jumping the shark a bit if it really has lost confidence in its young quarterback.
General manager Chris Grier and his staff drafted Tagovailoa in the first round of the 2020 draft, after all.
Not only was Tua a first-rounder, but the Dolphins used the fifth overall pick on the Alabama quarterback. The investment in Tua was there. He was meant to be the "chosen one" for the Dolphins. The quarterback who could help the organization finally get out of the annual doldrums of the AFC East.
With Tom Brady out in New England and in the NFC with the Tampa Bay Buccaneers, it seemed that Miami's star was finally on the rise, especially after a 2020 season that saw Flores lead the Dolphins to a 10-6 season in just his second year as a head coach. Tagovailoa played quarterback musical chairs with veteran Ryan Fitzpatrick and was benched twice, but overall he flashed enough potential to be considered the starter heading into this season. He started nine games as a rookie, passing for 1,814 yards and 11 touchdowns with just five interceptions. He also showed promise as a runner, rushing for three touchdowns on the ground. It was an up and down season, but thats' to be expected for a rookie quarterback.
With another offseason under his belt, things seemed to be trending up for both Tua and the Dolphins. And then Deshaun Watson became available on the trade market.
Deshaun Watson has been the cloud hanging over Tua's head in 2021
There's no doubting the talent that Deshaun Watson has as a quarterback. He's a three-time Pro Bowler and has thrown for 14,539 yards and 104 touchdowns in just four seasons with a bad Houston Texans franchise. He's an elite quarterback, which made things very interesting when he requested a trade from Houston in January.
Most teams in the NFL would give up a king's ransom for a quarterback like Watson. Again, there's no doubting his talent.
The doubt exists because of the 22 lawsuits that have come out against him.
He has the talent to be an NFL MVP but whether or not he plays in the NFL ever again is still an open question. That depends on if and when he's punished by the NFL, and of course, it depends on whether or not any of those lawsuits lead to charges or any other legal issues.
For what it's worth, Watson is able to play, but his future is soo murky that Houston has actively chosen to be one of the worst teams in the league and keep him inactive. That's a big red flag for any potential trading partners.
There's a lot of risks involved for any team looking to trade for Watson. That didn't stop rumors from circulating earlier this season that the Dolphins were hoping to trade for the Texans' quarterback, though. The rumors were so loud, in fact, that Flores had to publicly back Tagovailoa before the Dolphins' first game of the season.
Though the buzz has died down a bit as of alte, the rumor mill is back up and swirling again with a new report from the Houston Chronicle suggesting that the Dolphins and Texans could be nearing a deal to bring Watson to Miami.
That report has yet to be proven true at the time of this writing, but it apparently has enough legs that Flores felt the need to once again come out and vouch for Tua ahead of Miami's Week 7 matchup with the 2-3 Atlanta Falcons.
"I don't really get into rumors — Tua is our quarterback," Flores said, specifically responding to rumors about Watson and Miami. "We're happy with the quarterback, our quarterback situation. I'll leave it at that, which I've said multiple times."
Where does Tua, and where do the Dolphins, go from here?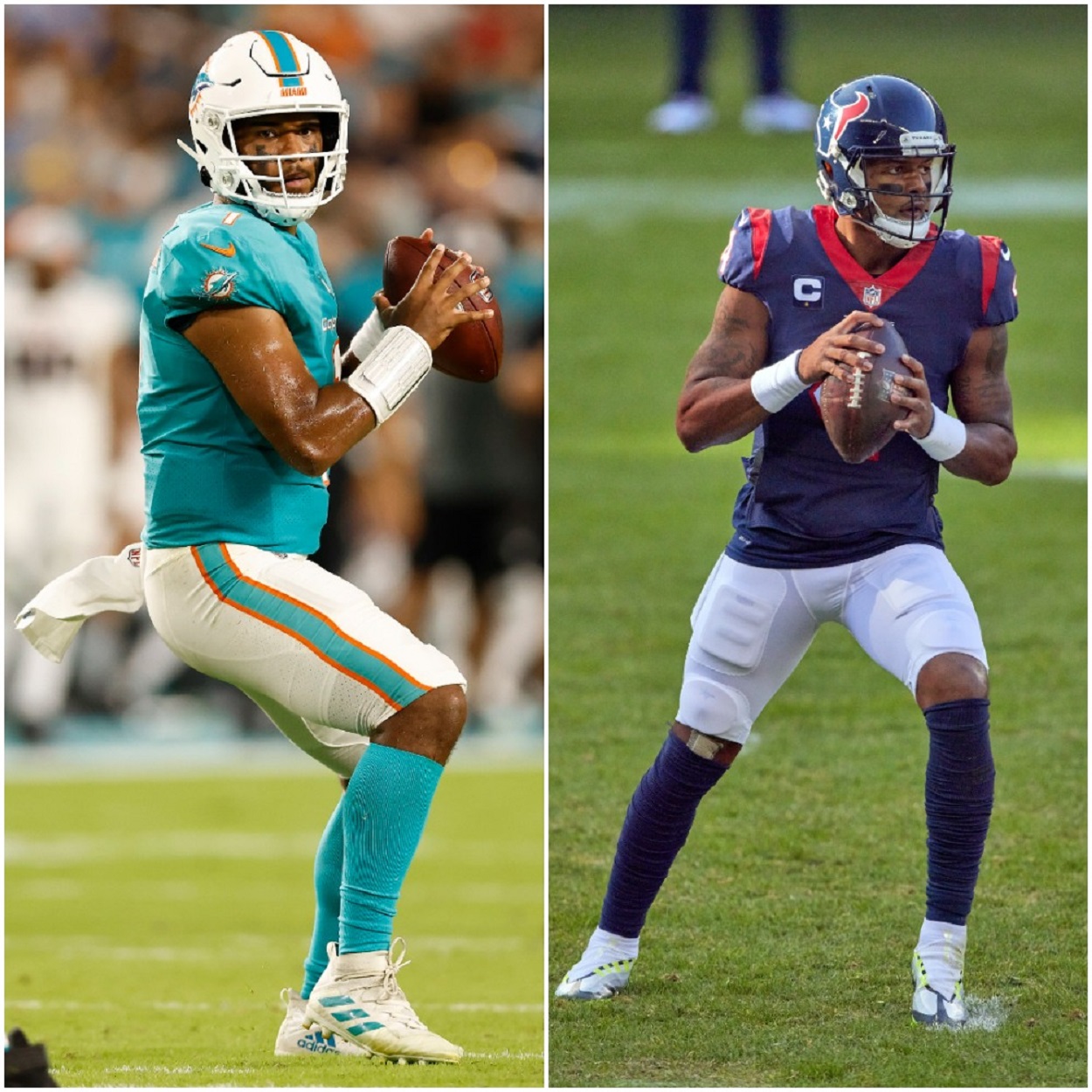 Frankly, how this saga ends up is anybody's guess. One would think that Miami won't shake things up and trade for Watson in the shadow of Week 7 games, but crazier things have happened. That also doesn't mean a deal can't transpire early next week…if it ever does transpire at all.
That's the thing. There's been a lot of smoke around this potential trade but we've yet to see actual fire.
Now here's what we have seen: Flores has been in Tagovailoa's corner from the jump, and though he hasn't been great this season, Tua still does have the potential to be a capable NFL quarterback. He wasn't given the chance to fully develop as a rookie, and injuries have stifled much of the early going of the 2021 season for him.
We still haven't seen a reliable sample size to come away with definitive conclusions.
What makes the math harder for Miami is the fact that Justin Herbert has the looks of a multi-time MVP quarterback for the Los Angeles Chargers. Herbert went one pick after Tagovailoa in the 2020 NFL draft to the Chargers, and Tua will always be compared to him for that reason. Whether that's fair or not can be debated, but right now that pick looks like quite a mistake on the part of Grier and the Miami front office. Had Miami chosen Tua after the Chargers took Herbert, things might feel a lot different for the Dolphins.
It's not fair to Tua, but Grier could potentially rectify that situation and get an elite quarterback of his own if Watson is able to play. Keep in mind, the NFL trade deadline is November, 2nd.
The book on Tua is far from written, though. That's just hard to remember in an NFL culture that is extremely impatient with young quarterbacks.
Stats courtesy of ESPN and Pro Football Reference.
RELATED: The Miami Dolphins' Constant Blunders are Bringing the Tua Tagovailoa Era to a Swift End