Donald Sterling Is Still Worth Billions Despite His Racist Comments That Got Him Banned Him From the NBA
Donald Sterling is a name that the NBA never wants to associate with again. Sterling was the longtime owner of the Los Angeles Clippers but has since been banned by the NBA after making horrible, racist comments. Despite being banned by the league and making those disgusting comments, Sterling still has a very large net worth.
Donald Sterling had a bad history as the owner of the Clippers
RELATED: A Look Back on the Crazy Trade That Nearly Sent Michael Jordan to the Los Angeles Clippers in 1988
In 1981, Donald Sterling acquired the San Diego Clippers for $12.7 million, according to ABC News. The team then moved to LA three years later, and in 2014 the team's value had jumped up to $430 million, according to ABC News.
There were numerous reports of bad behavior by Sterling over the years that he owned the Clippers. There were even lawsuits. Most were just settled privately, according to ABC News. A former employee even took a sexual harassment case against Sterling in 1996, but that was one that was settled privately.
Additionally, former general manager for the Clippers, Elgin Baylor, filed a suit against Sterling and accused him of racism. The accusations claimed that Sterling repeatedly said to Baylor that his team was fielding "poor black boys from the South … playing for a white coach," according to ABC News. The case was ultimately thrown out, though. However, in that same year, Sterling also settled a housing discrimination suit by the Justice Department for $2.7 million that was based on race.
While Sterling had very questionable behavior off of the court, the Clippers were also really bad on the court under his ownership. From the 1981-82 season through 2010-11, the Clippers only went to the playoffs four times. They only made it past the first round once.
Sterling's time in the NBA eventually came to an abrupt end, though.
Being banned by the NBA
RELATED: Clippers' Owner Steve Ballmer Might Be the Teams' Biggest Fan Too
During the 2014 NBA playoffs, TMZ published voice recordings of Sterling making racist comments to his mistress, V. Stiviano, according to ESPN.
"In your lousy f—ing Instagram, you don't have to have yourself walking with black people," Sterling said Stiviano, according to ESPN. "It bothers me a lot that you want to promote, broadcast that you're associating with black people. Do you have to?"
Stiviano asked him, "Do you know that you have a whole team that's black, that plays for you?" He then responded by saying, according to ESPN, "Do I know? I support them, and give them food and clothes and cars and houses. Who gives it to them? Does someone else give it to them? Who makes the game? Do I make the game, or do they make the game?"
Days later, the NBA banned Sterling for life. He was also fined $2.5 million. Sterling's wife, Shelly Sterling, later said that Donald was mentally incapacitated. She then removed him from the family trust and sold the Los Angeles Clippers to Steve Ballmer for $2 billion, according to Forbes. Donald then filed an antitrust suit, alleging that the league and his wife conspired to remove him as the owner. A federal judge dismissed the case, but after filing an appeal, Sterling settled in 2016, according to Forbes.
Sterling is still worth billions of dollars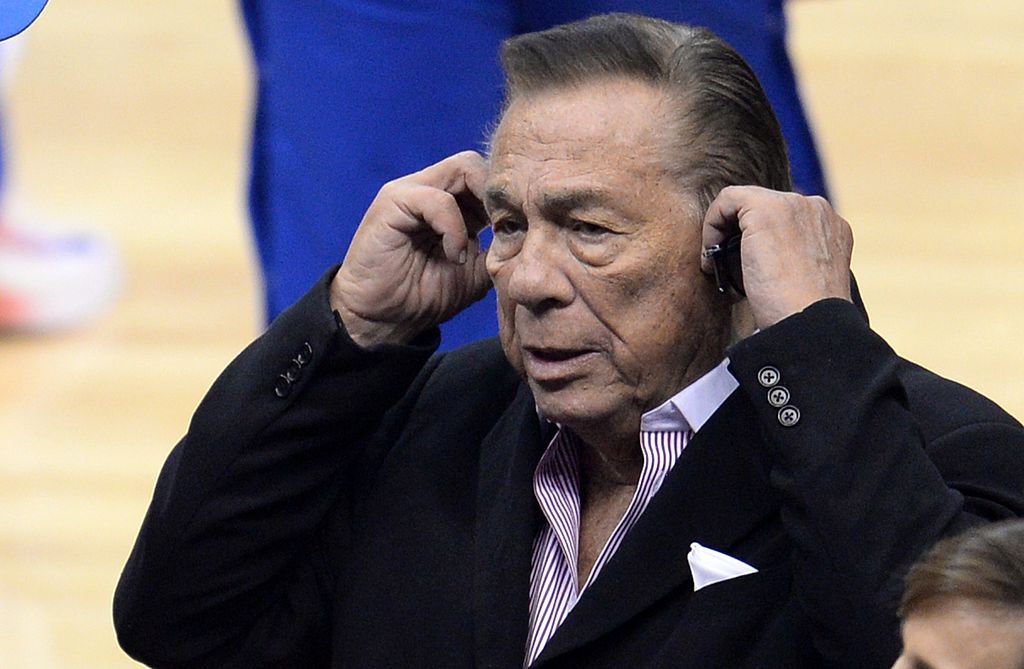 RELATED: Clippers Owner Steve Ballmer Unloads $400 Million in Cash to Buy The Forum
Despite being banned by the NBA, and despite having a record of repeated horrible behavior, Donald Sterling is still worth a massive amount of money.
Sterling is currently worth $3.6 billion, Forbes estimates. He ranked No. 207 on Forbes' list of the 400 wealthiest Americans. Sterling also ranked No. 514 on Forbes' world billionaires in 2020 list.
Donald Sterling finally received punishment for his actions when the NBA banned him and fined him in 2014. He ultimately lost the organization he had owned for over 30 years. However, that did not affect his money. Sterling is still one of the wealthiest humans in the world, and certainly in America.