Donald Trump Is Potentially a Big Reason the Redskins Never Signed Colin Kaepernick
Colin Kaepernick last played in the NFL in the 2016 season. Many people believe that this has a lot to do with his protests that season. It was then when he took a knee during the national anthem to stand up against police brutality and racism in America. For the Washington Redskins, it seems that his protests played a part in them never signing him. However, President Donald Trump might have also had a lot to do with it.
Colin Kaepernick led the San Francisco 49ers to a lot of success
RELATED: Colin Kaepernick's Girlfriend Nessa Reminds People on Social Media Why He Took a Knee in 2016
After throwing just five total passes during his rookie season in 2011, Kaepernick became a star for the San Francisco 49ers in 2012. He ultimately led the 49ers to the Super Bowl that season after throwing for 1,814 yards, 10 touchdowns, and three interceptions in 13 games and seven starts in the regular season.
The 49ers lost to the Baltimore Ravens in the Super Bowl, but Kaepernick threw for 302 yards and a touchdown. He also ran for 62 yards and a touchdown. 
Kaepernick and the 49ers then went back to the NFC Championship Game during the 2013 season. He threw for 3,197 yards, 21 touchdowns, and eight interceptions that year too. 
However, in 2014, despite Kaepernick throwing for a career-high 3,369 yards and running for a career-high 639 yards, the 49ers missed the playoffs.
The 49ers also missed the playoffs in 2015 and 2016. Kaepernick, however, threw for 2,241 yards, 16 touchdowns, and only four interceptions in 11 starts and 12 total games in 2016. He has not played since that season, though.
Not playing since the 2016 season
RELATED: Colin Kaepernick's Girlfriend Nessa Just Called out an NFL Head Coach for Not Signing Kaepernick
During the 2016 season, Kaepernick began protesting against police brutality and racism in America by taking a knee during the national anthem. 
This was his explanation for it in 2016.
"I am not going to stand up to show pride in a flag for a country that oppresses black people and people of color," Kaepernick said, according to NFL.com. "To me, this is bigger than football and it would be selfish on my part to look the other way. There are bodies in the street and people getting paid leave and getting away with murder."
He then became a free agent in March 2017, according to NBC News. Despite multiple teams having quarterback openings since then, not one team has signed him. Many believe that this has a lot to do with the controversy surrounding his protests.
Donald Trump is potentially a big reason the Redskins never signed Colin Kaepernick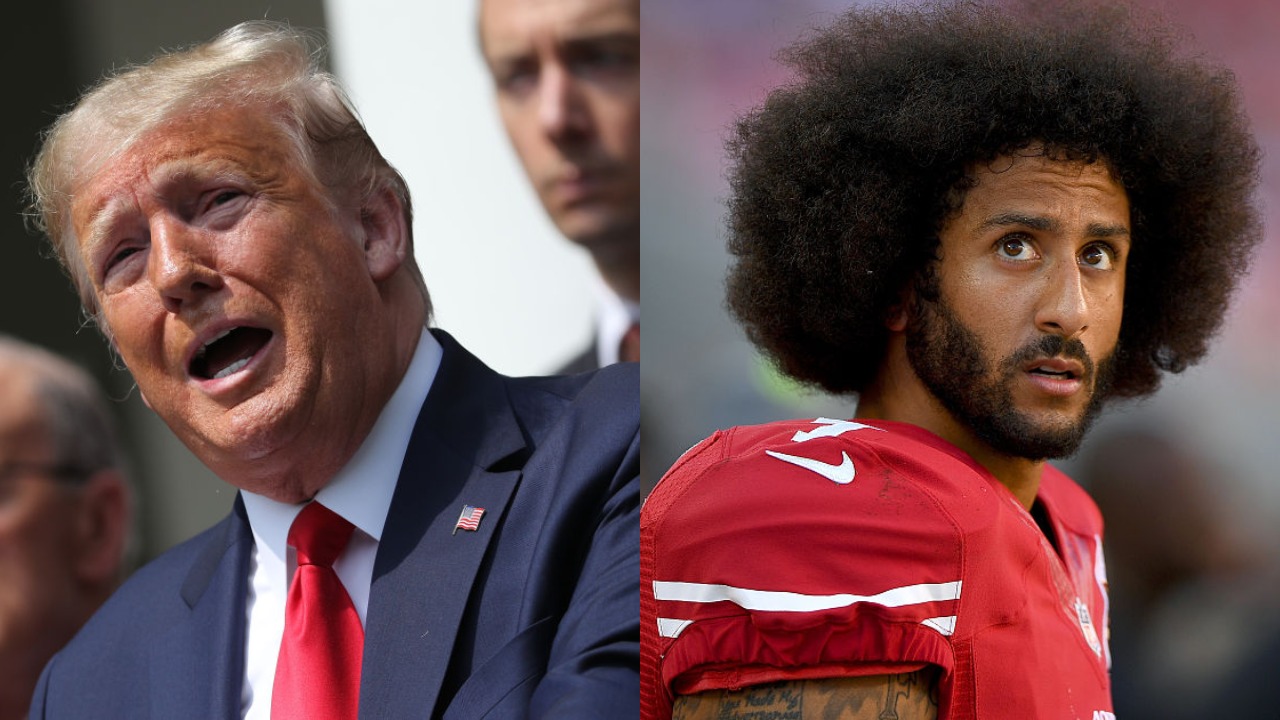 RELATED: Colin Kaepernick Revealed What Event Helped Inspire His Activism
Former Washington Redskins quarterback Doug Williams is now the senior vice president of player development with the team. In previous years, Williams assisted the team's personnel staff, and was then promoted to senior vice president of player personnel in 2017, according to CBS Sports.
Williams was on The Dan Patrick Show recently, and he discussed whether the Redskins ever considered signing Kaepernick. He ultimately brought up the Redskins' proximity to Washington D.C. and President Donald Trump, who has been very critical of Kaepernick's decision to kneel in the past, according to CBS Sports.
"I think what happened here, we're in a heavily, heavily military area," Williams said, according to CBS Sports. "And I think the guy that sits on Pennsylvania Avenue — 1600 Pennsylvania Avenue — made such a big stink of it, the fans in this area … (it) might've been a tough situation for both the team and (Kaepernick) … You don't want to bring people into a situation where nobody is going to be happy. I think that's probably what happened, why he didn't come up during that time."

Doug Williams
With more teams potentially looking into signing Kaepernick now, as more people start to understand why he took a knee in the first place, the Redskins probably won't be one of them. They were in the market for a QB in 2018, according to CBS Sports, but they selected Dwayne Haskins in the first round of the 2019 NFL draft. 
Maybe just maybe, though, one team will actually sign Kaepernick soon.
Stats courtesy of Pro Football Reference