Donald Trump Just Blasted NBA Players for Their National Anthem Protests
For most of President Donald Trump's presidency, there has been a national debate about whether it is OK for people to kneel during the national anthem. Colin Kaepernick, of course, started the protest back in 2016 when he played for the San Francisco 49ers. He did so to stand up against social injustices and racism in America. Since the death of George Floyd, the debate has recently become polarizing again. The protest has even made its way into the NBA in a massive way as many players and coaches are doing it prior to games in the bubble. However, it appears that Trump has something to say about it.
Colin Kaepernick began the national anthem protests in 2016
RELATED: Who Was the First MLB Player to Kneel During the National Anthem and Support Colin Kaepernick?
Kaepernick was having an excellent career as quarterback of the San Franciso 49ers. He even took them to a Super Bowl during the 2012 season, and back to the NFC Championship Game the following season.
During the 2016 season, though, Kaepernick started a movement by kneeling during the national anthem. He explained his decision back in 2016.
"I am not going to stand up to show pride in a flag for a country that oppresses Black people and people of color," Kaepernick said, according to NFL.com. "To me, this is bigger than football and it would be selfish on my part to look the other way. There are bodies in the street and people getting paid leave and getting away with murder."
Kaepernick threw for 2,241 yards, 16 touchdowns, and four interceptions in 11 starts and 12 total games in 2016. However, he has not played since that season. Many people believe that his protests during the anthem have a lot to do with it.
Donald Trump has tweeted his displeasure about kneeling during the anthem many times
RELATED: Stephen Jackson Seems to Be Absolutely Tired of Donald Trump
While many people have come around on the protests in recent months, Trump has always been firmly against it.
Back in 2016, when he was running for president but hadn't been elected yet, Trump said this about Kaepernick's protests to The Dori Monson Show. 
"I have followed it and I think it's personally not a good thing. I think it's a terrible thing, and you know, maybe he should find a country that works better for him, let him try, it's not gonna happen," Trump said, according to BuzzFeed News.
He has continued to stick by his stance throughout his presidency.
"The NFL National Anthem Debate is alive and well again – can't believe it," Trump tweeted in 2018. "Isn't it in contract that players must stand at attention, hand on heart? The $40,000,000 Commissioner must now make a stand. First time kneeling, out for game. Second time kneeling, out for season/no pay."
In July 2020, after baseball players began kneeling in the aftermath of Floyd's killing, he tweeted this.
"Looking forward to live sports, but any time I witness a player kneeling during the National Anthem, a sign of great disrespect for our Country and our Flag, the game is over for me!"
Trump tweets about the anthem, again, after NBA players kneel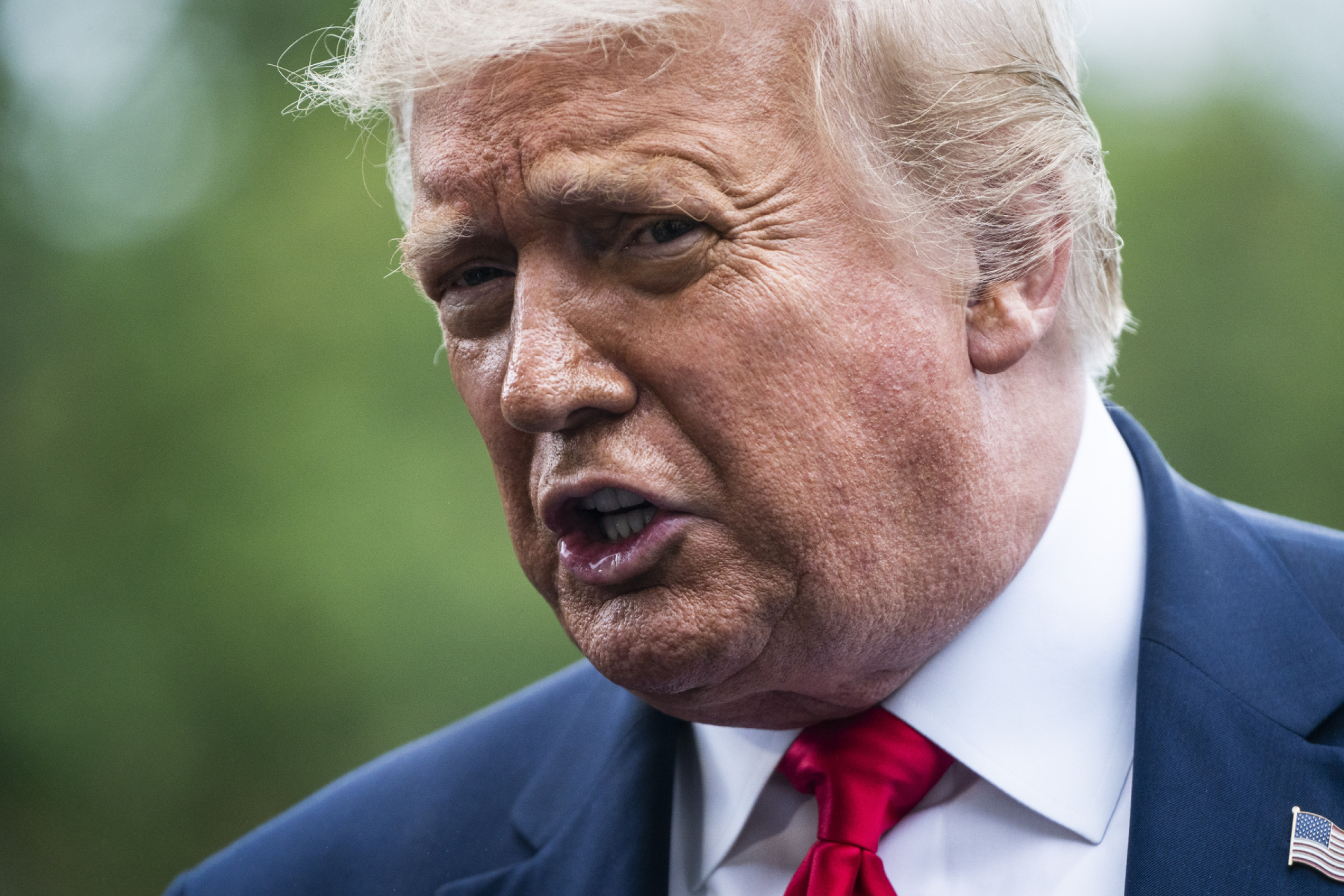 RELATED: LeBron James Sent a Powerful Message to Colin Kaepernick From the NBA Bubble
The 2019-20 NBA season recently resumed after it had been suspended due to COVID-19. Many NBA players and coaches have since knelt during the anthem prior to the recent games, and many have also worn shirts that say, Black Lives Matter.
"The national anthem took two minutes. There were guys who needed towels and things to get under their knees. And yet, someone kneeled on another human being's neck for eight minutes. That's nuts," LA Clippers coach Doc Rivers said, referring to Floyd's death, according to Sports Illustrated.
Players of the Oklahoma City Thunder have also protested the anthem, even despite an Oklahoma state lawmaker, Rep. Sean Roberts, threatening to pull tax breaks from the team, according to Yahoo Sports.
"If the Oklahoma City Thunder leadership and players follow the current trend of the NBA by kneeling during the national anthem prior to Saturday's game, perhaps we need to reexamine the significant tax benefits the State of Oklahoma granted the Oklahoma City Thunder organization when they came to Oklahoma," Roberts wrote in a statement, according to Yahoo Sports.
Now, they are, again, receiving a message from the president.
"People are not happy that players are not standing for our National Anthem," Trump tweeted on Aug. 4, 2020.
This certainly isn't the strongest stance that the president has made on Twitter, but everyone knows how he feels about the issue. As long as Trump is president, this will most likely be an on-going feud between the President of the United States and athletes throughout all of the country's major sports leagues.
Stats courtesy of Pro Football Reference