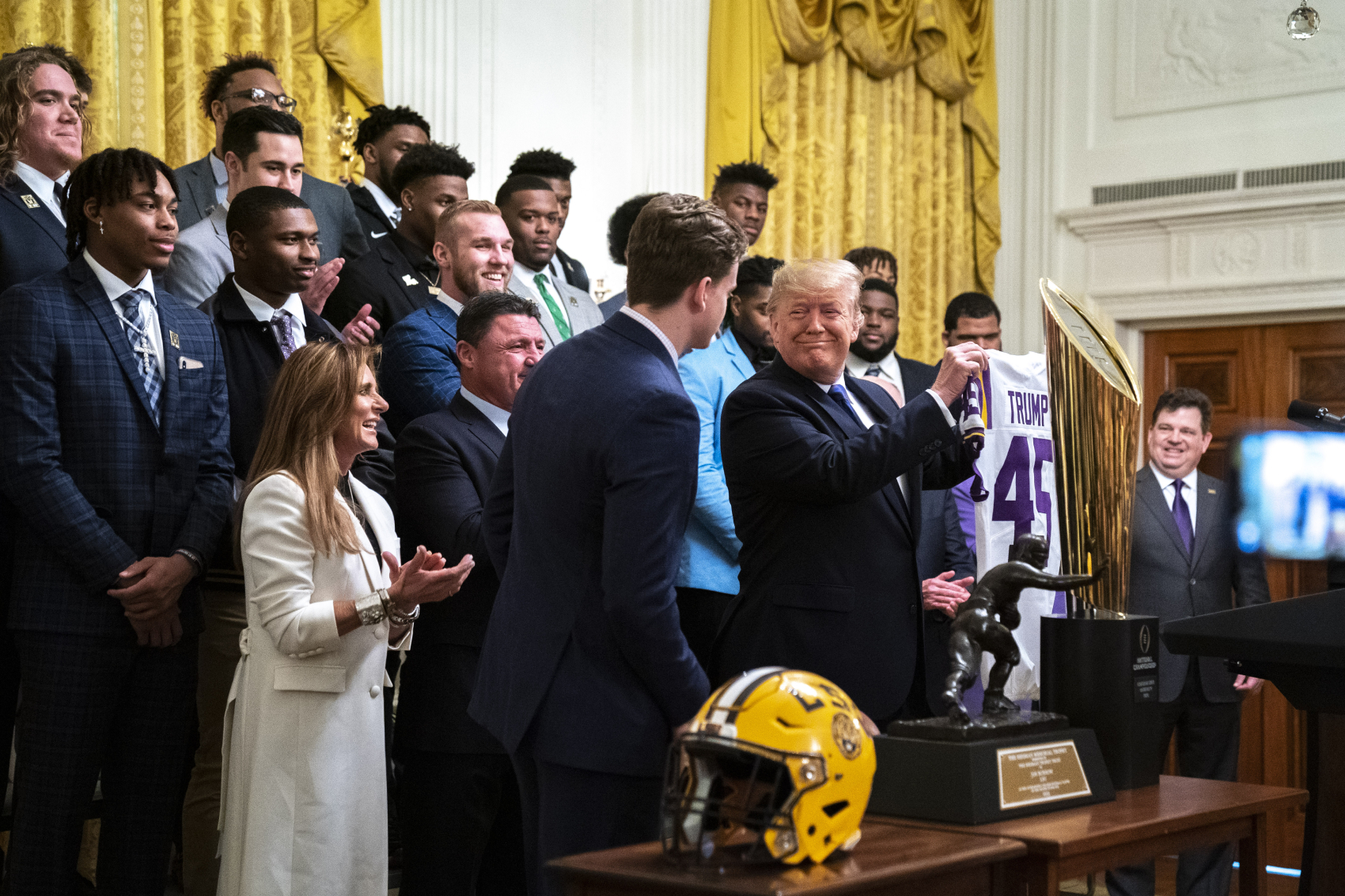 Donald Trump Says Multiple Blatantly False Statements While Discussing Football
President Donald Trump talked about football in a conference call recently, and he made multiple false statements while discussing it.
Over the years, many people have enjoyed fact-checking statements made by President Donald Trump. Of course, many of the statements have been about serious issues. However, Trump recently discussed football during a conference call where he voiced his support for Tommy Tuberville, a former college football coach. Tuberville is running for a U.S. Senate seat. Also during this conference call, though, Trump made multiple blatantly false statements.
What did President Donald Trump say?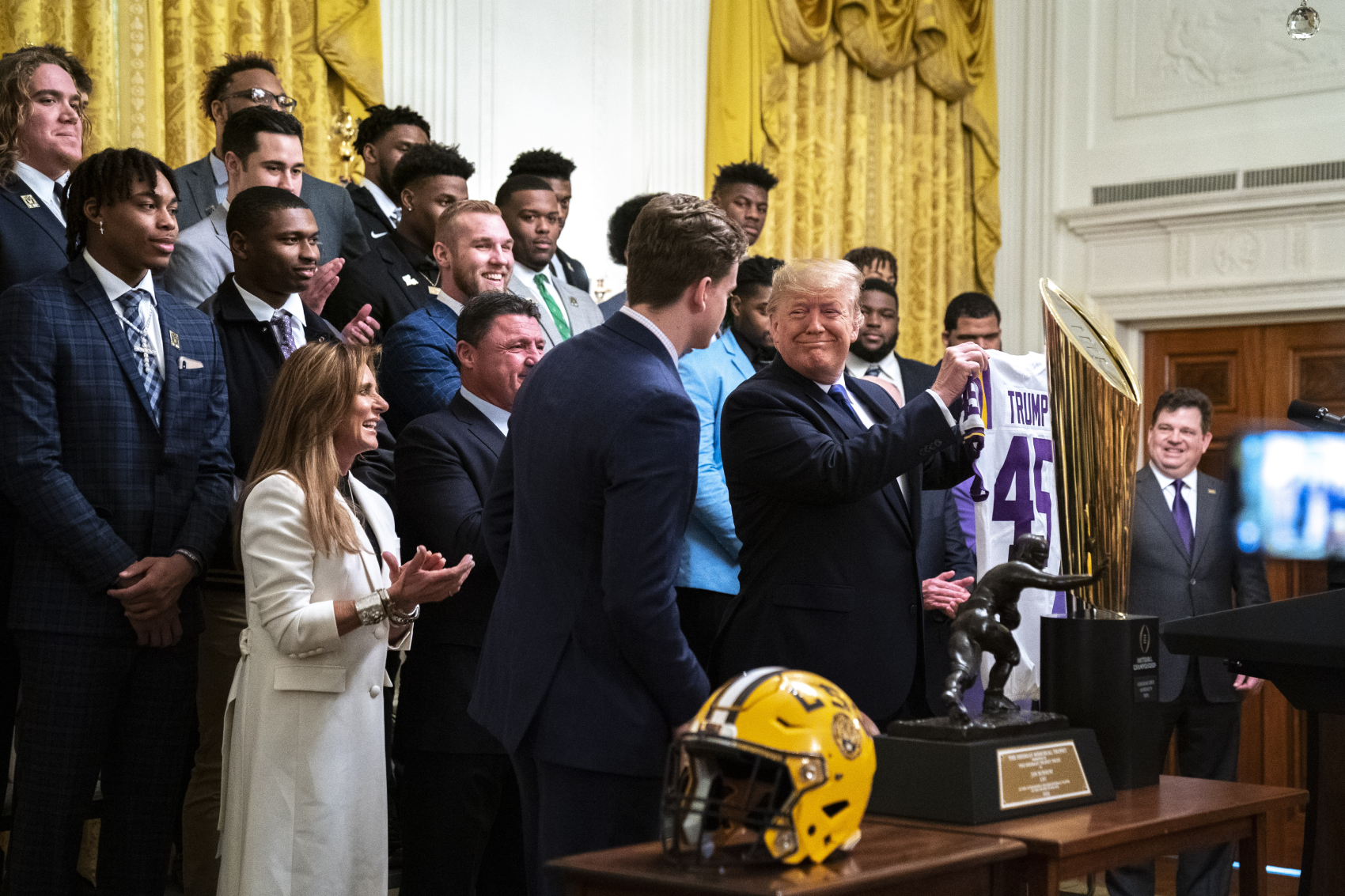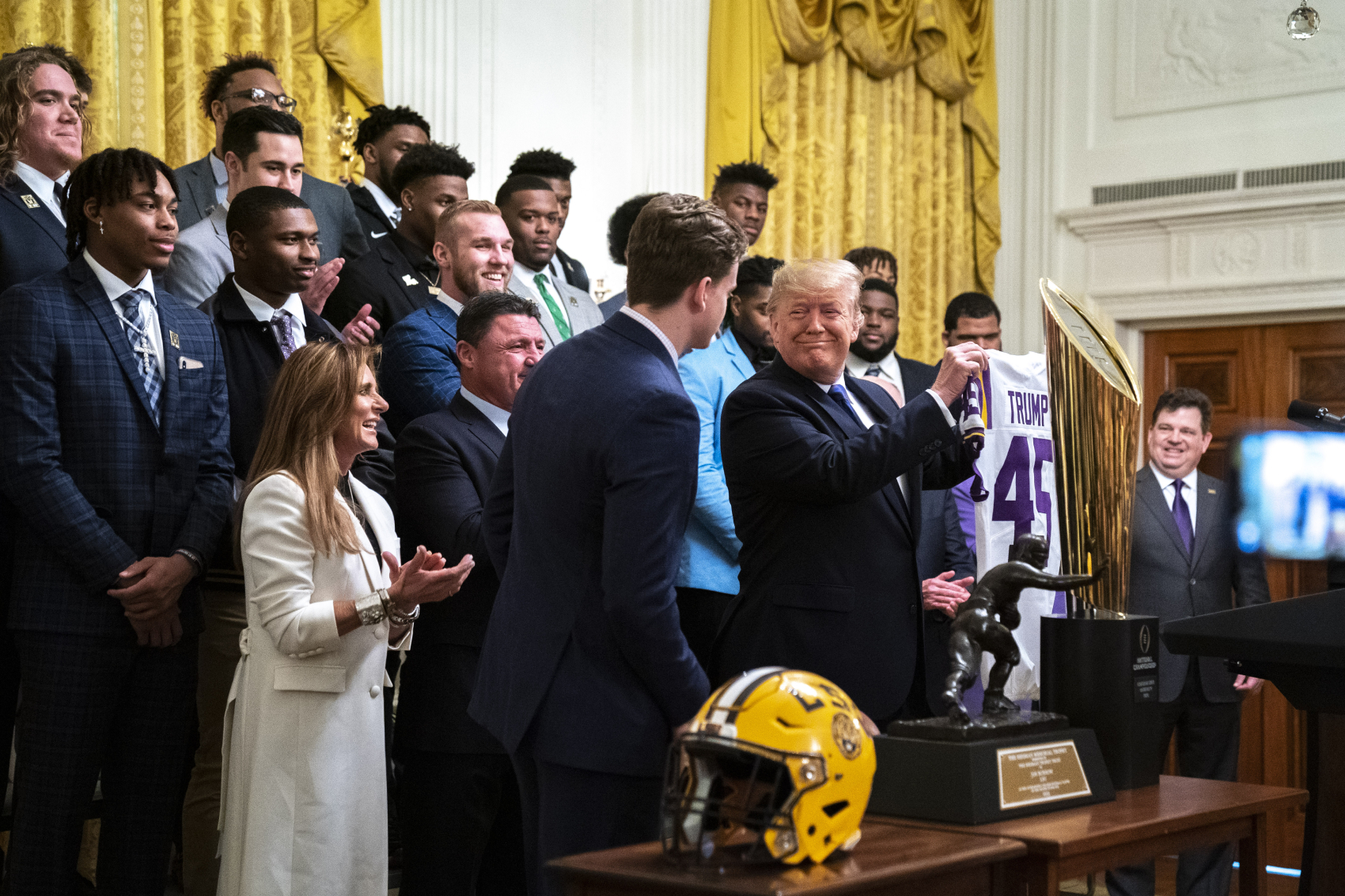 Ahead of the Alabama Republican runoff election for a U.S. Senate seat, Trump made sure to voice his support for former college football coach Tommy Tuberville. 
Tuberville is going up against former U.S. Attorney General Jeff Sessions for a shot at a spot in the Senate. The winner in the runoff on Tuesday will take on Sen. Doug Jones in the general election. NPR reports that Jones is the most vulnerable Democrat in the Senate and the GOP's best shot to win a seat held by a Democrat. 
"Really successful coach," Trump said of Tuberville, according to AL.com. "Beat Alabama, like six in a row, but we won't even mention that."
Trump, however, did not stop there. 
"As he said … because of that, maybe we got 'em Lou Saban … And he's great, Lou Saban, what a great job he's done," Trump said. 
Wait, does he mean Nick Saban? 
Who is Lou Saban, and did Donald Trump mean Nick Saban?
OK, this isn't a long quote, but Trump said multiple false statements here. Let's start with the biggest one — who is Lou Saban?
Lou Saban was, in fact, a football coach. However, he never coached at Alabama, so Trump clearly meant to say, Nick.  
Lou did not have nearly as much success as Nick Saban has had. In college, Lou coached at 10 different schools and had a 94-99-4 record, according to Yahoo Sports.
Lou also coached in 16 seasons professionally in the NFL and AFL. After going 7-12 in two separate seasons with the Boston Patriots, he spent four seasons with the Buffalo Bills from 1962 through 1965. The Bills were AFL Champions in 1964 and 1965. 
He then coached the Denver Broncos from 1967 through 1971, and the Bills again from 1972 through 1976. Lou did not have one winning season with the Broncos but had three winning seasons in his second stint with the Bills. For his career at the professional level, Lou went 95-99-7, according to Pro Football Reference. He died in 2009. 
On the other hand, Nick Saban has won six national championships at the college level, including five at Alabama. He has a career 248-65-1 record in college.
So, what was the other false statement that Trump made?
Tommy Tuberville was not a 'really successful coach'
Trump called Tuberville a "really successful coach," and that's actually pretty laughable. Tuberville had three good seasons at Auburn, but other than that, his teams were either mediocre or bad. 
Tuberville coached at Ole Miss from 1995 through 1998, and they did not have fewer than four losses in any of those seasons. Other than the 1997 season where they went 8-4, Ole Miss went 6-5, 5-6, and 6-5 under Tuberville. 
He then went to Auburn in 1999, and his teams were just average in his first five seasons as they did not have fewer than four losses in any of those seasons. 
However, from 2004 through 2006, his teams were good. In 2004, Auburn went 13-0 and won the Sugar Bowl. He also won the AP Coach of the Year award that year. Auburn then went 9-3 in 2005 and 11-2 in 2006. In his final two seasons at Auburn, though, the team went 9-4 and then 5-7. 
He then spent three seasons at Texas Tech, and they had five or more losses in each season and went 5-7 in 2011.
In 2013, Tuberville began coaching at Cincinnati. The Bearcats had lost three or fewer games in five of the six seasons before Tuberville took over. They ultimately lost four or more games every season while he was there, though, and the Bearcats went 4-8 in his final season in 2016. 
Since Tuberville has left Cincinnati, after another 4-8 season in the year following his departure, the Bearcats have gone 11-2 and 11-3. 
So, was Tuberville a "really successful coach?" If Trump was just looking at his 2004, 2005, and 2006 seasons at Auburn, then yes, he was correct in saying that. If he were to, however, look at Tuberville's entire career — then he was blatantly wrong. Tuberville was a mediocre coach at best.
Stats courtesy of Sports Reference and Pro Football Reference