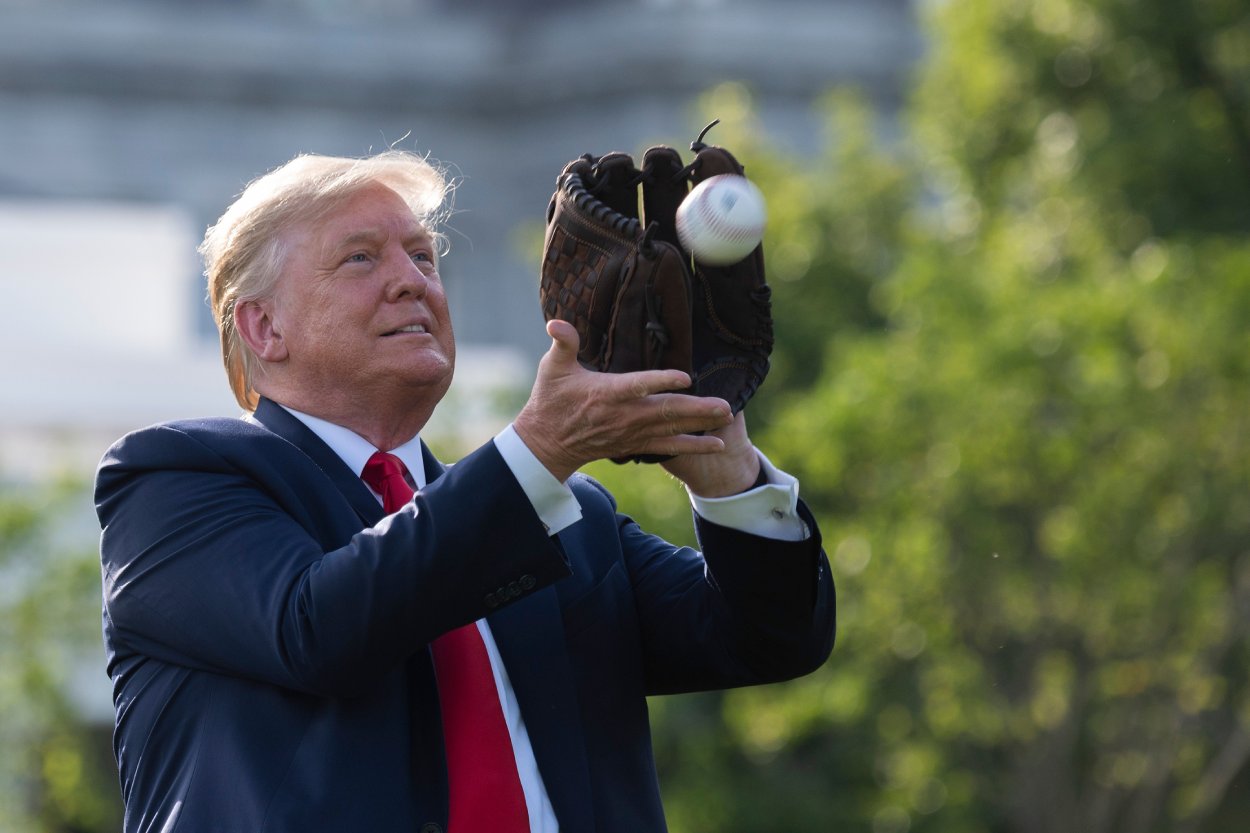 Donald Trump, the Self-Admitted Former Baseball Fan, Ripped the Cleveland Indians' Name Change: 'The People of Cleveland Cannot Be Thrilled'
Donald Trump is upset with the Cleveland Indians' recent name change. The Indians will become the Guardians after the 2021 season ends.
The Cleveland Indians, soon to be the Guardians, should not expect to host Donald Trump as a guest anytime soon.
Trump, who now calls himself a "former baseball fan," has attended professional sports games for decades. However, the former President is among those displeased with the Indians' name change, although not because he wanted to see star pitcher Shane Bieber wear 'Avengers' on his jersey next year.
Donald Trump is unhappy about the Cleveland Indians' name change
Plenty of social media users disliked the Indians' decision to become the Guardians. Trump likely would have been among them had Twitter and Facebook not banned his accounts earlier this year.
The former President instead aired his grievances in a press release on Friday, July 23. Although he now sends daily updates on everything from the pandemic to political commentary, his 129-word statement focused solely on the team's name change, which will go into effect after the 2021 season.
"The people of Cleveland cannot be thrilled, and I, as a FORMER baseball fan, cannot believe things such as this are happening. A small group of people with absolutely crazy ideas and policies is forcing these changes to destroy our culture and heritage. At some point, the people will not take it anymore!"

Donald J. Trump
Trump also suggested that Native Americans would be among those most angered by the name change. ​​Jeff Pierce, executive director of the American Indian Education Center for Cleveland and the People not Mascots group, would likely disagree. 
"It's supposed to represent us, but it's a caricature of us, of indigenous people, and that's not acceptable," Pierce told the New York Post. "It was a harmful name because when people are grouped together as a caricature, it's dehumanizing to the group of people it represents."
Trump has historically criticized those who called for teams to change their names and imagery
This is far from the first time that Trump, who turned 75 in June, has publicly criticized sports franchises for changing their name or imagery.
The Washington Football Team announced in July 2020 that it would remove all Native American branding and imagery. Trump blasted both Washington and Cleveland for considering name changes for what he called a desire to be "politically correct."
"They name teams out of STRENGTH, not weakness," Trump wrote in a now-deleted tweet.
Trump also criticized then-President Barack Obama for publicly suggesting in October 2013 that Washington should have changed its name and imagery.
"President should not be telling [Washington] to change their name-our country has far bigger problems!" Trump wrote. "FOCUS on them, not nonsense."
The Atlanta Braves could be the next team to disappoint Trump
Cleveland and Washington aren't the only professional sports teams that could change names and branding in the coming years.
The Atlanta Braves, Chicago Blackhawks, and Kansas City Chiefs are among those with a history of problematic imagery. Ahead of the 2020 season, the Chiefs banned Native American headdresses, face paint, and clothing from Arrowhead Stadium.
Although Braves fans have done the "tomahawk chop" for years, the team temporarily stopped encouraging the gesture in 2019. Ryan Helsley, a Cardinals relief pitcher and a member of the Cherokee Nation, called the chant and motion "disrespectful."
Braves fans resumed doing the chop in April 2021. Fans could not do so last year because Truist Park did not welcome fans during the pandemic-shortened season.
As of publication, none of the three teams had announced any plans to alter their name or branding. If or when they do, one should expect Trump to go on the warpath once again.
Like Sportscasting on Facebook. Follow us on Twitter @sportscasting19.