Donovan Mitchell and Rudy Gobert Squash Their Tension and Have Glowing Praise Amid Jazz's 6-Game Winning Streak
The Utah Jazz rapidly hurtled toward a bottomless pit after going 4-12 in January. Having tumbled down the Western Conference standings, the Jazz also had to endure more rumors regarding Donovan Mitchell's purported unhappiness. Whispers suggested Spida yearns to play in a big market, with Sports Illustrated's Howard Beck reporting on The Crossover podcast that Mitchell's relationship with Rudy Gobert remains on unstable ground.
Gobert and Mitchell sent implicit shots at one another last month, with the Stifle Tower questioning the team's defensive effort and Spida sort of scoffing at Gobert's words. It added wood to a fire that had existed since 2020, when reports first surfaced about the shaky relationship between the two Jazz stars.
However, the Jazz have found something. Utah has won six straight. Gobert returned to the rotation on Monday after a nine-game absence. Most importantly, the Stifle Tower and Spida have both shown vital leadership and seem to have put any existing tension on the backburner.
The Jazz seem hungry to regain their status as an NBA title contender.
Donovan Mitchell sparks the Jazz's win streak
The Jazz's 4-12 stretch in January came primarily as a result of injuries. Gobert missed eight games, while a concussion sidelined Mitchell for eight games between Jan. 19 and Feb. 2.
But the Jazz have gradually gotten healthy, with Mitchell in particular playing tremendous basketball since rejoining the team.
Mitchell is averaging 25.4 points on 48.8% shooting in the last five games, including 42.6% from beyond the arc. He's also averaging 6.6 rebounds and 5.6 assists, impacting the game in all areas and showing improved court vision as a playmaker. Additionally, Mitchell has shown greater effort on the defensive end. He has an average plus-minus of 14.8 in the last five games.
The 25-year-old had one of his best games on Monday against the Houston Rockets, scoring 30 points on 9-of-15 shooting to go with seven assists and six rebounds. Spida is building momentum, which is excellent news for the Jazz with Gobert also returning to the fold.
Gobert made an instant impact upon his return and clicked with Mitchell
The Jazz are simply a much better team with Rudy Gobert on the floor. They score nearly five additional points per 100 possessions with the Stifle Tower in the rotation and concede over six fewer points.
Alas, Utah likely felt thrilled to have Gobert make his return on Monday.
The Frenchman missed nine games with a calf strain but looked fresh against the Rockets. Gobert scored 14 points, pulled down seven rebounds, and dished out a pair of assists in just under 22 minutes of action before getting ejected. He also did all the little things he typically does for Utah's offense, racking up screen assists and disrupting things in the restricted area on the other end.
Although Gobert's presence alone meant a lot to the Jazz, his connection with Mitchell probably assuaged a lot of fears. Head coach Quin Snyder tried to stagger their minutes, but they worked well in tandem when they shared the floor.
Spida found the big man for an enormous dunk on the second play of the game. Gobert often cleared the way for Mitchell mismatches with on-ball screens. They had a certain synergy.
That chemistry became even more evident after the contest, when both guys offered encouraging messages of leadership.
The Jazz preach accountability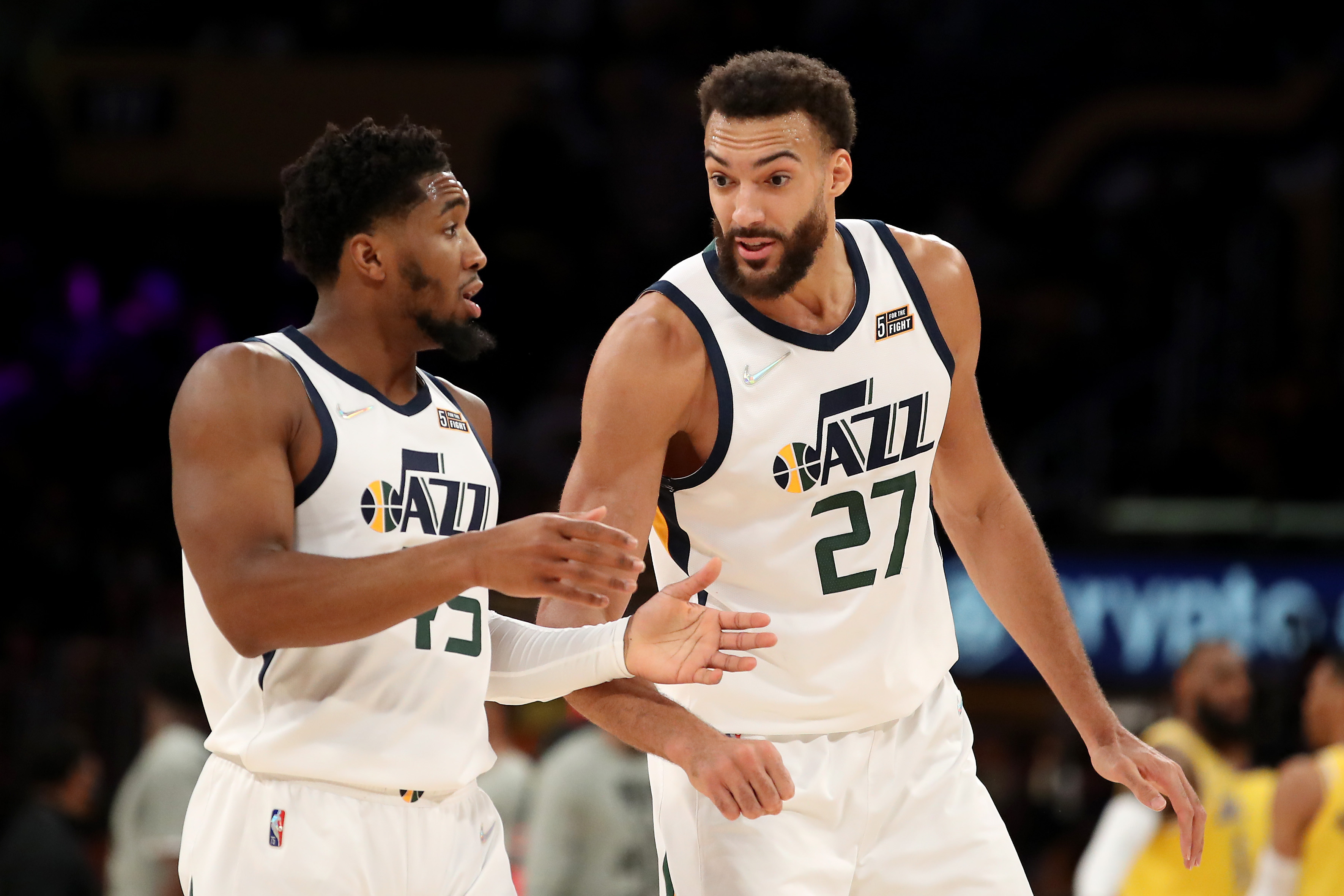 When Rudy Gobert called out Utah's defensive efforts last month, he hoped to instill a greater sense of accountability. Now, Donovan Mitchell and the rest of the Jazz roster are on board.
Gobert and Mitchell both highlighted the importance of communication after Monday's win. Spida said (h/t NBA.com) the team is finally building habits that didn't necessarily exist earlier in the season. He added that everyone is starting to show more accountability.
"That's how you build those winning habits. And I can't say those were there earlier in the year. Now we're all holding each other accountable and all communicating, and that's allowing us to take that step."

–Donovan Mitchell, via NBA.com
Gobert suggested the January slump contributed to an attitudinal change in the locker room. He stressed the importance of addressing the simple things.
With Utah's stars on the same page, can the Jazz regain their early-season status as NBA title contenders?
The answer to that question depends largely on health and a strong dynamic between Mitchell and Gobert. The Jazz appeared to need upgrades at the NBA trade deadline, but they bought fairly low in acquiring Nickeil Alexander-Walker from the New Orleans Pelicans.
Ultimately, Utah will rely on Mitchell and Gobert to guide it through this final stretch of the season. Fortunately for Jazz fans, past apprehensions seem to be behind both guys.
Stats courtesy of Basketball Reference.
RELATED: The Karl Malone and John Stockton GOAT Pick-and-Roll Partnership Began With a Trip to a Local Zoo