Donovan Mitchell Solves the Knicks' Desperate Search for a Superstar
After a promising campaign, the New York Knicks are back to familiar territory, scrapping their way toward relevancy. The Knicks have again fallen into the abyss of uncertainty without a clear answer concerning what will lead to sustained success.
Despite the repeated failures, the franchise remains hopeful that all that will change with a star player finally arriving. New York appears to be gearing up toward Donovan Mitchell stepping into that massive void.
Donovan Mitchell's future with the Jazz remains in the limelight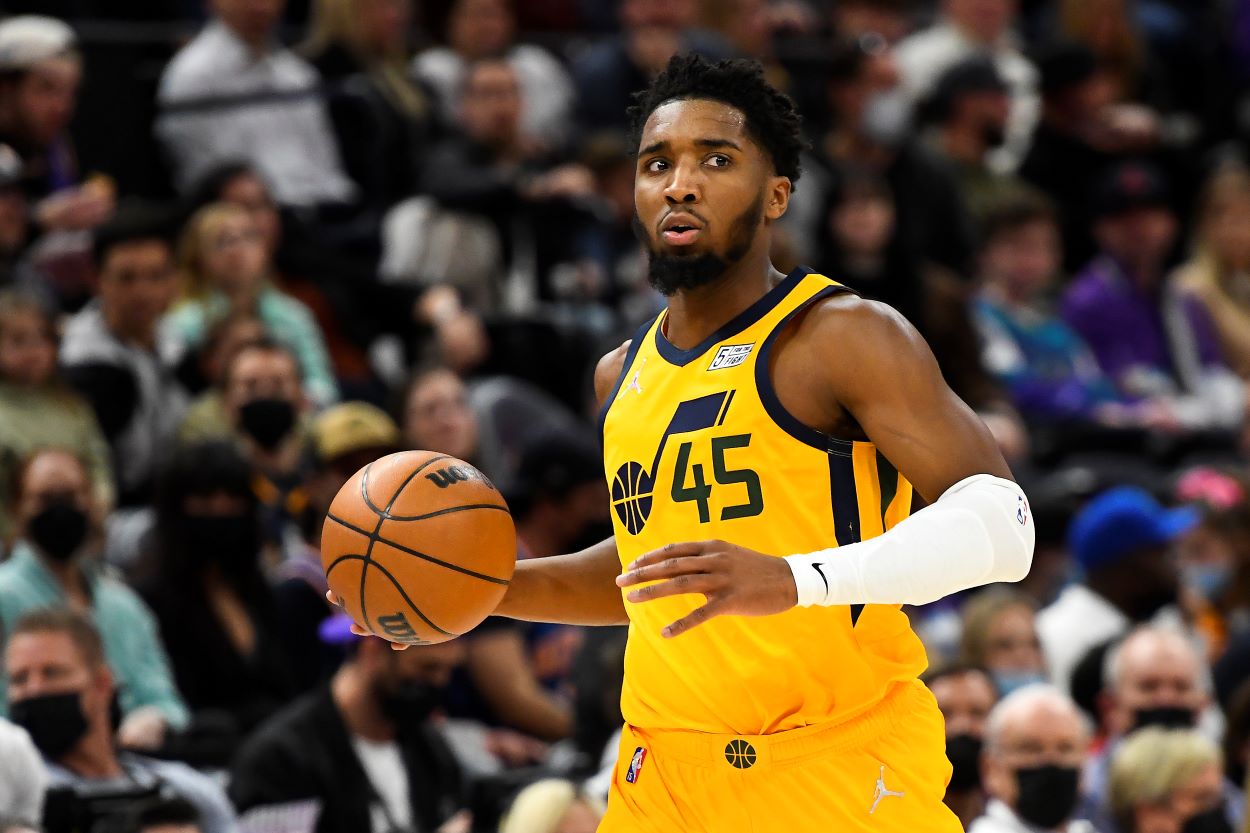 Over the last several weeks, the rumor mill has churned out possible concern over Mitchell's long-term future in Utah. 
The All-Star guard is in the first year of his five-year, $163 million deal that he signed in November 2020. Despite his contract situation, it hasn't stopped the lingering chatter that he may be growing unhappy regarding a possible rift with Rudy Gobert.
Mitchell recently addressed the discussion, in which he told Tony Jones of The Athletic that he wants to play for the Jazz.
"I'm at a point now where it's the NBA, this is what it is," Mitchell said. "People are going to write things. If I have to respond every five minutes to a story, then I'm taking away from my teammates, and I'm taking away from my happiness. I love this team, and we want to find a way to win as a group. I'm focused on my team. As long as my teammates and my coaches know my intentions, then that's what it is. But I'm not going to allow articles to deter me from my main goal. I love this group. So, let's find a way to do it."
Mitchell is one of the Jazz's franchise centerpieces alongside Gobert. The two have transformed Utah into a playoff constant but have yet to get over the hump. All that has led to growing speculation that the Knicks are prepared to make a run at acquiring him.
Donovan Mitchell solves the Knicks' desperate search for a superstar
As the Mitchell situation develops in Utah, the Knicks are keeping a close eye.
The noise is growing louder that New York is readying to potentially push to land the Tri-State area native. According to Steve Popper of Newsday, team vice president William Wesley is conceiving a plan to convince the organization to make a strong run at Mitchell next offseason.
"Wesley has been selling his plan, one that eventually will land Utah's Donovan Mitchell, a New York native," Popper wrote. "But this is not schmoozing a high school player and steering him to a college of choice, and it's not so simple even if the relationships are in place. [Knicks president Leon Rose] served as a former agent for Mitchell and the front office also inserted Johnnie Bryant as associate head coach after Bryant served as an assistant in Utah.
The interest in Mitchell is becoming deep-rooted as the Knicks are desperately trying to land a star that will guide the franchise forward. The 25-year-old fits the bill as he's one of the game's best young talents who has yet to hit the prime of his career.
He's an elite scorer who is developing into a more prominent factor as a distributor averaging career-highs with 25.9 points and 5.2 assists. Not only do the Knicks provide Mitchell a chance at homecoming, but he will also be the centerpiece of the future.
The question remains whether the Jazz will move toward considering trading the face of their franchise. Expect New York to make a full-fledged effort if that becomes the case.
Could the Knicks move off Julius Randle?
As the Knicks sit engulfed in mediocracy, Julius Randle's status with the franchise is becoming less stable.
The All-Star forward's production and efficiency have dropped drastically from his breakout 2020-21 campaign. He's shooting a career-low 41.6% from the floor, including hitting 30.2% from beyond the arc. Randle is averaging a double-double with 19.7 points and 10.2 rebounds, but his performance has been notably different.
All that led to his name becoming mentioned in trade rumors before this month's deadline. Although nothing came about from that noise, the chatter suggests that his footing in New York is not as stable as he may believe. Randle is in the first year of his four-year, $117 million deal.
If anything, it's a situation to watch as the Knicks struggle to contend for the playoffs.
Contract figures courtesy of Spotrac.
Like Sportscasting on Facebook. Follow us on Twitter @sportscasting19.
RELATED: The New York Knicks' Incompetence Is Once Again Confirmed After Kemba Walker Shuts Down His Season