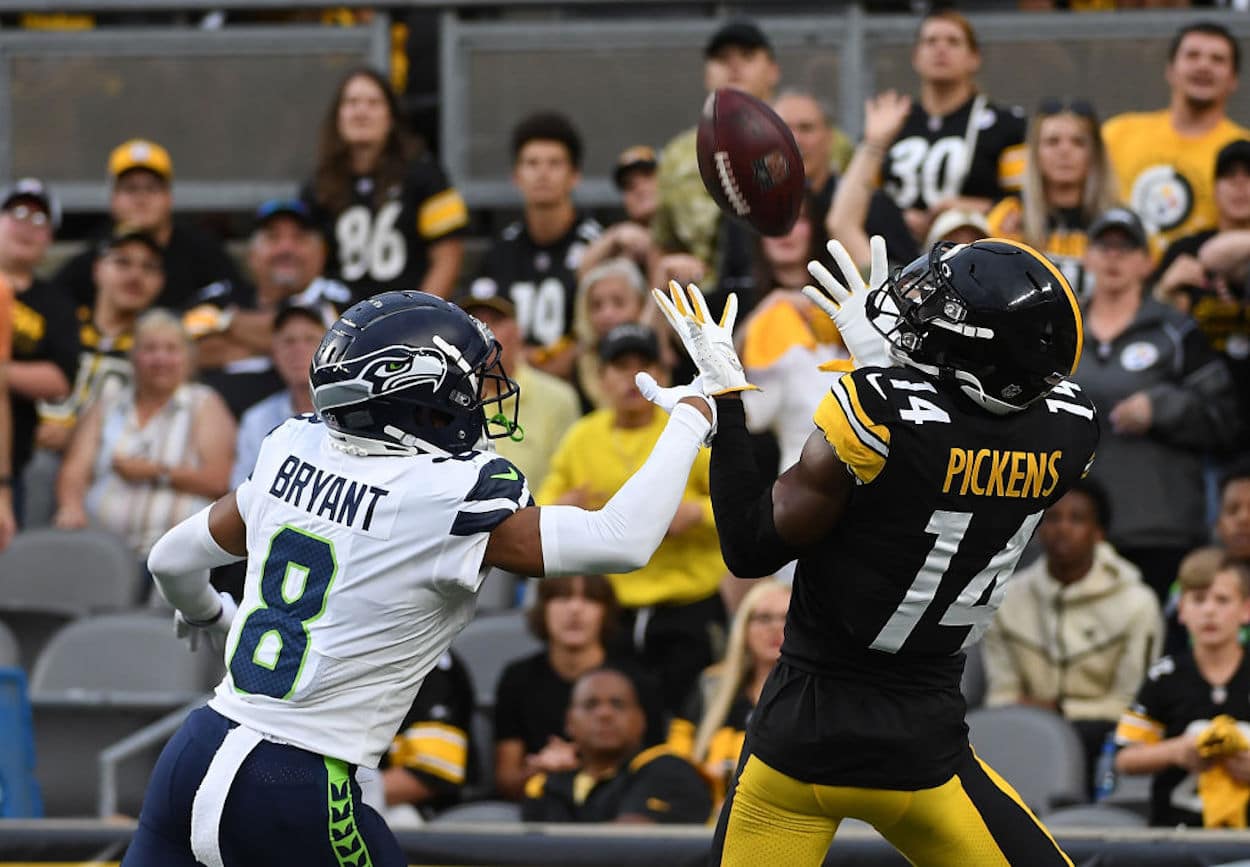 Don't Overlook George Pickens and His All-Pro Upside in Pittsburgh
With the 2022 NFL season about to kick off, don't sleep on Pittsburgh Steelers rookie George Pickens.
Over the past two years, the NFL has seen a pair of electrifying rookie receivers burst onto the scene and receive All-Pro nominations.
In 2020, Justin Jefferson broke the NFL rookie record for most receiving yards in a single season, finishing the year with 1,400 receiving yards, seven touchdowns, and six 100-plus yard games. Ja'Marr Chase surpassed that feat the following year, notching 1,455 receiving yards and 13 touchdowns while also breaking the record for the most receiving yards in a single game by a rookie (266).
These two receivers proved that it's more than capable for a young player to garner everyone's attention and take the league by storm. This year is no different, and the one receiver that is making all the headlines is Pittsburgh Steelers' rookie George Pickens.
Pickens may be a surprising candidate, given the fact that he was the 11th receiver selected in the 2022 NFL Draft. But of all the rookie wideouts, he has the best chance to be named to an All-Pro team in 2022.
George Pickens' lack of production at Georgia doesn't accurately define his playmaking ability
Pickens' final season at Georgia didn't exactly go as planned. He tore his ACL on a non-contact play during a spring practice in 2021, resulting in him missing all but four games last season. He did return for the national championship date with Alabama, though, and made an unbelievable diving catch that went for 52 yards.
These types of plays were what people were expecting from him during his whole Georgia career. After all, he was a five-star wideout that led the Bulldogs in receptions (49), receiving yards (727), and touchdowns (8) as a freshman in 2019. Alas, this would be his only season notching more than 515 yards in a single campaign.
This lack of production – in addition to his injury history – likely scared a lot of teams from taking the unproven Georgia talent, but he improved his draft stock after a solid showing at the NFL Combine.
He ran a 4.47 40-yard dash while recording a 10-foot-5 broad jump. He received proper praise for both metrics, and his overall performance played a big part in his second round selection.
Pickens is an all-around talent with exceptional playmaking abilities when healthy. He had an up-and-down career at Georgia but has really established himself as a must-watch player this year after a solid showing during training camp and in the preseason.
Pickens' training camp and preseason outings are merely a glimpse at his potential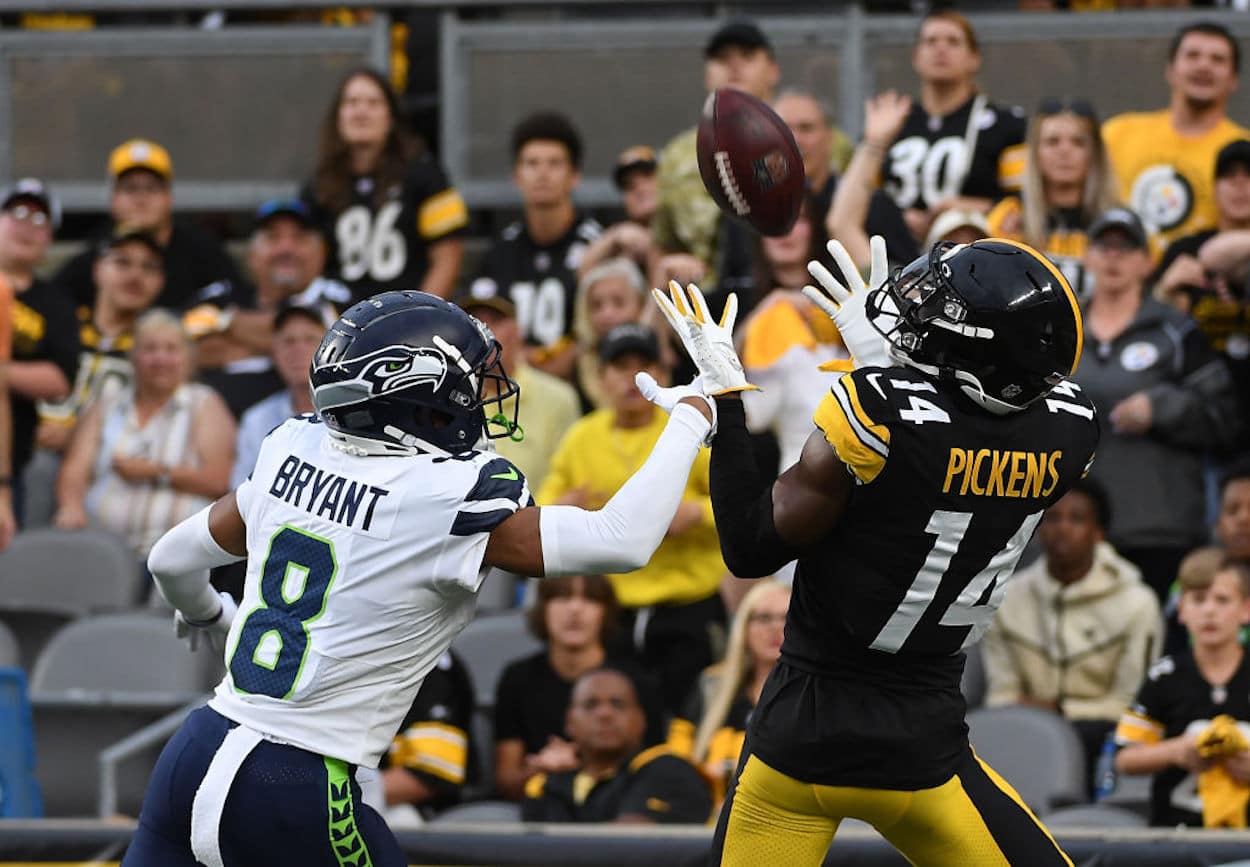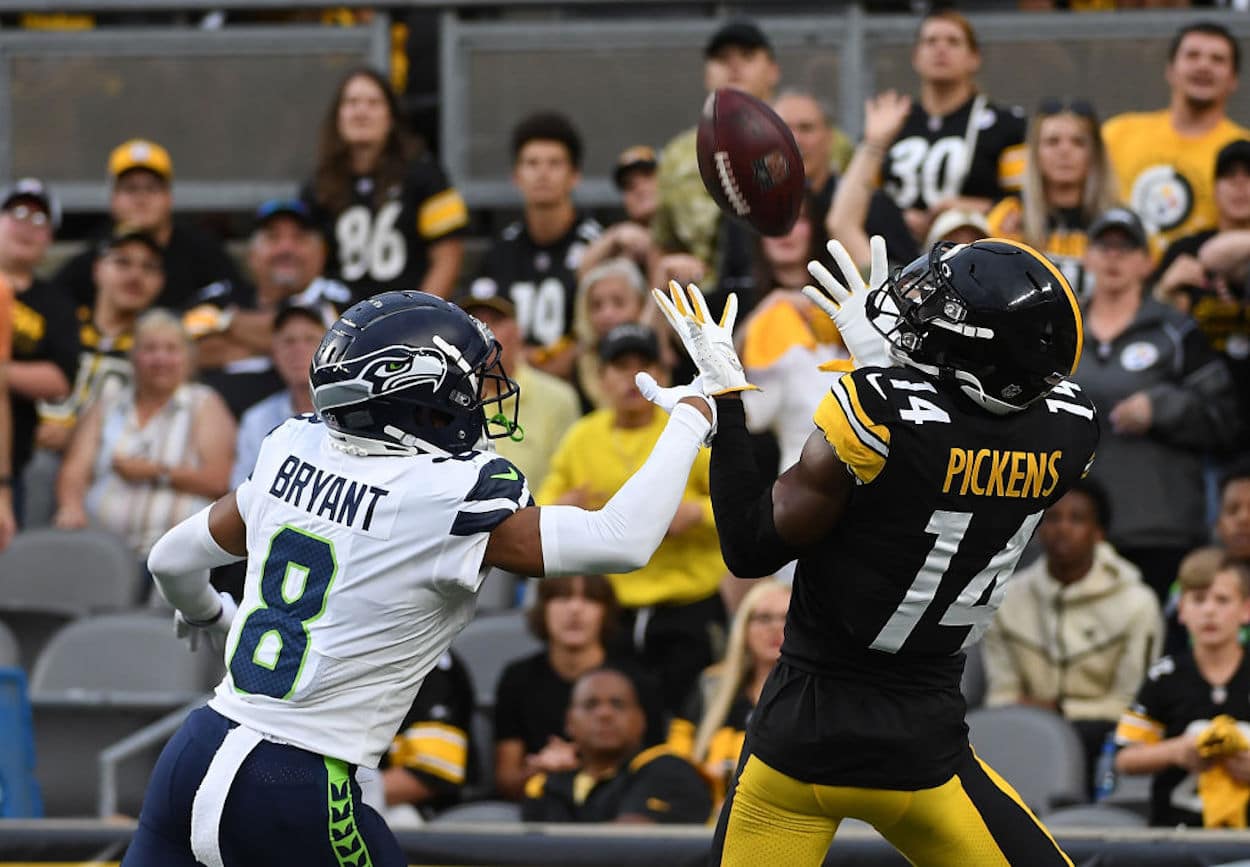 In spite of a lackluster collegiate career, it only took one preseason game for Pickens to showcase his talents to the rest of the NFL. 
Against the Seattle Seahawks, he sent social media into a frenzy after hauling in a toe-tapping, 26-yard touchdown in the back corner of the end zone over Coby Bryant. He finished the game with three receptions for 43 yards.
This highlight-reel grab wouldn't come as a surprise to those closely following the Steelers during training camp, as the young receiver makes the difficult plays look effortless with his remarkable body control.
Pickens made countless athletic catches throughout camp that are impressive for any player, even more so for a rookie. During a two-minute sequence in practice, he snatched a deep ball before making an impressive, one-handed grab over Levi Wallace on back-to-back plays.
He continued to have success in the preseason finale against the Detroit Lions, where he caught three passes for 35 yards on a team-high five targets, all of which came with the Trubisky-led first-team offense.
His emergence during training camp and training preseason was merely a glimpse at his potential. The Steelers have had plenty of success from its rookie receivers in the past, and Pickens is no exception. He's attracted the attention of the NFL world, media outlets and, now, sportsbooks.
Pickens currently boasts one of the highest odds to be NFL Offensive Rookie of the Year
After making some jaw-dropping plays, Pickens' chances to win the NFL's Offensive Rookie of the Year are sitting at +900, which is tied for the best odds to win the award along with fellow teammate Kenny Pickett according to FanDuel.
Like most rookies, Pickens is going to have his work cut out for him to win the award. He's the third wide receiver on the Steelers depth chart, sitting behind Diontae Johnson and Chase Claypool.
But not being first on the depth chart in a crowded receiver room didn't stop Jefferson or Chase, as they were the second and third options heading into their respective seasons.
Pickens has stood out so far among a crowded rookie class of pass catchers. He's already established a strong connection with his quarterbacks and has a strong chance at becoming one of the top newcomers in the NFL this season, especially if he continues to flash like he has the past two months.
How to get help: In the U.S., contact the National Council on Problem Gambling helpline at 1-800-522-4700.