Doris Burke Just Clowned Her Ex-Husband on National Television; Who Is He?
For years, Doris Burke has been one of the best basketball analysts on ESPN. She has covered many significant events and has given fans incredible insight into the game. Burke also has a sense of humor. She recently just trolled her ex-husband during an NBA game between the New Orleans Pelicans and Memphis Grizzlies on ESPN.
Doris Burke was a college basketball star at Providence College
RELATED: 1 Major Reason Doris Burke is the Best NBA Analyst on TV
According to The New Yorker, Burke had a ton of success for her high school basketball team as it went 71-10 over three seasons. Her play then ultimately helped her earn a full scholarship to play basketball at Providence College.
In college, Burke, formerly known as Doris Sable, was then the star point guard for some excellent teams from 1983 through 1987. She ultimately led the Friars in assists in three seasons, and, as of 2018, she still ranked second all-time in career assists with 602, according to the team's site. As of 2018, she was also 10th all-time in scoring with 1,372 career points.
"Providence College was the perfect place for me. It changed my life," Burke said, according to the Providence Journal. "Without that basketball scholarship, I don't know where my life would have turned."
Burke, an All-Big East selection three times, is in the Providence College Athletics Hall of Fame, and her jersey has been retired. After her playing career, she was an assistant coach at Providence, per the Providence Journal, but she then decided to call games on the radio.
She has become a legend at ESPN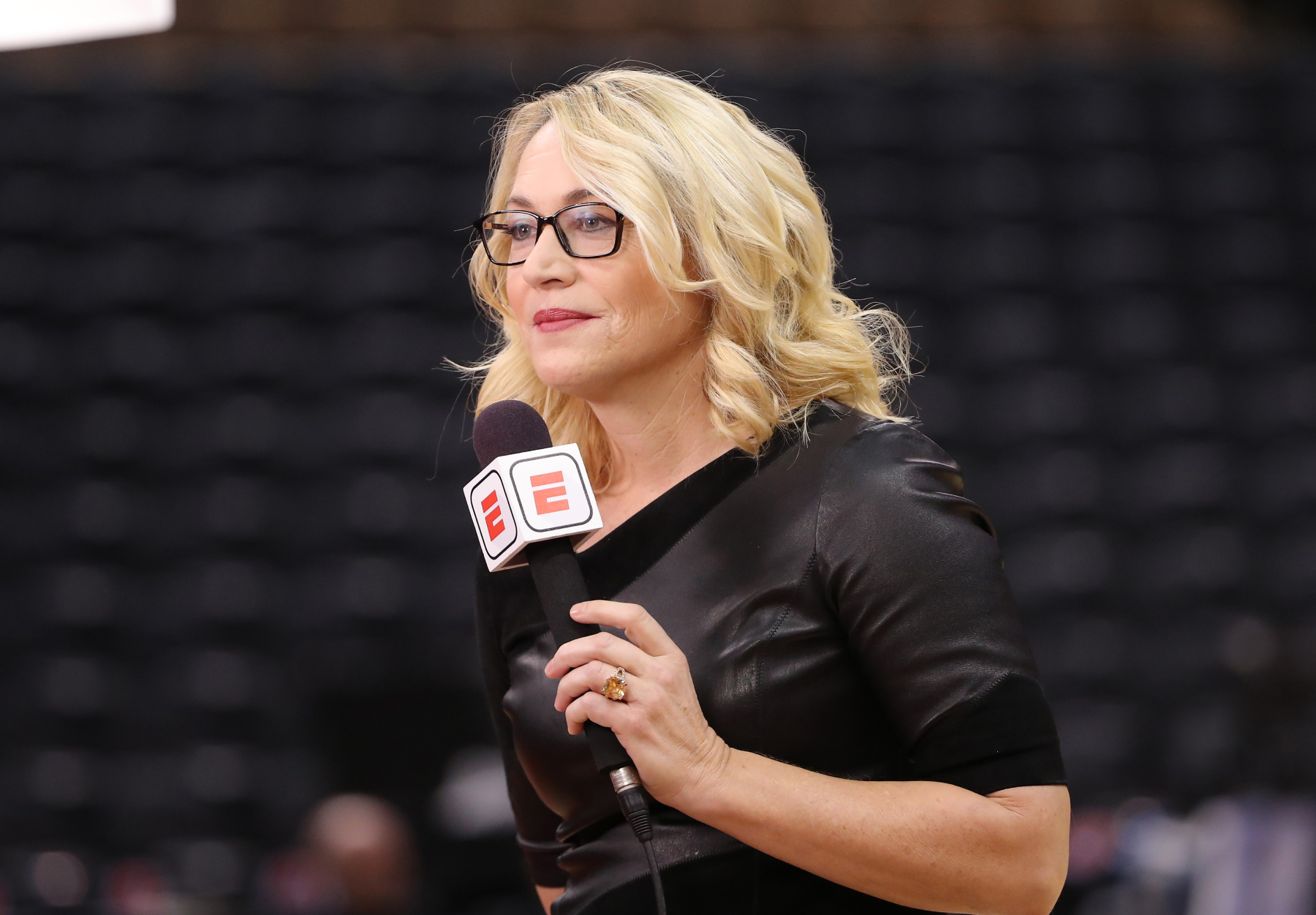 RELATED: Mike Golic's Future at ESPN Is Unknown but He Has Racked up a Massive Net Worth During His Career
Burke has worked her way up in the media business throughout the years. According to ESPN Press Room, she was the play-by-play commentator on the radio for Providence's women's team from 1990 through 1997. She also worked for the Atlantic-10 Men's Basketball Network, the MAAC Women's Basketball Network, and the New England Sports Network.
"Most people enter my business thinking of being on-air or a director. I started because I wanted to start a family," Burke said, according to the Providence Journal. "I had no background in communications but what I did have was an excellent education from Providence College and a love of basketball. That afforded me the chance to be good on my feet and stay afloat while I learned the media business."
Burke additionally covered the WNBA's New York Liberty on the MSG Network and was a women's college basketball analyst for CBS Sports and Westwood One Radio. For ESPN, she has covered basketball at the network since 1991, according to ESPN Press Room. Burke has also had multiple roles in their NBA coverage since 2003. This includes a role as a sideline reporter and a game analyst.
She then expanded her NBA game analyst role significantly for the 2016-17 season and then became a full-time NBA game analyst for ESPN prior to the 2017-18 season.
Doris Burke clowned her ex-husband during the Grizzlies-Pelicans game
RELATED: Jemele Hill Earned a Crazy Amount of Money at ESPN
Burke was the analyst on ESPN for a recent game between the New Orleans Pelicans and Memphis Grizzlies. While a replay played of Ja Morant taking a shot from Lonzo Ball, Burke said something to play-by-play announcer Mark Jones that made the internet go crazy.
"I do like being right. Ask my ex-husband," Burke said.
Twitter loved Burke's line. Slam Magazine tweeted, "'I do like being right … ask my ex-husband.' Doris Burke is perfect." Barstool Sports also tweeted, "Doris Burke casually roasting her ex-husband on national television."
So, who is Burke's ex-husband? USA Today's For The Win reported that he is Gregg Burke, and he coaches golf at the University of Rhode Island. According to his bio on Rhode Island's site, the 2019-20 season was his 15th year at Rhode Island and ninth as the head coach. He first went to the school in 2004 as deputy director of athletics, and later served as Rhode Island's acting and interim director of athletics from May 2006 through August 2007.
Doris Burke's joke was clearly epic and proves that she is, in fact, a broadcasting legend.