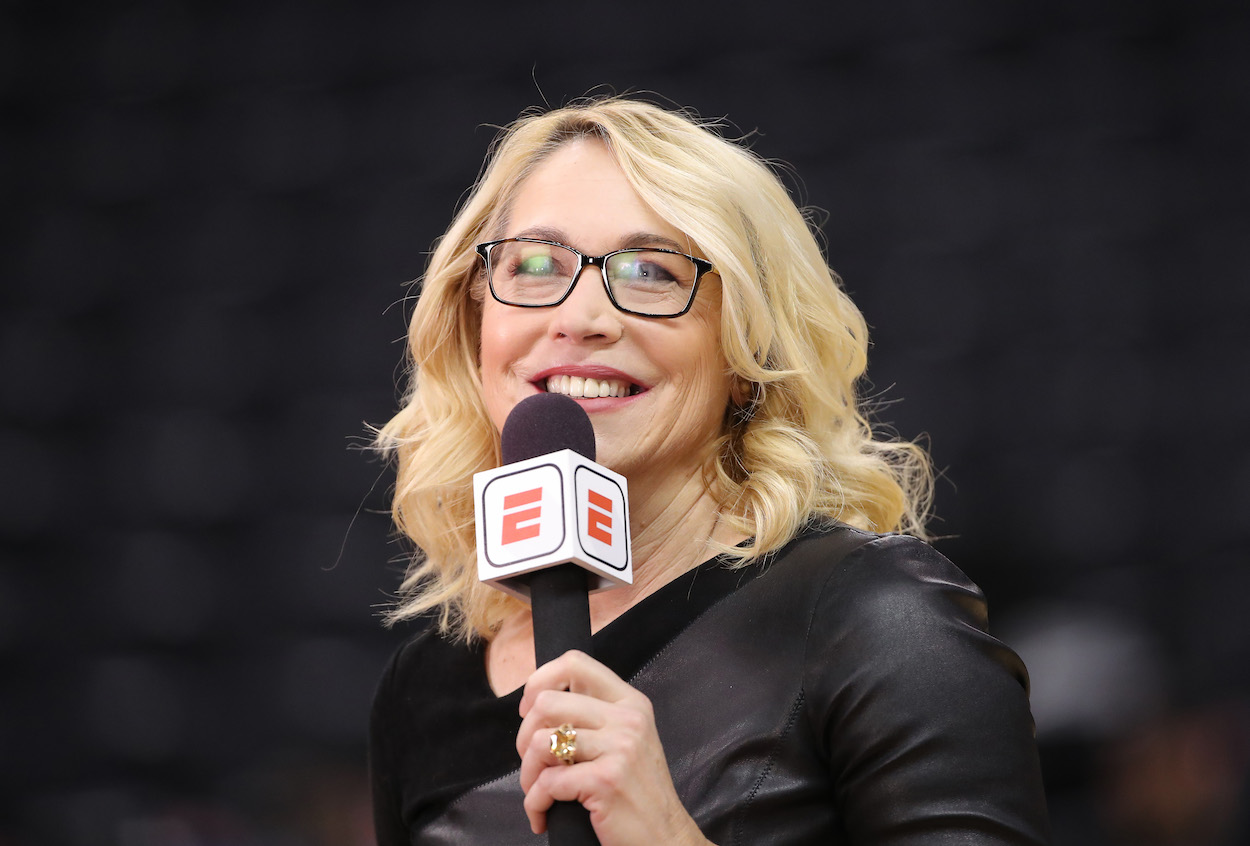 Doris Burke Makes R-Rated Comments Without Even Knowing It and Twitter Explodes
During Sunday's Bucks-Clippers matchup, NBA analyst Doris Burke's choice of words describing the action was interpreted as R-rated by a large portion of the viewing audience and Twitter reacted.
For three decades, Doris Burke has covered basketball at ESPN. She's been there for some of the biggest calls in NBA Finals history and has conducted the post-game interviews of the championship-winning team and emceed the awards presentations since 2009. In 2017, she became a full-time NBA analyst. By most accounts, she's considered one of the best in the business. 
Not surprisingly, like every announcer with so many hours on the air, she's had her share of bleeps, bloopers, and blunders. On Sunday, during ESPN's broadcast of the Milwaukee Bucks-LA Clippers game, Burke inadvertently added to her blooper reel with remarks specific to the game that the Twittersphere interpreted as R-rated comments and went crazy.
Doris Burke inadvertently makes R-rated comments  
In a tight NBA matchup with the Clippers leading the Bucks 100-99 and just over two minutes remaining, Doris Burke described the Bucks' defensive effort, and specifically the work of Giannis Antetokuonmpo, providing help-side defense to Khris Middleton on LA superstar Kawhi Leonard. 
"You have to know when to come," Burke said. "So Khris does a great job. Giannis comes from behind and gets a piece of it. Like, it's not just when you come; it's how hard you come. Are you coming when the dribble is dead? Are you coming when he gets into his shooting motion?"
Doris Burke being the professional she is, didn't miss a beat. And justifiably so. She didn't even realize her choice of words. And there's no way she could have known how Twitter would react. But react, it did.
Twitter unsurprisingly responds in a big way
Within seconds of Doris Burke's remarks on the Milwaukee defense, Twitter immediately came to life. 
"I take back every negative thing I ever said about Doris Burke. I now see what y'all see in her," wrote one person. 
"Doris Burke doling out some sage advice for youngsters on the basketball court AND in the bedroom. #BasketballAfterMidnight," joked another person. 
Numerous people came to Burke's defense, recognizing the veteran broadcaster for her trailblazing career, which included the Basketball Hall of Fame naming her the 2018 Curt Gowdy Media Award winner.
"Doris Burke is one of the GOATs," tweeted one supporter.
The Men in Blazers soccer show on NBCSN tweeted a timely idea for Burke about a potential career change. "Doris Burke should host Golden Globes." 
Not first time Doris Burke has made headlines for her remarks
Three decades on the air and Doris Burke has had more than a few memorable moments on the mic. One of them happened in 2011 during the Western Conference Finals when Burke didn't realize she was live on the air during a report and stopped herself after making a mistake, restarted, made another mistake, and then dropped an F-bomb in frustration. 
Last season, Burke didn't produce a blooper but did catch the attention of the viewing audience during a Pelicans-Grizzlies game when she got personal and roasted someone in her life outside of basketball.
"I do like being right. Just ask my ex-husband," Burke said, after officials confirmed Lonzo Ball committed a common offensive foul, the same call she had made before the play went for review. 
Doris Burke clearly has a sense of humor. After her comments on Sunday and the reaction from Twitter, she's going to need it. 
Like Sportscasting on Facebook. Follow us on Twitter @sportscasting19.