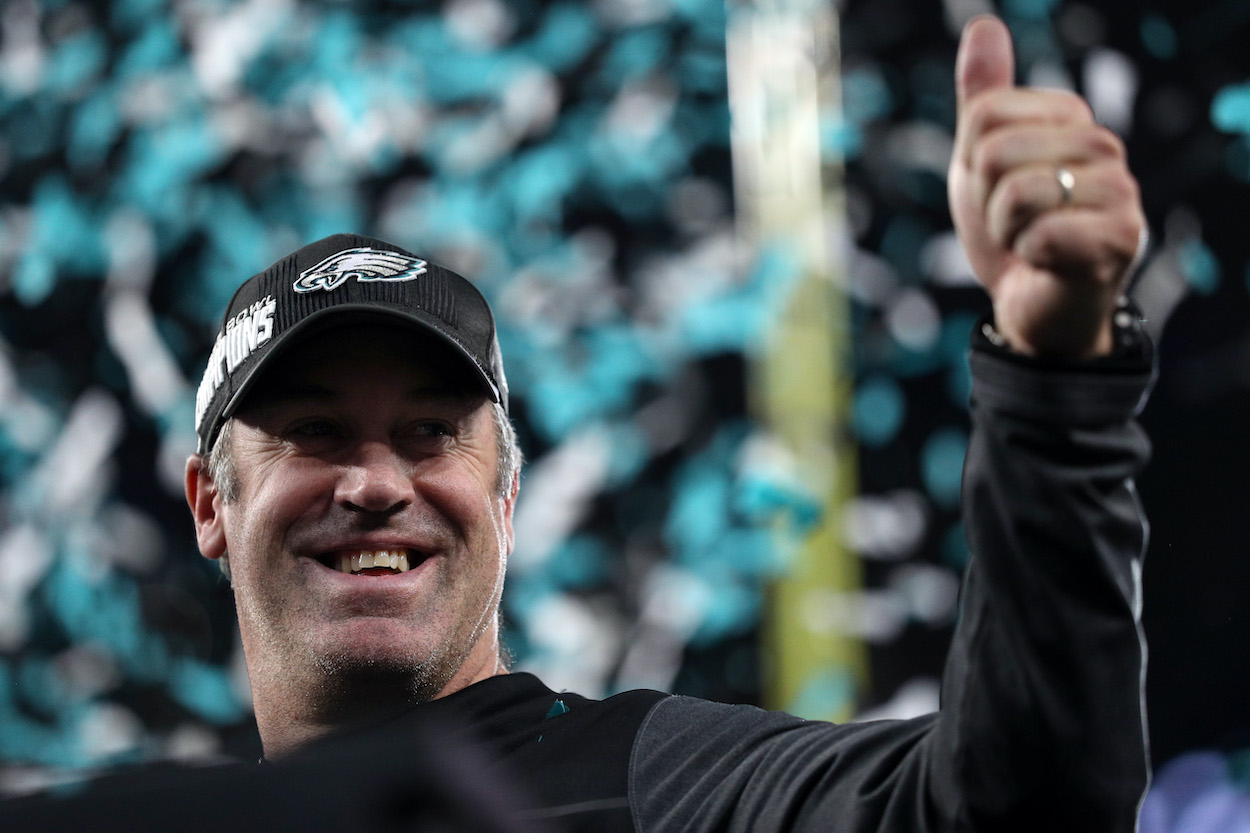 Doug Pederson Opens Up About His Unexpected Divorce With the Eagles: 'It Was a Surprise. It Was a Shock'
Doug Pederson was fired by the Philadelphia Eagles just three years after leading the franchise to its first Super Bowl title, and he was just as surprised as anyone.
Many Philadelphia Eagles fans were caught off guard when the franchise fired Doug Pederson just three years after he coached the team to its first-ever Super Bowl title. But fans weren't the only ones who didn't expect the move.
Pederson recently opened up about his unexpected firing, and he candidly admitted it was a "shock" even to him.
Doug Pederson gets real about his divorce with the Eagles
Pederson wasn't the splash hire Eagles fans expected back in 2016, but he quickly proved he was worth the investment by leading Philadelphia to its first Super Bowl title in franchise history in just his second year in charge. The first-time head coach then led the Eagles to two straight 9-7 seasons and two straight playoff appearances before going 4-11-1 last year and missing out on the postseason.
It was largely an embarrassing season for Pederson, as Carson Wentz took a massive step back and the locker room started to fall apart by the end of the schedule. Still, it didn't seem likely general manager Howie Roseman would pull the plug on Pederson after just one bad season.
But that's exactly what he did.
In a recent interview with Pat Leonard of the New York Daily News, Pederson admitted he was caught off guard by the firing.
"It was a surprise. It was a shock," Pederson said.
"Would I love to still be the head coach of the Eagles? Yeah, but I'm at peace with everything, and I'm really focused and motivated for my next opportunity where I can take my mistakes, take the things I did well, and learn from and use them in the next job somewhere."
Pederson found a silver lining in his firing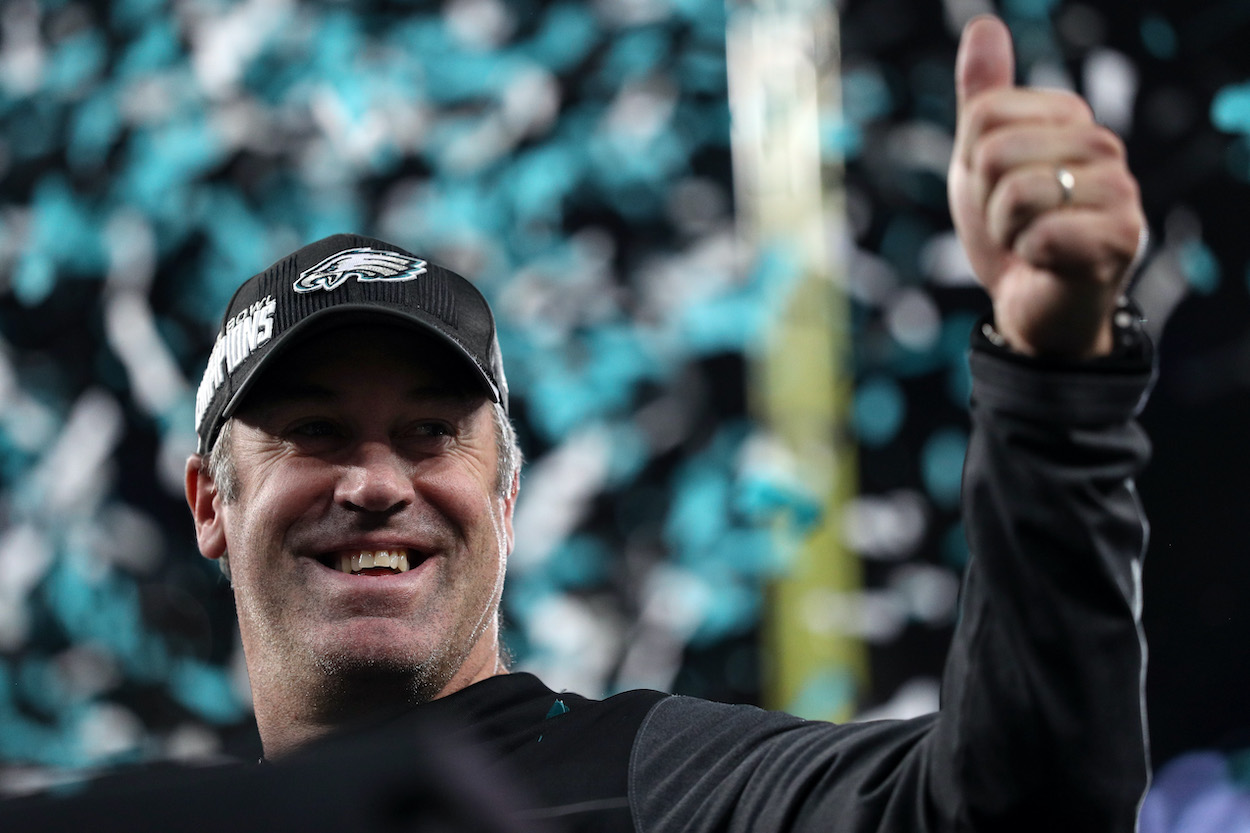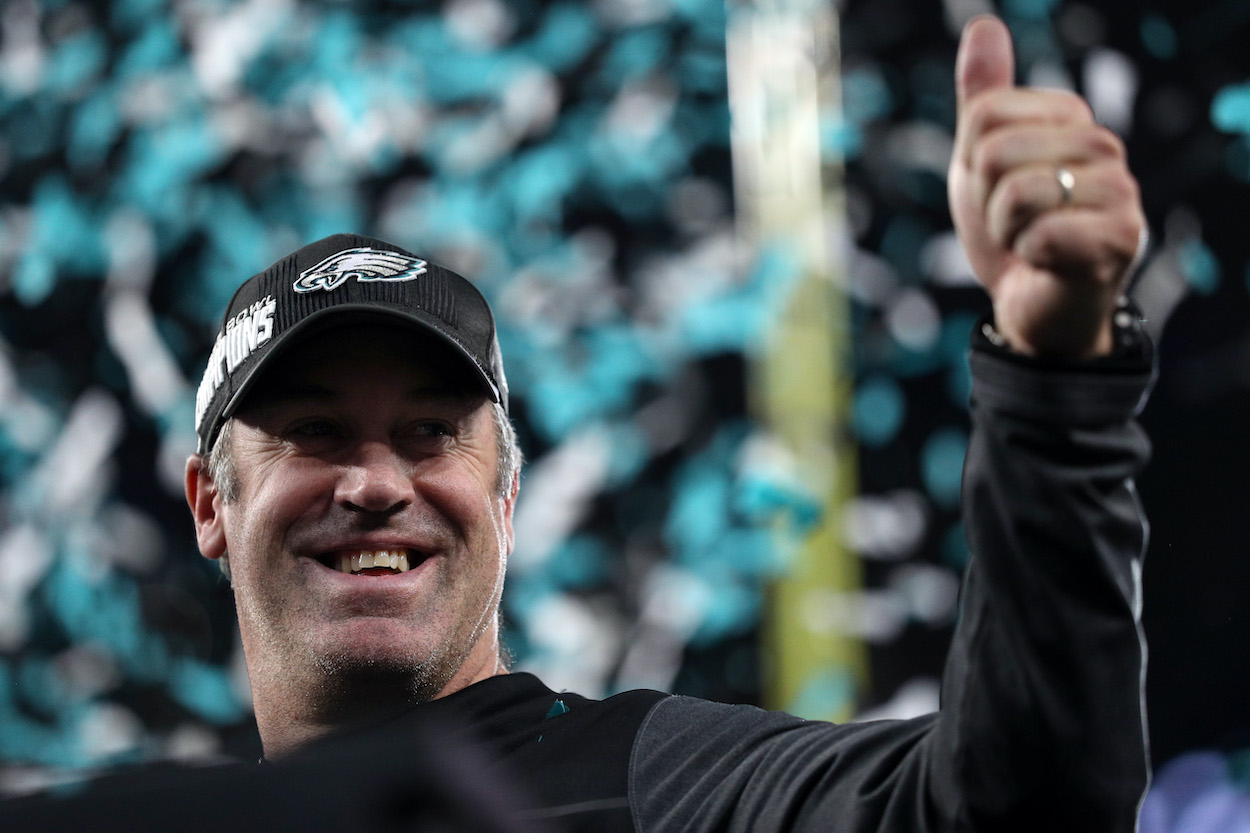 Obviously, Pederson was upset that one bad season led to his demise in Philadelphia, but the time away from the football field allowed him to spend time with his brother, Craig, who died of pancreatic cancer a few months ago.
"The timing of it, being able to go through it with my brother, having the time away from football to spend with him and be with my family and do those things, I think that's just where I'm at peace with the whole thing," Pederson said.
Pederson interviewed with the Seattle Seahawks and the Jacksonville Jaguars for their respective offensive coordinator openings, but he felt a year off was the right course of action.
"Emotionally, I felt like I just needed to take a break," he said. "My mind, everything just needed to take a step away. And I just felt like I couldn't offer the best of Doug Pederson to either Seattle or Jacksonville. So that particular time I said why don't I take a year, recharge, refresh, refocus, and make a run."
But don't expect Pederson to be out of the league for much longer.
A return to the NFL on the horizon?
Pederson has enjoyed his year away from football, but he's starting to get the itch to return to the sidelines. Not as a coordinator, but as a head coach again.
With all the dysfunction going on in Jacksonville right now, it wouldn't be a surprise to see the Jaguars head coaching job open up this offseason. And if it does, Pederson should be the first call they make.
Expect to see Pederson back in charge of an NFL team in the next few months.
Like Sportscasting on Facebook. Follow us on Twitter @sportscasting19.