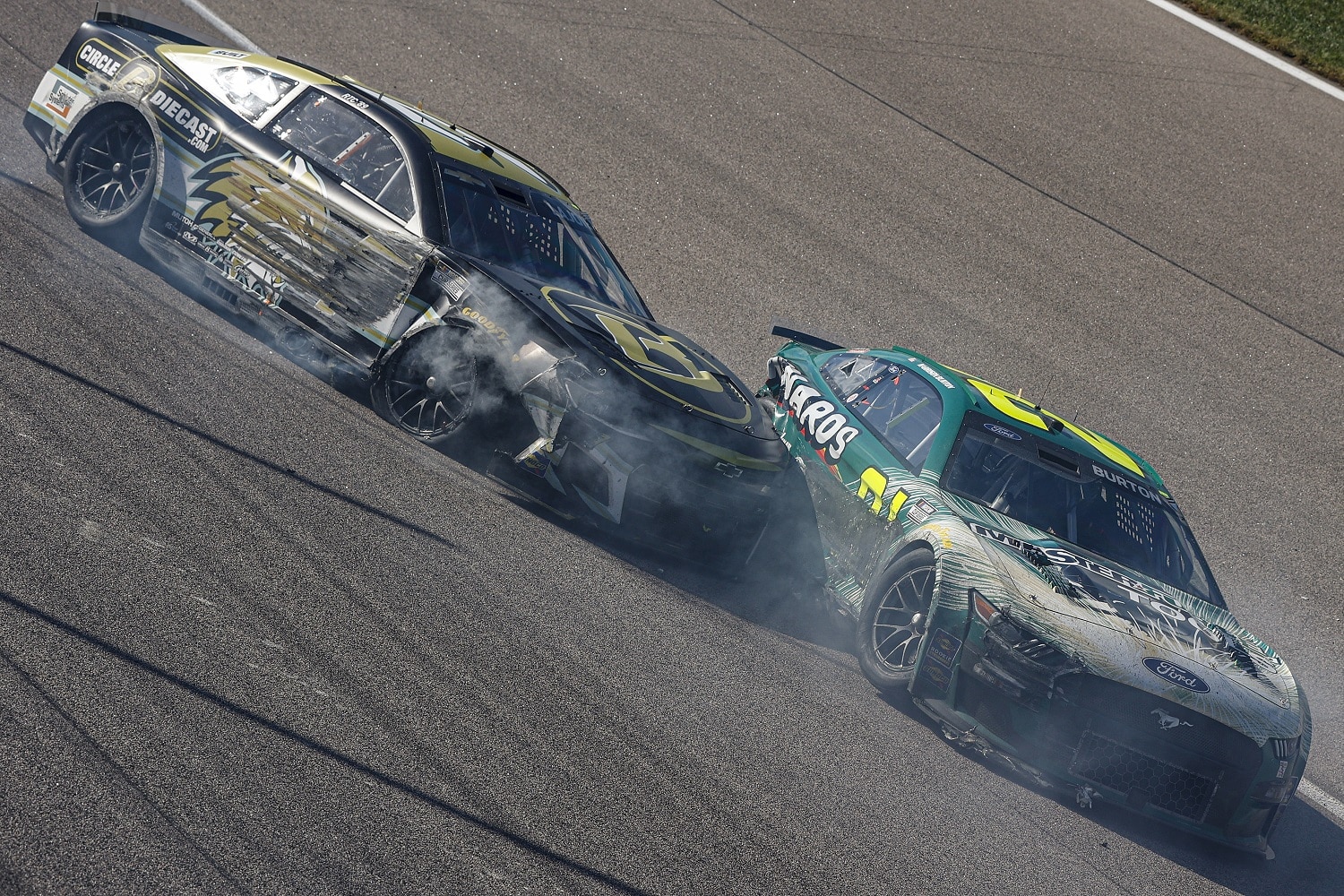 Dr. Diandra Diagnoses the NASCAR Cup Series Drivers Most Likely to Bump Into Each Other
An NBC racing analyst researched which drivers get tangled up in the same wrecks most often. Her work all but predicted what then happened at Bristol.
If you're a NASCAR Cup Series fan who isn't following the work of NBC analyst Dr. Diandra Leslie-Pelecky, then you're missing out on some fascinating insight. Contrary to what Dale Earnhardt Jr. and the other booth boys might think, there's a lot more to assessing race action than screaming "slide job" or predicting who'll take the outside lane coming out of a caution.
Leslie-Pelecky, who goes by Dr. Diandra on Twitter, tackles both the conventional and the quirky questions while satisfying curiosity about a sport that's a scientist's dream because of the combination of speed, danger, and unpredictable developments.
An off-hand inquiry got Leslie-Pelecky digging into the data ahead of the Bristol playoff race. It led to a timely, dead-on projection.
Do some NASCAR drivers tend to run into each other more often?
Diandra Leslie-Pelecky was speaking with SiriusXM NASCAR Radio host Dave Moody earlier this month when he threw out a question racing fans might never have wondered about. But as soon as they heard it, they would have wanted the answer:
Which drivers run into each other most often?
The answer admittedly has the potential to mislead when you're depending on raw race data from NASCAR, which is the case here. In short, two drivers might not come within 50 feet of each other during a multi-car wreck but get "credit" for running into each other based on the listing of everyone who was involved.
In addition, Leslie-Pelecky had to compile road course data manually since not every incident triggered caution flags. That probably means missing an incident or two not apparent on TV.
The analyst started out by noting an obvious consideration. Namely, good cars run with good cars, and so-so cars run with so-so cars. It's why you generally don't see Chase Elliott and Corey LaJoie exchanging insurance information following the same wreck.
The analysis predicted two NASCAR rookies would be in what Cody Ware started
By Diandra Leslie-Pelecky's methodology, a two-car crash creates a single "pairwise interaction" for each driver. However, a five-car wreck creates 20 of them – four per driver. The 12-car "Big One" (admittedly a misnomer for a short track) on Lap 278 at Bristol on Saturday generated 132 pairwise interactions.
The night's most notable wreck started with Cody Ware's No. 51 Ford getting loose and destabilizing the No. 38 Ford of Todd Gilliland, who was able to save his car for a moment but sent Ricky Stenhouse Jr. spinning. By the time it was over, 12 cars made it onto the accident report, and the field ran under a caution for nine laps.
Leslie-Pelecky's analysis done before the NASCAR race had some of the particulars nailed. At 75 and 70 interactions, respectively, rookies Gilliland and Harrison Burton topped the list of incident-prone drivers. Sure enough, they both made it into this one. Chase Elliott and Ross Chastain, tied for sixth in total interactions, figured in it, too.
In a minor upset, Chase Briscoe's No. 14 Ford was also involved. According to Leslie-Pelecky's research, Justin Haley is the only regular involved in fewer contacts than Briscoe this season.
Austin Cindric and Harrison Burton meet up once again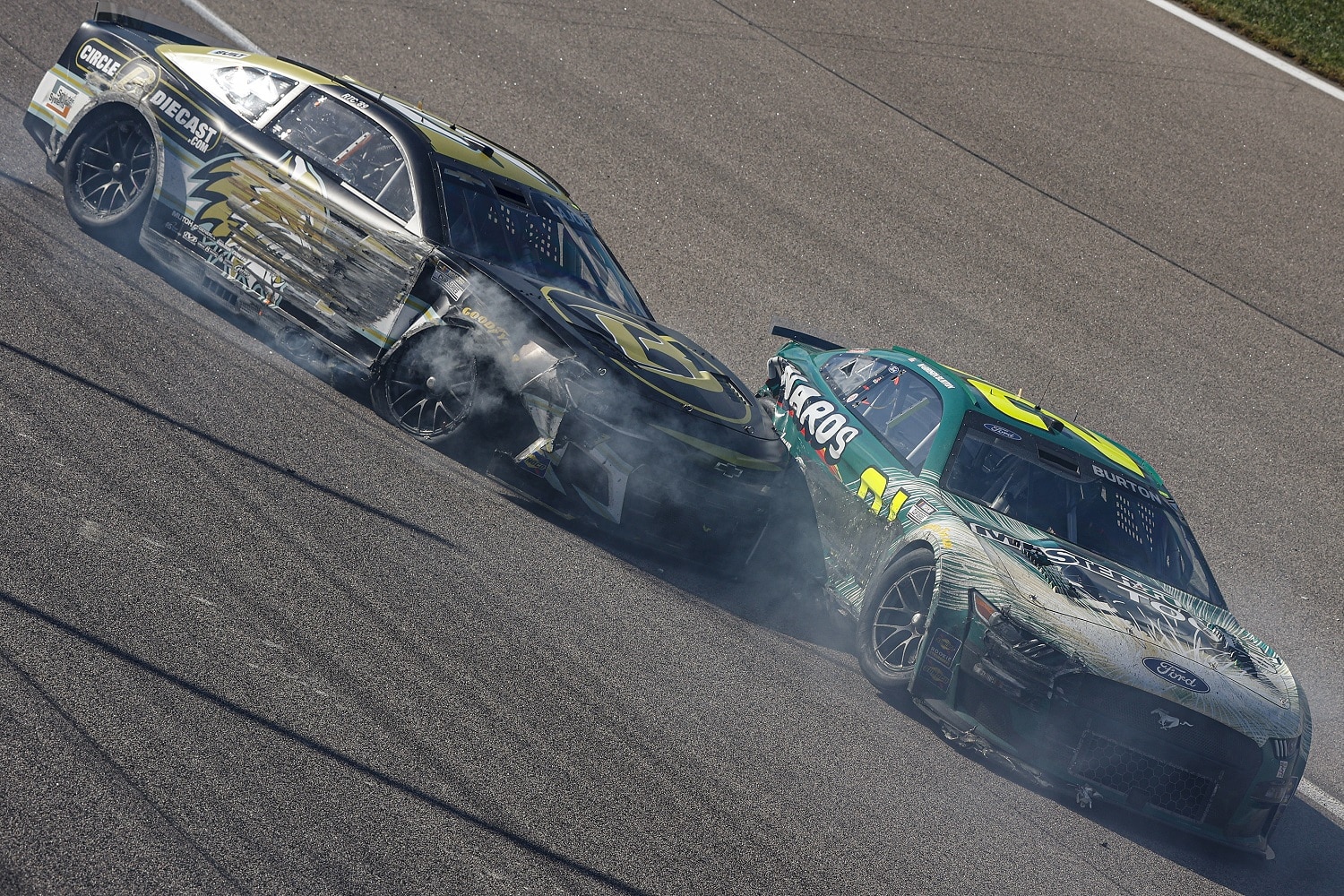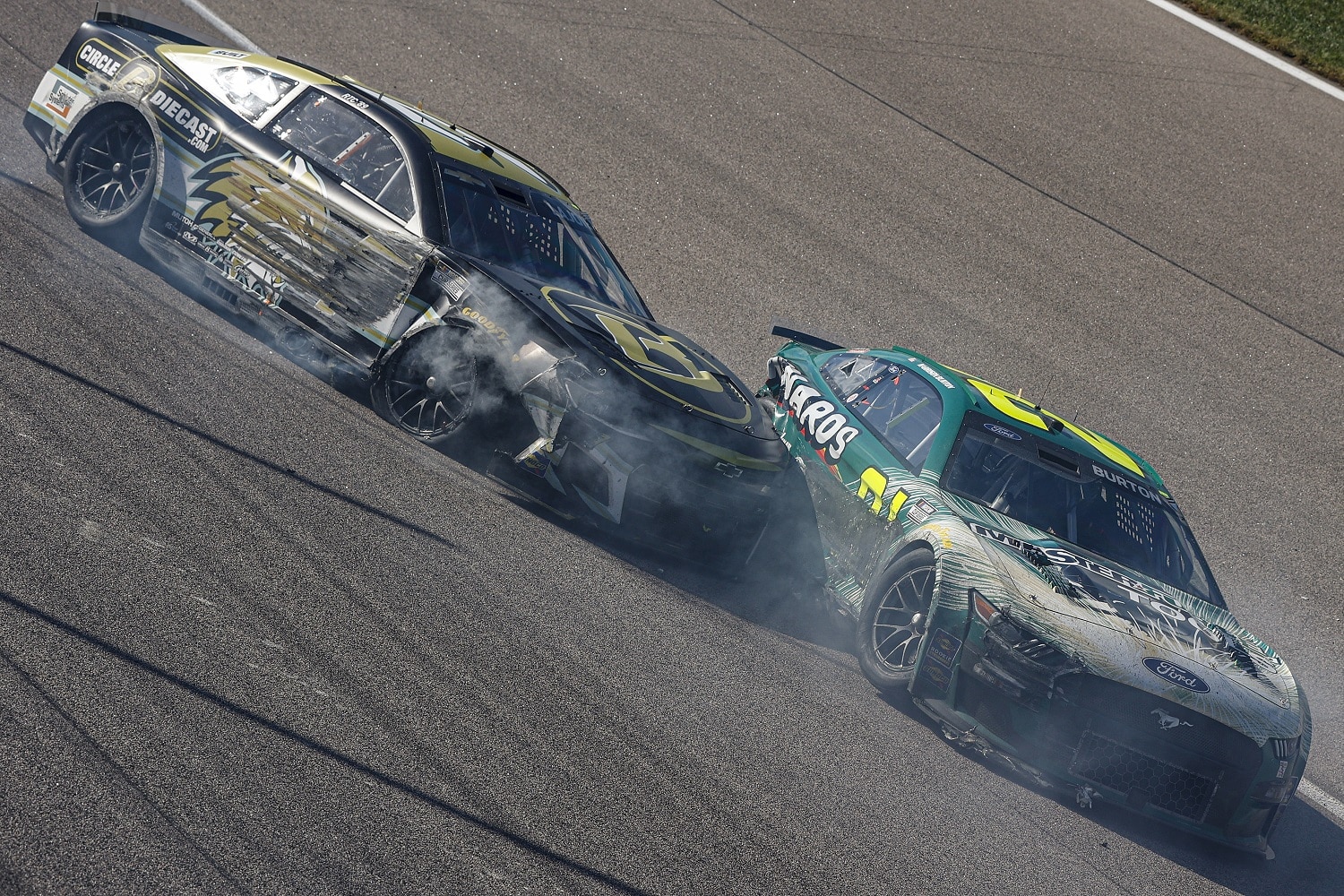 The answer to the question of which two drivers bump into each other most often is Austin Cindric and Harrison Burton. They had six wrecks in common entering the NASCAR playoff race at Bristol.
The total now is seven. They were part of the 12-car Big One on Saturday before more than 100,000 spectators in Tennessee. Meanwhile, Burton can now count six incidents apiece with Todd Gilliland and Corey LaJoie. Somehow, Gilliland and LaJoie shared just one accident in common until Bristol.
Is the analysis perfect? No. For starters, two cars going onto the gravel off a road course on a 60-mph corner isn't the same as five cars being towed to the garage after a 10-car wreck at Talladega. But Diandra Leslie-Pelecky's research is a nice start to understanding which cars run together for multiple laps at a time (and wreck together) even when their average starts and finishes vary.
Her identifying many of the drivers in the one notable incident at Bristol over the weekend validates work done on short notice.
Like Sportscasting on Facebook. Follow us on Twitter @sportscasting19 and subscribe to our YouTube channel.
Got a question or observation about racing? Sportscasting's John Moriello does a mailbag column each Friday. Write to him at [email protected].