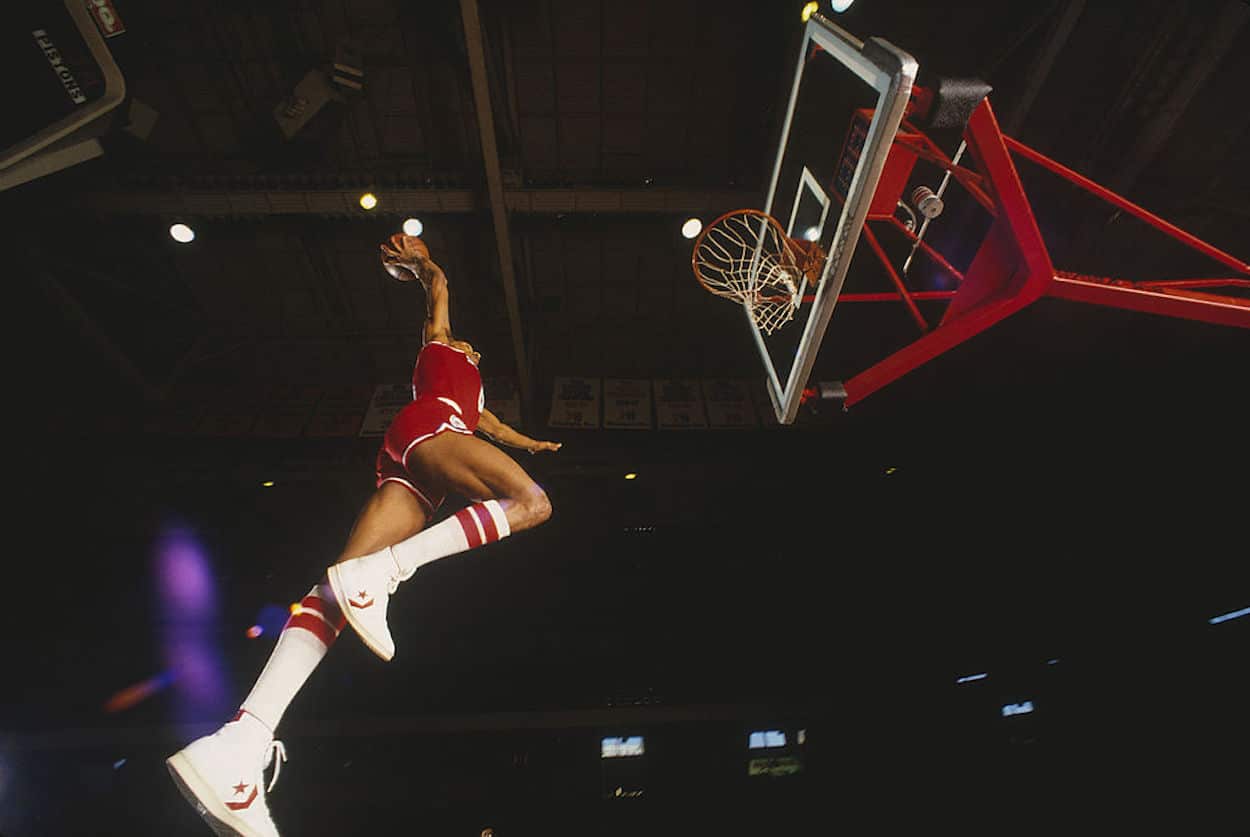 Dr J. Blew Isiah Thomas' Mind With a High-Flying Dunk in Some Incredibly Humble Circumstances
Dr. J was more than an incredible athlete; he was apparently a pretty giving guy. Let Isiah Thomas explain.
While rim-rocking slam dunks are simply a part of modern basketball, that wasn't always the case. Back when Dr. J started soaring through the air, everyone took notice. Even fellow NBA players like Isiah Thomas couldn't believe their eyes.
Take, for example, a memory from Isiah's early days in the Association. During a summer barnstorming tour, he got the chance to see Dr. J throw down one of his signature dunks. And while he was amazed by the sight of a massive man flying through the air, something even more impressive stood out in his mind: Julius Erving was a humble man of the people.
Dr. J impressed Isiah Thomas by throwing down a massive dunk on a concrete, outdoor court
As basketball fans, there's something magical about seeing a massive slam dunk. Sometimes even fellow players are so impressed by their peers' athleticism that they can only say, "Wow." That's what happened to Isiah Thomas during the early days of his NBA career.
"Him dunking from the foul line, seeing him fly through the air, the first time I ever saw him do it actually was at a basketball camp," Thomas recalled in an NBA 75 segment honoring Erving. "It was at Magic Johnson's basketball camp in Lansing. And this was my first year in the league; I hadn't really got into the NBA yet. And we were barnstorming in the summer. And Dr. J made an appearance at Magic's camp."
When it came time for the star to produce his signature move, Thomas joined the campers on the baseline. They began to clap as the Philadelphia 76er headed to the opposite end of the floor and prepared for take-off.
"He starts from the other end of the court, and he just takes off running," Isiah continued. "But he's not bouncing the ball. He's just running with it, and I had never seen anybody just run with the basketball. Normally, you know, as a basketball player, you bounce it, get your rhythm, bounce, bounce, bounce, jump. But he just starts running with it … And all of a sudden, this dude jumps. And I said to myself, 'Oh, he's not gonna make it.' And he goes 'Oooooooh' [a flying noise]. I go, 'He's not gonna make it.' He goes, 'Ooooooooh.' I don't think he's gonna make it. And then he, it's like he hit another gear in the air. … And he like exploded, and he got to the rim. Knocked it down. The whole place, you know, went up, you know? The kids ran out, started hugging him, because you know, you had never seen anything like that."
Beyond the physical feat that he had just witnessed, though, Thomas left the camp with an even larger memory. Dr. J, for all of his talent, wasn't spoiled.
"Here's the most interesting part that I remember about that," the guard concluded. "We were outside. That didn't happen indoor, in a nice, fancy place. It was outside on a concrete [court], and he did that, you know? That's how giving he was as an athlete and as a player, that he didn't have to be like in, you know, these plush surroundings to do it. He was doing it for the kids anywhere."
If you're a long-time sports fan, you've undoubtedly heard plenty of athletes talk about the importance of their fans. Dr. J, however, did more than talk a big game. He also walked the walk.
Like Sportscasting on Facebook. Follow us on Twitter @sportscasting19 and subscribe to our YouTube channel.