Drawing Ire: Alex Bowman Catches Flack as Non-Playoff Driver Helps Create Late-Race Chaos Before Capturing First NASCAR Cup Series Event at Martinsville
NASCAR Cup Series driver Alex Bowman should watch his rear end when he returns home.
He likely will be a target during the upcoming Championship 4 event at Phoenix Raceway on Nov. 7.
First in line, Denny Hamlin.
NASCAR Cup Series driver Alex Bowman snaps skid, sparks post-race fireworks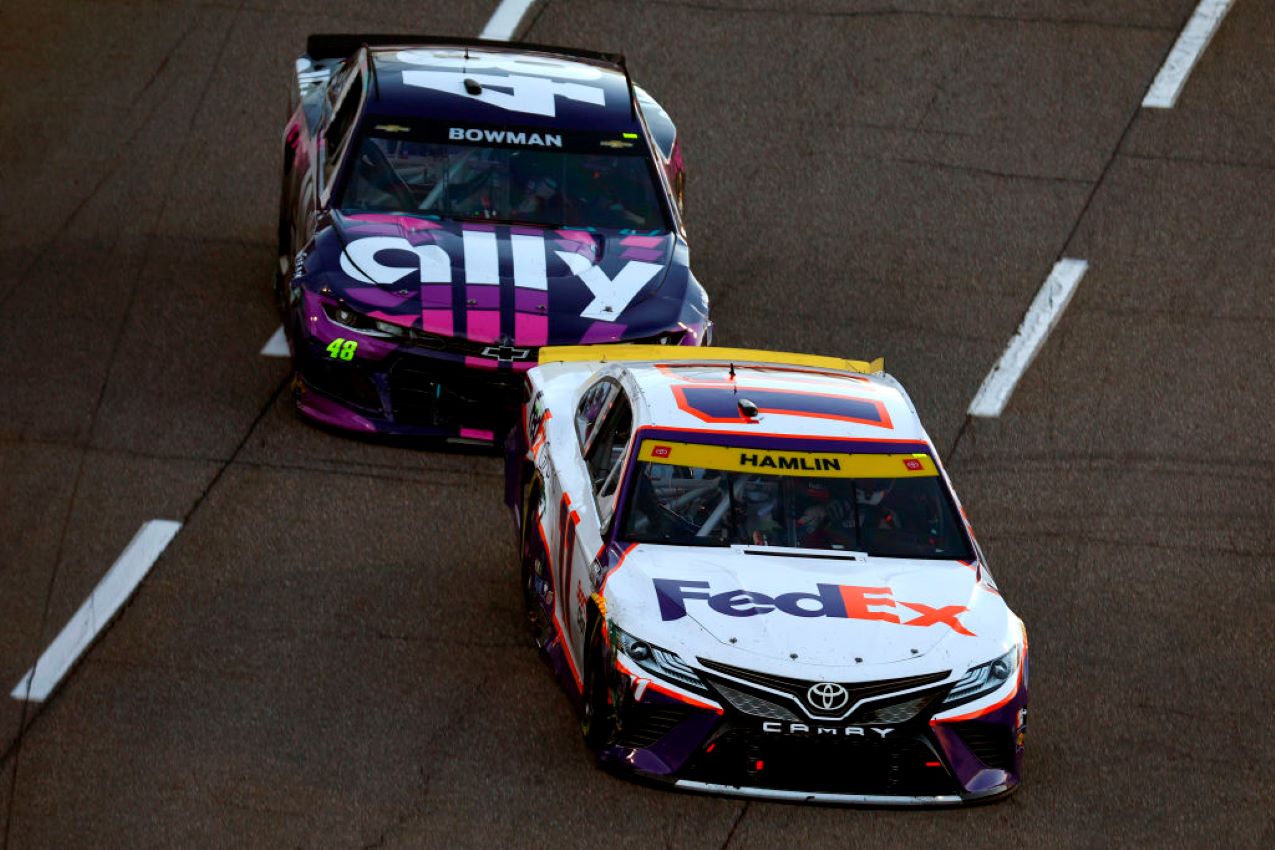 Bowman, 28, returns to his home state in the spotlight of victory and controversy. The native of Tuscan, Arizona, is ready to take on the field, if needed, to distance the ream from its rough postseason.
Entering Martinsville, the No. 48 Chevrolet collected just two top-10 finishes in his past 12 outings.
In the final stages of the Xfinity 500 on Oct. 31, Bowman saw an opportunity to end the late-season skid. Only Hamlin was in the way. So the racer did what racers do to win. He removed the obstacle.
"It's been a rough couple months on us since we started the playoffs," Bowman said during a post-race Team Chevy press conference. "To come here with such a fast race car, the capability of winning is awesome.
"Hate that we got into the 11 (Hamlin). Unintentional. I just got underneath him and spun him out. I'd be mad, too. I get it. But he's been on the other side of that enough to understand."
One would think, but, as it turned out, Hamlin didn't understand.
Hamlin disrupts Bowman's post-race celebration
As Bowman celebrated the team's fourth win of the season with traditional burnouts on the track, an angry Hamlin drove up and disrupted his party.
Fronting his target of frustration, Hamlin flipped off Bowman.
The expletives moved on to pit row as Hamlin spoke with the media. He wanted the world to know what he thought of Bowman causing him to spin and crash on Lap 493.
Bowman was asked if it was a "surreal" experience.
"I understand why he's mad," he said. "I'd be mad, too. I drove off into the corner, got loose, spun him out. At the same time, I didn't do it on purpose."
Regarding Hamlin's drama, Bowman attempted to downplay the post-race actions of a driver who, despite the accident, qualified for the Championship 4.
"If the front straightaway thing wouldn't have happened, I would have already talked to him," Bowman said. "I don't like drama. I'm pretty shy and keep to myself, do my own thing. This isn't the most comfortable situation for me.
"At the same time, I'm paid to win races."
Bowman thinking of where to put his new Xfinity 500 trophy
Besides, Bowman now has more pressing personal concerns.
Where is he going to put the grandfather clock trophy?
Which wall is he going to take down to make room for his newest prize?
"Way too much drama for my brain to process," Bowman said. "Yeah, I don't really have a good spot for (the trophy) the way my house is. I'm going to have to knock a wall down or something, construction project going on this winter.
"I haven't even thought that far ahead."
Bowman can be sure Hamlin is already thinking ahead to Phoenix.
Hamlin's biggest concern will be winning the Cup Series title, but Bowman should watch his rear end if he gets the chance to exact a bit of revenge.
RELATED: Alex Bowman Forced to Postpone NASCAR Celebration After 'Strangest Win' Ever