Draymond Green Gets Blasted by a Superstar Athlete Who Called His Recent Comments 'Really Disappointing'
Golden State Warriors star Draymond Green found himself in hot water recently. This came after he posted a series of tweets directed at WNBA stars, encouraging them to take action in regards to disparities between male and female athletes. He then made his situation worse when, while talking to reporters, Green said that he was "really tired of seeing them complain." The tweets and comments were not well received, either, as Green received a ton of backlash. That backlash has since continued, too, as a superstar female athlete recently called him out. That athlete was United States Women's National Team soccer star Megan Rapinoe.
Draymond Green sent out a series of tweets directed at WNBA players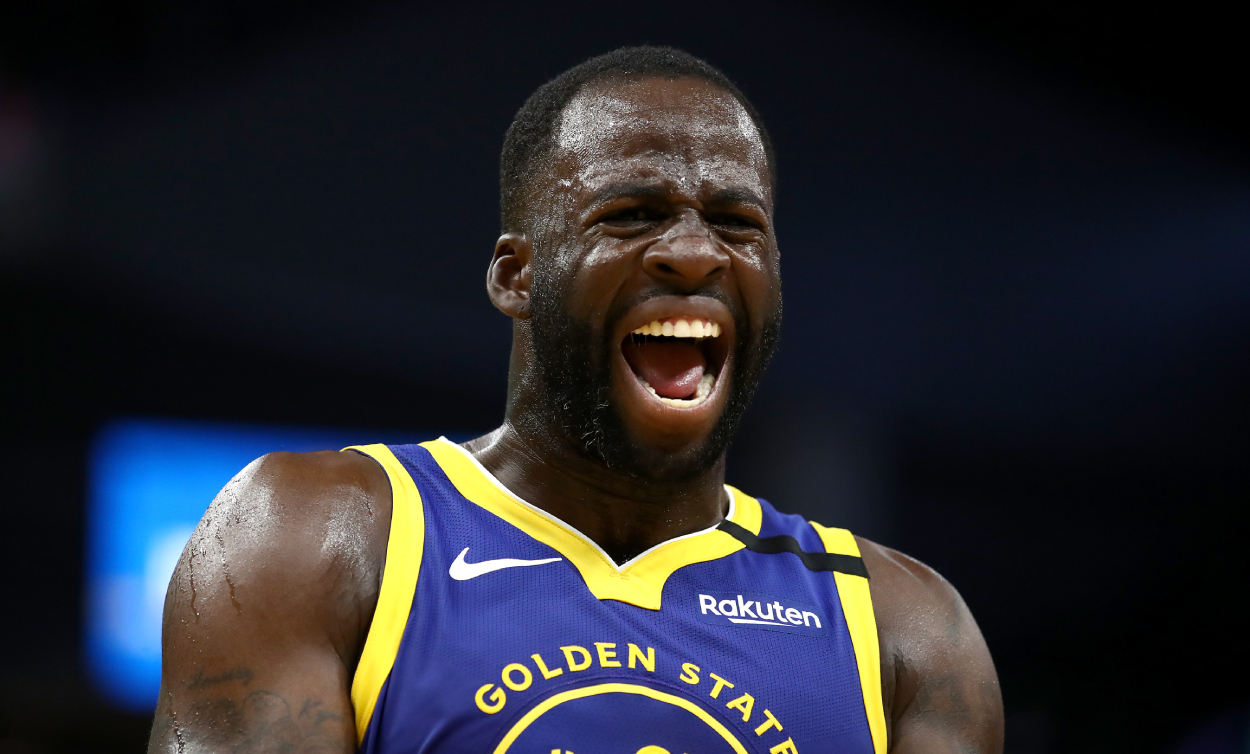 RELATED: Draymond Green 'Really Tired' of WNBA Players Complaining About Pay, Then Takes Some Heat
Draymond Green has never been one to not share what he is thinking. This led to him posting a series of tweets directed at WNBA stars.
He first tagged WNBA players Diana Taurasi, Candace Parker, Brittney Griner, Skylar Diggins-Smith, Sue Bird, and Nneka Ogwumike, and then tweeted the following.
"Let's stop allowing y'all complaints to fall on deaf ears due to numbers," he said on Twitter in part. "… They will continue to point at the revenue not being high enough to cover bigger salaries. While that is true in damn near every business, how do we take that card out of their pockets? That's the key to changing the pay. There's no argument for lack of revenue, unless you make those that say they stand for women actually stand up. … I've been asked to do so many PSAs this month on women empowerment. I said no. It's hypocritical. Because these same companies that are telling women empowerment are not putting their money where their mouth is."
He continued: "Make these huge companies commit money to y'all cause. That's empowering! Or don't yell women empowerment."
Green then doubled down on his tweets while talking to reporters.
"I'm really tired of seeing them complain about the lack of pay, because they're doing themselves a disservice by just complaining," Green said, via KRON4 News reporter Kylen Mills. "They're not laying out steps that they can take to change that. It's coming off as a complaint because the people that can change it, they're just going to continue to say, 'Well, the revenue isn't there. The revenue isn't there. So if you don't bring in the revenue, we can't up your pay.'"
Megan Rapinoe blasted Draymond Green for his WNBA comments
RELATED: Stephen Curry Responds to Baron Davis' Absurd Claim About the 'We Believe' Golden State Warriors Challenging the Dubs' Best NBA Title-Winning Squad
USWNT star Megan Rapinoe is a known advocate for equal pay and equal investment in regards to women's sports. She recently blasted Green's comments while talking to reporters, too.
"It's really unfortunate, in the position [Green's] in, having all of the resources that he has and the ability to have a much more educated opinion, that he just hasn't," Rapinoe said, according to ESPN. "And then, drag all these other people into it by tagging them and speaking at a time when the [NCAA] tournament is going on and all that we saw with the lack of resources and funding."
Rapinoe ultimately called Green's take "frustrating."
"You obviously showed your whole a** in not even understanding what we all talk about all the time — WNBA players and us on the national team," she said, per ESPN. "… You don't think we asked for more money? I mean, what are we screaming about? Nonstop!"
She continued: "We are getting obnoxious to ourselves, to be honest. And then two or three days later, to completely double down on it is really frustrating. We know all this, about all social movements and all people who are marginalized, whether it's by race or gender, religion, sexuality, whatever it is, it is not just their job to be the ones fighting oppression. We need all of the other people as well. So to have someone who does know what it is like to be oppressed, in many ways, to heap that all back on female players, or people who play female sports, it is just really disappointing."
It's clear that Rapinoe is not happy with what Green had to say. She wasn't the only one who took issue with his comments, either.
Several other female athletes took issue with the Warriors star
RELATED: Sue Bird Forgot Megan Rapinoe's Dad's Name On Camera and Realized 'That's Gonna Haunt Me for the Rest of My Life'
Megan Rapinoe was not the first female athlete to call Draymond Green out for his comments. Five-time WNBA All-Star Angel McCoughtry spoke about it during a USA Basketball training camp.
"Draymond, have you done your research? Have you asked us questions," she said, per TMZ. "Don't you think we've tried to do that kind of stuff? No, he hasn't done his research. That's my only thing with Draymond."
Eleven-time WNBA All-Star Sue Bird also tweeted about Green's remarks.
"The things ur saying are the EXACT things we've been fighting for," she tweeted. "We don't ask for NBA money, we point out the discrepancy to highlight the lack of investment & coverage. You got the problem right, you just tagged the wrong ppl."
It'll be interesting to see if more female athletes speak out in the coming weeks.