Draymond Green Calls Some of His Biggest Critics 'Stupid' in a Profanity-Laced Rant
NBA fans have grown to learn over the years that Golden State Warriors star and three-time NBA champion Draymond Green is never afraid to say what he's thinking. He's one of the most opinionated athletes in the game today, which has come at a cost at times due to the league fining him for specific comments he has made. But it has also helped him become one of the biggest superstars we have in sports.
In a recent episode of HBO's The Shop, Green continued keeping it absolutely real, and it resulted in a profanity-laced rant about his critics.
Draymond Green and Tom Brady appeared on 'The Shop'
Green recently appeared on The Shop with Tom Brady, Maverick Carter, Kid Cudi, Chelsea Handler, and Paul Rivera. During the episode of the hit HBO show, the group discussed athletes being aware of their strengths and weaknesses.
It all started with Brady responding to 2017 comments made by LeBron James. In those comments, James said that TB12 is the greatest football player ever, but he wouldn't give Brady the title for greatest athlete of all time due to quarterbacks not playing on the other side of the ball.
"I can really just be the best with the body that I was given," Brady said. "There's certain things that I certainly cannot do. And I have the awareness to realize, 'OK, I can't do those things.'  You can't do everyone else's job. I can't block, tackle, run, catch — sure as hell can't run — but I can throw the s— out of the ball. So, let me just do that. And let me do that really well."
In response, Handler said that a "real sign of a leader" is being able to delegate certain responsibilities to people who are more talented in particular areas.
This led to Green's rant about some of his biggest haters.
Draymond went off on an NSFW rant about his critics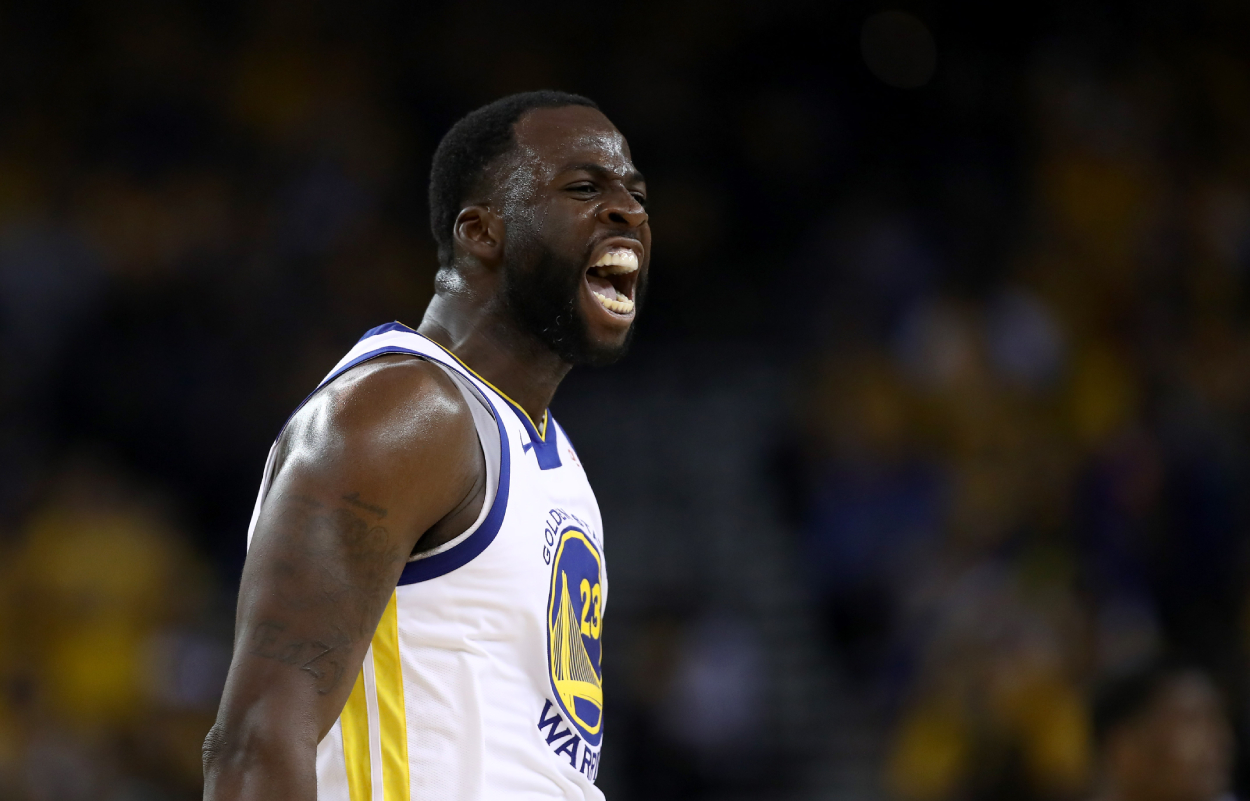 In reply to Handler's remarks, Green had strong comments right off the bat.
"That's why there's a lot of unsuccessful people and a lot of f—in' dumbasses," he said. "And you can tell by the criticism that comes to you (Handler), or the criticism that comes to you (Brady). I've found that solace in that over the last couple years. And just like listening to people and what they say, and the criticism, it actually shows you how f—ing stupid people are through their criticism."
Green then said that he frequently hears people say, "Draymond, you should shoot," but he asked why he would shoot when he can just give the ball to the greatest shooter to ever exist: Stephen Curry.
"Why would I shoot? You're actually a f—ing idiot for thinking I should shoot because I can get him the shot, and if he's half-open, it's better than anyone else in the world — if he's half-open," Green said.
On the surface, Green's comments are entertaining and appear to just be a part of his latest rant, but when looking at them a little deeper, they also show why he and the Warriors have been so successful over the years.
Draymond Green plays a winning brand of basketball
Green made some excellent points, and he showed why the Warriors have been so successful: they all know their roles.
Green has never been a guy who will score 20 or 30 points per game, but he's always been a hard worker who gets after it on the defensive end. He earned three All-Star selections during three of Golden State's five consecutive runs to the NBA Finals, and he did so by doing what was needed for the team to win.
In those three seasons, Green averaged 11.8 points, 8.4 rebounds, 7.2 assists, 1.6 steals, and 1.4 blocks. He also led the NBA in steals per game in 2016-17 and was the league's Defensive Player of the Year that same season.
But while he was doing all of that dirty work, Curry, Klay Thompson, and Kevin Durant were the ones putting the ball in the bucket, which led to Green and the Warriors winning three titles in five seasons from 2014-15 through 2018-19.
Green is not a guy who should shoot the ball; he shot an abysmal 27% from 3-point range this season. But he's a guy who will make winning plays, and that's all that matters in the end. That's why he's a three-time NBA champion.
Stats courtesy of Basketball Reference
RELATED: Michael Jordan's Fellow UNC Alum Vince Carter Says Kevin Durant Is 'More Gifted' Than MJ