Draymond Green Doesn't Buy Into the GOAT Debates Because NBA's Eras Are Distinctively Different
Golden State Warriors forward Draymond Green will have a Hall of Fame case when he takes off the kicks for the last time in the NBA. A unique hybrid of point guard and defensive savant, Green's work as a stopper is legendary. A second-round pick in 2012, the 31-year-old is a six-time All-Defensive selection and was Defensive Player of the Year in 2016–17.
But he wants no part of comparisons to great defenders from past eras.
The Saginaw, Michigan, native also believes the endless GOAT debates involving Michael Jordan and LeBron James, among others, are a waste of time. It's a refreshing opinion in an era when one cannot escape the comparisons for even a single day. The Warriors' star has always been a bit different.
Draymond Green plays the game his way
Draymond Green is a star, a three-time champion with the Warriors, despite not being a prolific scorer. The 10th-year veteran has averaged double-digit points just four times and is at 8.7 points per game for his career.
Out for all but seven seconds since Jan. 5, Golden State has felt the impact of Green's absence. It lost five of the first eight games its linchpin missed before righting the ship with eight consecutive victories.
But he's one of only two players to average at least 10 rebounds, eight assists, one steal, and one block per game in a postseason. He did it in 2018 and 2019, joining James, who turned the trick in 2015.
Despite his 6-foot-6 frame, Green holds his own guarding bigs, wings, and guards alike. Offensively, he's more facilitator than a scorer, averaging 5.4 assists in his career. He's averaged at least six dimes a game every season since 2015–16.
But as far as he's concerned, you can leave the comparisons to defensive standouts from yesteryear at the door.
Green says the uniqueness of each era makes comparisons impossible
During an appearance on The Old Man and the Three podcast with JJ Redick and Tommy Alter, Draymond Green shut down the constant comparisons between James and Jordan. He took a broader approach.
"When it comes to players in all of these different eras, we want to take one guy and say that guy is the greatest of all time," Green said. "The reality is, I think it's ridiculous. Just like I say, I'm the greatest defender of all time. I don't really mean I'm the greatest.
"I can't say I'm a better defender than Bill Russell, I never saw Bill Russell play. How can I possibly say I'm a better defender than him?"
It's a reasonable argument. But it's made in a time when discussion about, well, just about anything, is far from reasonable.
But consider that Jordan played in the 1980s and 1990s (with a cameo in the early 2000s). On the other hand, James' career began the season after Jordan retired (and was serious about it) and is still active.
Rules are different. The style of play is radically different today from when Jordan entered the NBA in 1984.
Green is right: Anyone who claims to have a definitive answer to whether Jordan or James is the greatest NBA player of all time is ridiculous.
Draymond Green is a prime example of how physiques have changed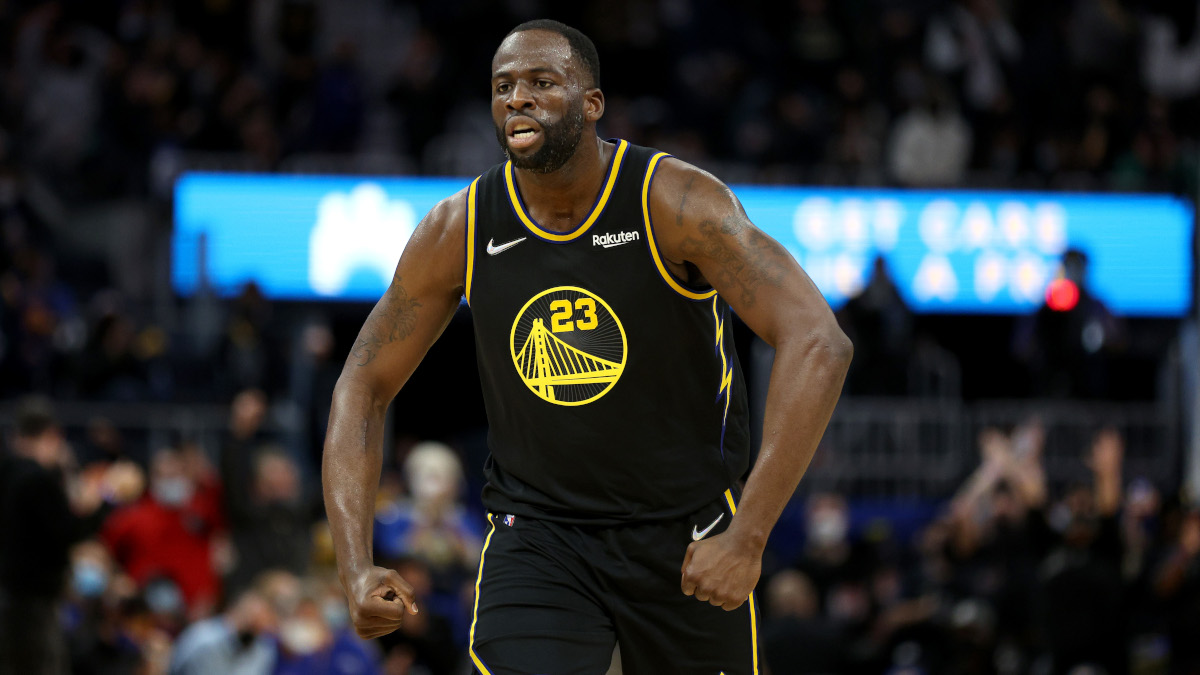 At 6-foot-6 and 230 pounds, Draymond Green has a body for the modern era. In Bill Russell's time, he would have been a mismatch for most power forwards.
Consider Russell. He was a dominant defensive center at 6-foot-10 and 215 pounds. In today's NBA, he might be a wing at that size. At best, he'd be a small-ball center or stretch 4.
As for the great power forwards of Russell's era? Bob Pettit was dominant at 6-foot-9 and 205 pounds. Dolph Schayes was a giant in the 1950s at 6-foot-8 and 220 pounds. Green is bulkier than either of those Hall of Famers.
Training methods were different 50 or 60 years ago. Weightlifting wasn't encouraged. There weren't teams of nutritionists around to make sure guys ate properly.
Most significantly, training wasn't a year-round activity. Many players had offseason jobs. There were no million-dollar contracts in Russell's era.
One of the easiest dismissals of past players is their lack of size and strength compared to the modern athlete. But given an extensive training regimen and a nutrition program, isn't it feasible that Russell could have added 25-30 pounds to his frame if he played in this era?
Green will have a long post-NBA career as an analyst. He's already dabbling in it with TNT while still active.
Draymond Green became a star because of his unique skill set. Players in past eras adapted to the style of play, just as players today develop for this era's style. Enjoy the greats for what they did, not what they would do today. It's reality vs. speculation. In that debate, reality is always the winning choice.
Statistics courtesy of Basketball Reference and Stathead.
RELATED: Despite Potentially Costing His Team a Title, Draymond Green Doesn't Regret Infamous LeBron James Altercation During 2016 NBA Finals