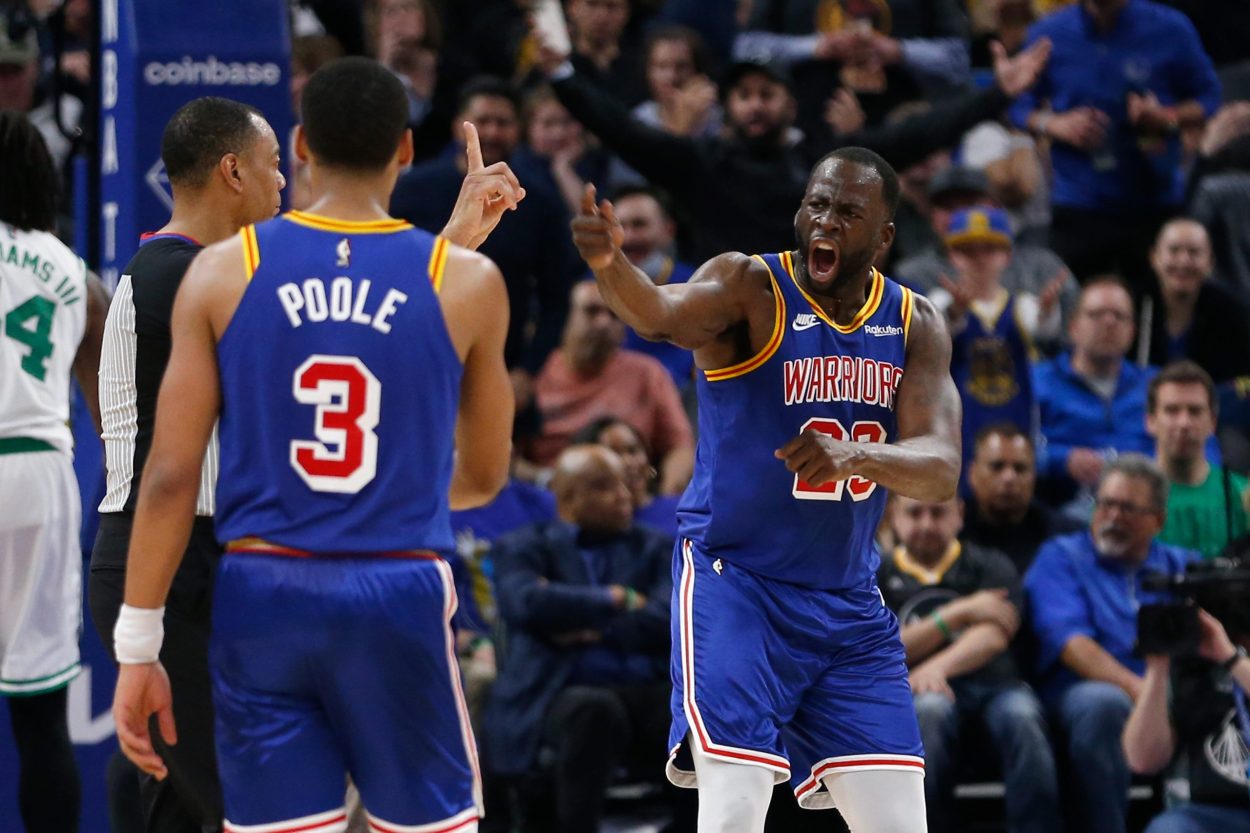 Draymond Green Is Wrong, He Has Zero Shot at Defensive Player of the Year
Contrary to his own belief, Draymond Green cannot possibly walk away with Defensive Player of the Year honors.
Draymond Green prides himself on his defensive impact with the Golden State Warriors. The 2016-17 Defensive Player of the Year sets the Dubs' rotations and alters the complexion of the group with his tremendous weak-side anticipation and ability to cut off and disrupt passing lanes.
Green believes his value to Golden State makes him a legitimate candidate to win his second Defensive Player of the Year Award despite missing nearly half the 2021-22 season. Part of this stems from Green's assertion that few players have stood out in the race for that award.
Perhaps if availability weren't a factor, Green might have a case. Others around the league understand his importance to the Warriors. Still, the three-time NBA champion is smarter than that.
Green should know he has no chance at winning the award. He'd also do well to give way to some of the youngsters staking their claim to DPOY honors.
Draymond Green still thinks he can win Defensive Player of the Year Award
Earlier this week, reporters asked Green whether he felt he could still win DPOY. He didn't hesitate.
Green began by saying (h/t Mark Haynes of ClutchPoints) he believes other players have won the award with fewer appearances than he will have by the end of the season. The six-time All-Defensive member added that no single player has stood out from the pack.
"I don't know what league everybody else been watching, but I have not seen anyone solidify themselves as Defensive Player of the Year."

–Draymond Green
Green shouted out Phoenix Suns defensive ace Mikal Bridges and Memphis Grizzlies forward Jaren Jackson Jr. However, the 32-year-old stated that, before he went down with a back injury, he had the best case for the award.
Indeed, part of Green's argument rests on how badly the Warriors' defense regressed without him in the lineup.
Green is the central cog in Golden State's defense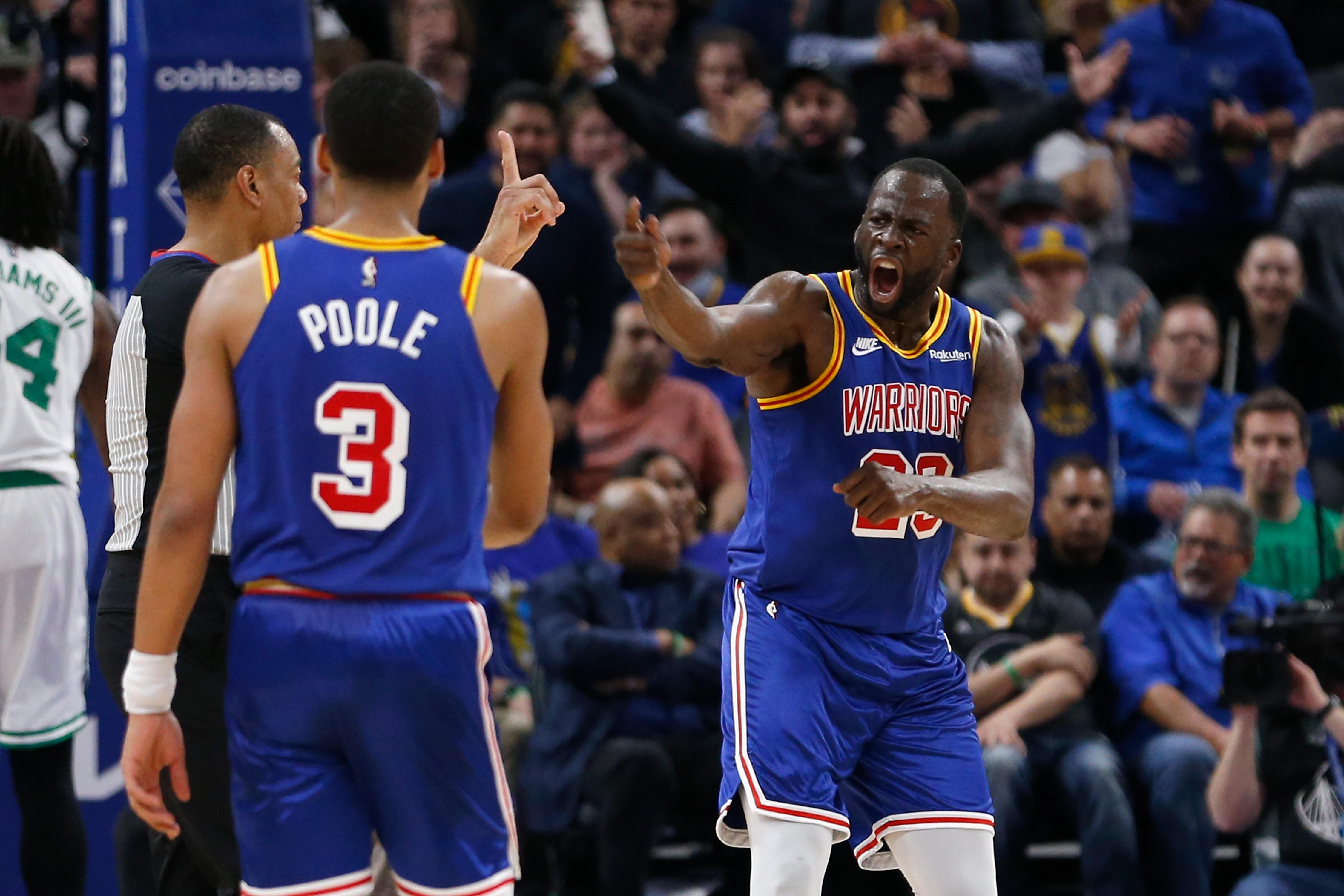 Judging by past losses and Stephen Curry's 47-point birthday explosion, Green might actually have as large an imprint on Golden State's offense. Still, the numbers do more to indicate his importance on the other end.
According to NBA.com, the Warriors had the best defensive rating (102.2) in the league between the start of the season and Jan. 5, the final full game Green played before going down with his injury. From Jan. 11 to March 12, they fell to 11th in that category, giving up 111.1 points per 100 possessions.
Those numbers are telling. Green's ability to play an undersized 5-man mitigated many of the Dubs' issues inside. Without him, they gave up more second-chance points and points in the paint.
That being said, availability matters when considering the most deserving players in any award race. And while Green might be right in his assessment that no single player has "solidified" themselves as the front-runner, a host of guys have separated themselves from the pack.
Plenty of other candidates above Draymond
If no one individual has laid claim to DPOY yet, it's because there are a host of worthy contenders. All of them have better resumes than Draymond Green.
Jaren Jackson Jr. leads the NBA in blocks and blocks per game (2.2). He's also averaging a steal while ranking second in defensive field-goal percentages. His versatility has been on full display. Jackson switches onto guards and inhibits perimeter players from getting clean looks, ranking third among centers in three-point contests. Grizzlies star Ja Morant has adamantly lobbied for JJJ to win the award.
Mikal Bridges anchors the Phoenix Suns' team defense as their top on-ball stopper. He can guard almost every position and is incredibly effective in orchestrating switches and denying the ball.
Meanwhile, the Boston Celtics have a pair of DPOY spearheading their NBA-best defense. Like Bridges, Marcus Smart guards multiple positions and routinely makes life difficult on some of the top scorers in the league. Center Robert Williams is averaging 2.2 blocks. Opponents feel his presence when he rotates from the weak side for ridiculously athletic blocks. Timelord deters everything at the rim.
Green might feel he still has an opportunity to add more hardware to his trophy case. But his thoughts on the matter are misguided.
Stats courtesy of Basketball Reference unless otherwise noted.