Draymond Green, Khris Middleton, and the Second-Round NBA Draft Picks That Have Been Most Valuable to Winning Championships
It takes a lot to win an NBA title. Perhaps in basketball more than any other sport, though, talent is the most important piece. That talent is acquired through trades, free agency, and the draft.
Usually, the talent comes in the form of high-lottery or other first-round picks. But title-winning teams also need some luck. When organizations can find major contributors in the second round, that luck can turn a good team into a great team and a great team into a champion.
Khris Middleton was drafted 39th overall and became the second most valuable player for the 2021 NBA Champion Milwaukee Bucks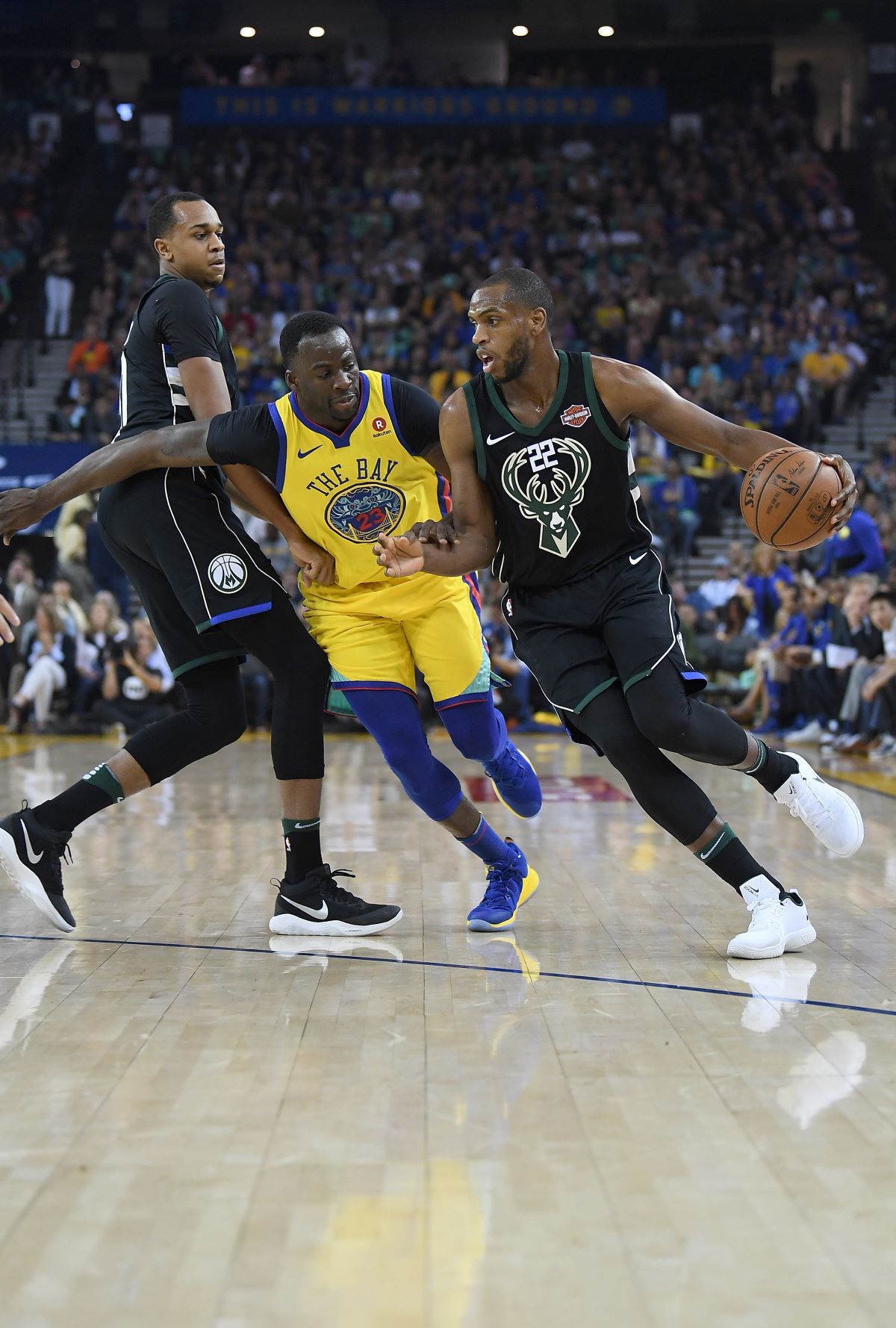 Sometimes, the most recent example is the best example. Middleton was drafted in the second round, and he was a throw-in piece of a trade that brought Brandon Knight to Milwaukee from the Detroit Pistons.
The 6-foot-7 forward is now a two-time all-star who averaged 23.6 points, 7.6 rebounds, and 5.1 assists per game in a playoff run that ended in an NBA championship. Middleton played more than 42 minutes per game in the finals and averaged 24.0 ppg to go along with 6.3 rpg and 5.3 apg.
Middleton went from an overlooked, unathletic second-round pick to an NBA champion.
Draymond Green is perhaps the best example of how valuable a second round pick can be to a championship team
Green, also selected in 2012, has been the backbone of the Golden State Warriors' recent dynasty. The 35th-overall pick has been on three title-winning teams, has been named to the all-star team three times, has five times been named to the all-defensive team, and has been voted All-NBA twice.
Teammate Steph Curry told SLAM:
"He's the smartest basketball player I've played with, and it shows in moments and games … where he just finds a way to impact winning in his own way."

Steph Curry on Draymond Green
Green will never be the biggest, fastest, tallest, or most athletic player on the floor, which caused his drop to the second round, but his impact on winning cannot be overstated.
Other second round draft picks who have been valuable to winning NBA championships
The list of second-round picks that have won NBA titles is actually sort of long, according to SportingNews:
Manu Ginobili
Marc Gasol
P.J. Tucker
Danny Green
Patty Mills
Khris Middleton
Draymond Green
Malcolm Brogdon is also a former Rookie of the Year, and Nikola Jokic is now an MVP. Lou Williams and Montrezl Harrell have each won Sixth-Man-of-the-Year Awards after being drafted in the second round.
Finding superstars happens most often at the top of the draft. But hidden gems found in the second round can sometimes be the ticket to an NBA championship.
All stats courtesy of Basketball-Reference.
RELATED: Giannis Antetokounmpo Might Have Punched a Hall of Fame Ticket With His NBA Finals MVP Award