Draymond Green Makes a Curious Admission Saying Jonathan Kuminga Will 'Have to Play a Part' if the Warriors Hope to Win a Championship
Stephen Curry, Draymond Green, Kevon Looney, Andre Iguodala, and Klay Thompsom (once he returns) all have championships under their belts with the Golden State Warriors. The team also employs contributing vets like Jordan Poole and Otto Porter Jr.
But Green shocked some in NBA circles after claiming that rookie Jonathan Kuminga will have to play a role if the Warriors are going to win another title.
What role could a 19-year-old play on an experienced team like the Dubs?
A simple yet crucial one, Green explained.
Jonathan Kuminga was the seventh overall pick by the Warriors in the 2021 draft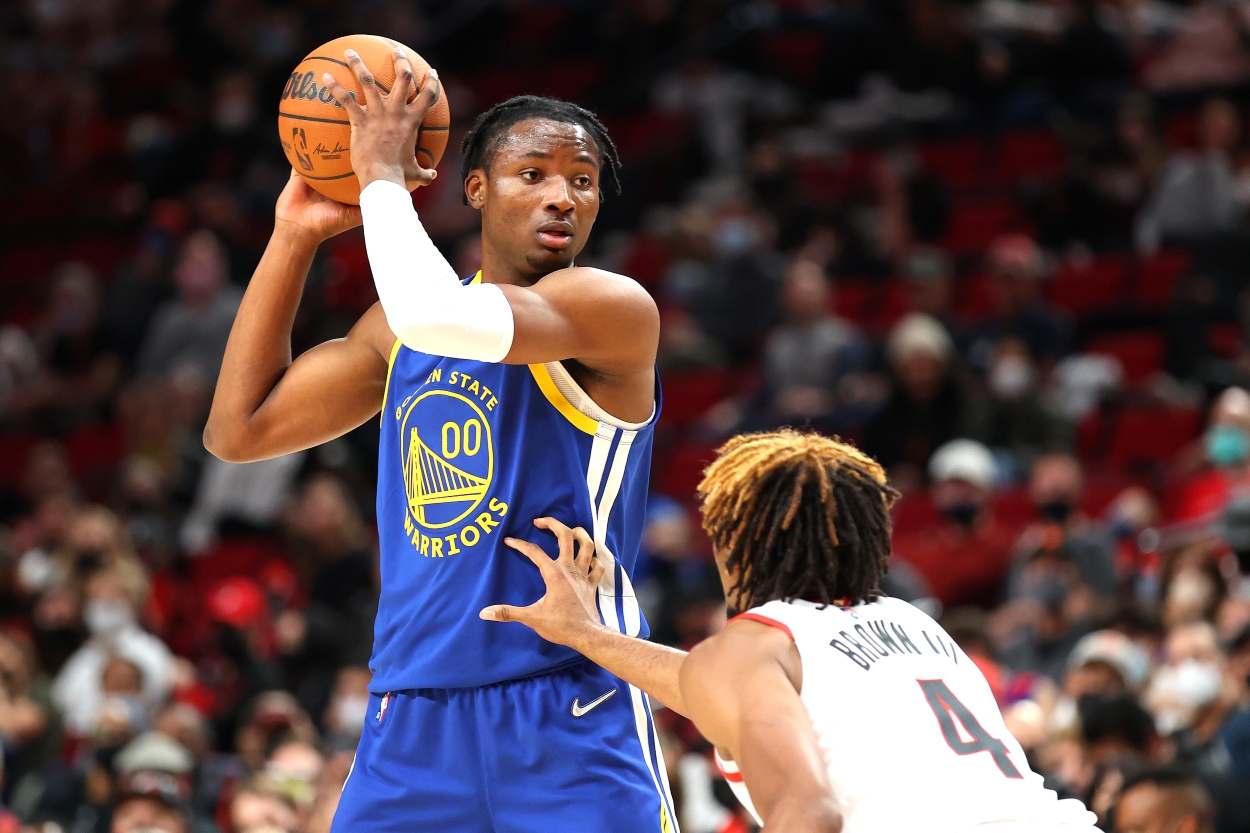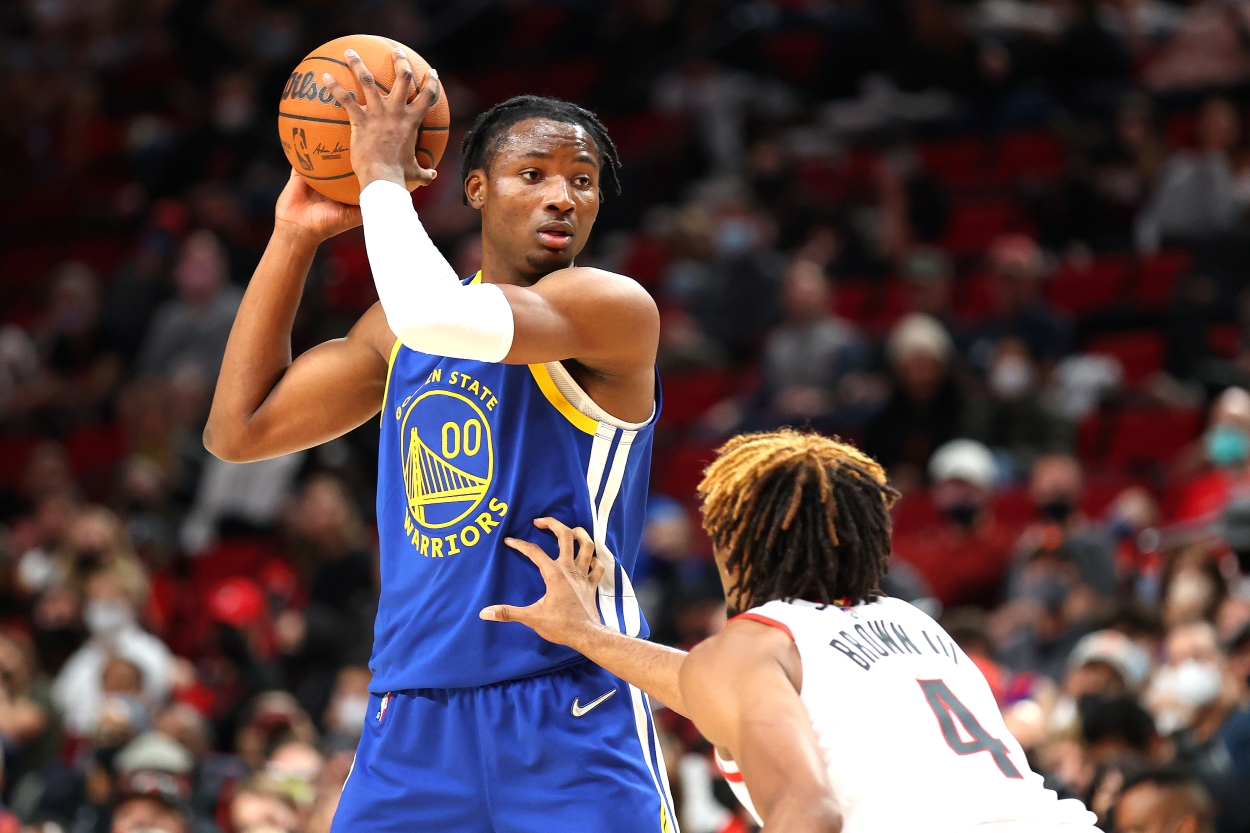 Jonathan Kuminga was one of the Warriors' two lottery picks in the 2021 draft. The organization took him at No. 7 and fellow one-and-done product Moses Moody from Arkansas at No. 14.
Together with James Wiseman — the No. 2 overall pick in 2020 — the trio provides an interesting dynamic within the organization. One on side, there is a veteran-laden team with championship aspirations. On the other hand, three young, raw, high-potential draft picks waiting to develop.
Kuminga entered the draft as perhaps the rawest of all three. The physical talent was there — it was everything else that was lagging.
Along with Jalen Green, who was the No. 2 overall pick by the Houston Rockets, Kuminga starred as part of the first batch of prospects to go through the G-League Ignite program.
As an 18-year-old, the highly-touted recruit started all 13 games he played in and averaged 15.8 points and 7.2 rebounds on 38.7% shooting and 24.6% shooting from three on 5.0 attempts per night.
But Golden State didn't draft Kuminga for his skill set. They drafted him for his physical abilities, which are rare and unteachable.
That's all Green, and the Warriors are looking for from the 6-foot-7, 225-pound forward.
The 19-year-old has physical tools no one else on Golden State's roster possesses
Kuminga is big, strong, fast, explosive, and athletic. Just about any complementary word you could use to describe someone's physical traits, you could apply it to him.
In a Dec. 13 road game against the Indiana Pacers, coach Steve Kerr felt like his team needed some energy, so he looked down the bench and called Kuminga's name.
On his first possession, the rookie played bully ball and got to the rim for a layup. Then he got consecutive one-on-one stops against Pacers' All-Star forward Domantas Sabonis (who's listed at 6-11, 240 pounds).
The Warriors went on a 13-0 run, regained the lead, and won 102-100.
Kuminga's box score: six minutes, three points, one rebound. But, according to Draymond Green, he was exactly what the Warriors needed to win that game, via NBC Sports:
I think in order for us to go far, he is going to have to play a part in that. He just has some things that none of us other guys bring to the table. Some of the things, the tools that he has as a basketball player as far as his quickness, his speed, his athleticism, his strength, and youth — the majority of us don't have that.

So I think he is going to be important for us and tonight was big. He worked his minutes. Six minutes. Plus 11. He worked his minutes. That's all you can ask for. Work your minutes, and then hopefully, they'll grow. It was incredible to see. We needed it.

Draymond Green on Warriors' rookie Jonathan Kuminga
Kuminga didn't play in the second half of that game. He's barely playing more than seven minutes a night. But he's using them to make an impact.
Kuminga has already carved out an important role with the Warriors
His skills were expected to need serious development, and that's proven true. Jon has played 18 games in the NBA and six in the G-League this season.
In his 18 games with the Warriors, Kuminga is scoring 7.2 points per game. He's averaging fewer than three shot attempts and less than one attempt from three.
His raw stats with the G-League are solid — 18.2 points and 6.5 rebounds per game — but even at that level, he's turning the ball over more than four times a night and is shooting 36.7% from the floor and 25.6% from three.
Production isn't what Golden State needs, though. It's energy and physicality, which are the rookie's two greatest strengths right now, barely more than a quarter of a season into his NBA career.
Kuminga needs significant development, and he's not going to play 15 minutes a game off the bench for the Dubs this year.
But strictly based on his athleticism and physical gifts, the Warriors will need him, and they already know it.
All statistics courtesy of NBA.com.