Draymond Green's Praise for Evan Mobley Shows How Special the Cavs Rookie Truly Is
The 2021 NBA Draft Lottery was essentially the Cade Cunningham sweepstakes. The winner received the No. 1 pick in that year's draft and the opportunity to select the Oklahoma State star in Cunningham.
However, did the Cleveland Cavaliers actually win by losing?
OK, well, they wouldn't have necessarily lost had they received the top pick and chosen Cunningham. But going No. 3 and selecting Evan Mobley has turned out to be one of the greatest events in franchise history. Mobley has been a stud from the get-go and could even become one of the league's best players at some point.
In fact, the USC product recently received praise from Draymond Green, and it showed just how special he truly is.
Evan Mobley is having a spectacular rookie season for the Cavs
As he entered the 2021 NBA Draft, Evan Mobley received comparisons to Chris Bosh, Anthony Davis, and Kevin Garnett. He's a tall, lanky power forward who can score near the rim and from mid-range, but he's even better on the defensive end. Mobley uses his length to block shots and make it difficult for opponents to drive to the rim. However, he's also athletic enough to defend along the perimeter.
Mobley proved he was the real deal at USC, earning the Pac-12 Player of the Year Award after averaging 16.4 points, 8.7 rebounds, and 2.9 blocks. His play led the Trojans to their first Elite Eight in 20 years and helped him become a top prospect, resulting in the Cavs selecting him No. 3 overall.
He has since been a major reason why the Cavs have had a resurgent season and hope to make the Eastern Conference playoffs. Mobley is averaging 14.6 points, 8.2 rebounds, and 1.7 blocks. The big man leads rookies in total blocked shots by a large margin, as he has racked up 94 so far this season, and Alperen Sengun is No. 2 with 55. He also leads rookies in defensive box-plus-minus (1.6) and defensive win shares (3.2).
And during a recent monster performance, Draymond Green had some massive praise for the young star.
Draymond Green had massive praise for the Cavs big man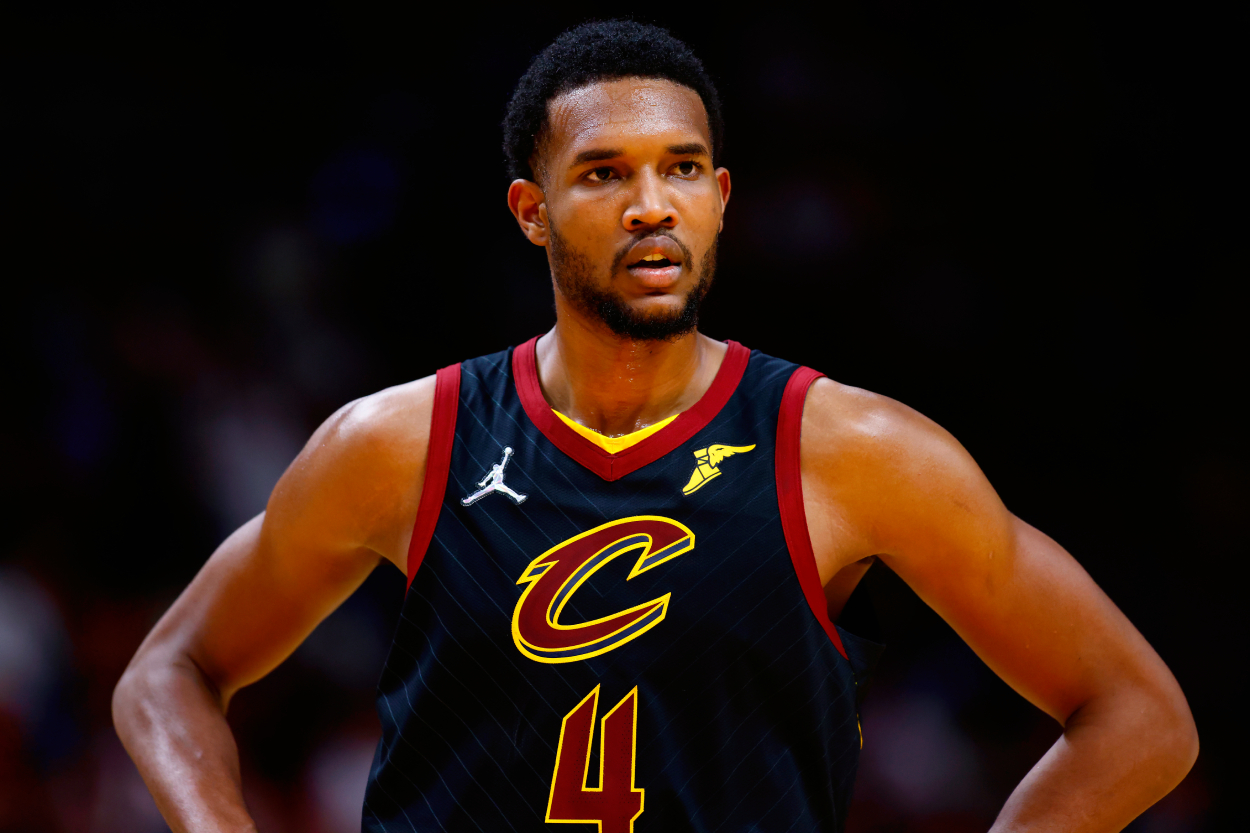 The Cavs recently saw All-Star big man Jarrett Allen suffer an injury in their most recent game against the Toronto Raptors. He fractured a finger and is out indefinitely. But his absence resulted in Evan Mobley stepping up and having a massive game.
The seven-footer had 20 points on 9-of-15 shooting, and he pulled down a whopping 17 rebounds, which tied a career-high, to go with three blocks. His play helped the Cavs earn a big 104-96 win.
During the game, Mobley received massive praise from four-time All-Star and three-time NBA champion Draymond Green.
"Mobley will be most improved and an ALL-STAR next year," Green tweeted.
That may seem simple, but those are significant comments when considering Green's legacy and career. He's one of the greatest defenders in NBA history and has played with some all-time greats in Stephen Curry, Kevin Durant, and Klay Thompson. His IQ on offense and defense also makes him arguably the most valuable player on his teams.
He knows talent when he sees it, and Mobley has it oozing out of his pores.
And the rook has a chance to prove himself even more during this upcoming stretch.
Evan Mobley has a chance to clinch the Rookie of the Year award during this upcoming stretch
Draymond Green clearly watched Evan Mobley's performance and realized how much he has improved within the past several months. That's why he thinks he will win the Most Improved Player Award next season.
But Mobley has a chance to lock up the Rookie of the Year award this season.
The Cavs are entering a crucial stretch of their schedule. They don't know how long Jarrett Allen could be out with his fractured finger, and they play several elite teams in the coming weeks, including the Miami Heat, Chicago Bulls, Philadelphia 76ers, and Denver Nuggets. Cleveland's 37-27 record also only has the team sitting three games ahead of the seventh spot in the Eastern Conference, which would put it in the NBA Play-In Tournament.
So, the Cavs essentially need Mobley to step up in Allen's absence. He proved he could against the Raptors. Now, he has to sustain that success and help his team win important games.
All in all, Evan Mobley has already proven he is special. He can score, rebound, and defend at elite levels, and he doesn't have an ego that forces him to take bad shots outside of the team's system. But he can now prove Green right a little early by coming up big during the next few weeks.
Stats courtesy of Basketball Reference
RELATED: Kevin Love's Resurgence Is Highlighted by an Overlooked Stat