Draymond Green Has a Regret About Stephen Curry's History-Making Moment at MSG
Draymond Green reveled in Stephen Curry's record-setting night with the rest of his Golden State Warriors teammates. During their Dubs tenures, he's long served as one of Steph's protectors and anchors. Surely Green felt some emotions watching Curry break Ray Allen's all-time 3-point mark.
But as he processed Curry's historic evening, he couldn't help but notice someone was missing from all the festivities.
For years, Curry and backcourt mate Klay Thompson established a dynamic as the Splash Brothers. Both are among the greatest shooters in NBA history, and maybe top two when all is said and done. Green wishes the other Splash Brother was at Madison Square Garden on Tuesday night instead of recovering from his Achilles injury.
Draymond Green regrets Klay Thompson not being able to witness Stephen Curry's record-setting moment
Draymond Green felt Madison Square Garden served as the perfect venue for Stephen Curry to break Allen's record. So did numerous others, particularly considering Curry hoped to be a Knick on draft night in 2009.
However, though The Mecca offered an ideal setting, the moment wasn't wholly perfect, at least in Green's opinion. During his postgame presser (h/t NBC Sports Bay Area), the veteran Warriors star said he wished Klay Thompson were in the building for history.
"I think the only thing missing for me is Klay not being here. Just the road traveled to get here, Klay was a huge part of that. So if anything could have been different, it was that."

–Draymond Green, via NBC Sports Bay Area
Frankly, Curry would probably agree with Green's assessment.
In many ways, Thompson's own growth helped make Steph even more dangerous through the years. He played an integral role in the journey, as Green suggested, and is every bit the history-maker as Curry.
Thompson deserved to be at MSG for the record-setter
Ray Allen and Reggie Miller fittingly witnessed Stephen Curry's record-setting moment.
Miller, whom Curry patterned his game after, routinely gives glowing speeches about the Baby-Faced Assasin. Allen played with Steph's father, Dell, and still recalls the new record-holder getting up shots during shootarounds.
Aside from their respective spots in the history books, the personal connections both Allen and Miller have with Curry practically made their attendance mandatory. But, as Draymond Green might argue, Klay Thompson arguably had even more reason to be at MSG on Tuesday.
Thompson and Curry have shared a bond that even predates Mark Jackson calling them the best-shooting backcourt in NBA history. They've won three championships together. More notably, their dominance from beyond the arc changed the league and played an essential role in the Warriors dynasty.
Klay still holds the single-game record for 3-pointers with 14 triples. According to ESPN, Thompson has the second-most games with at least 10 threes (five), though he's well behind Steph on that list (22).
The Splash Brothers' deadliness from beyond the arc helped incentivize front offices to make their teams more perimeter-centric. Both men had a profound impact on the current trajectory of the league.
So, pardon Green for feeling a pang of regret on such a tremendous evening. However, that regret could soon turn to excitement.
When will Klay rejoin Green, Curry, and the rest of the Warriors?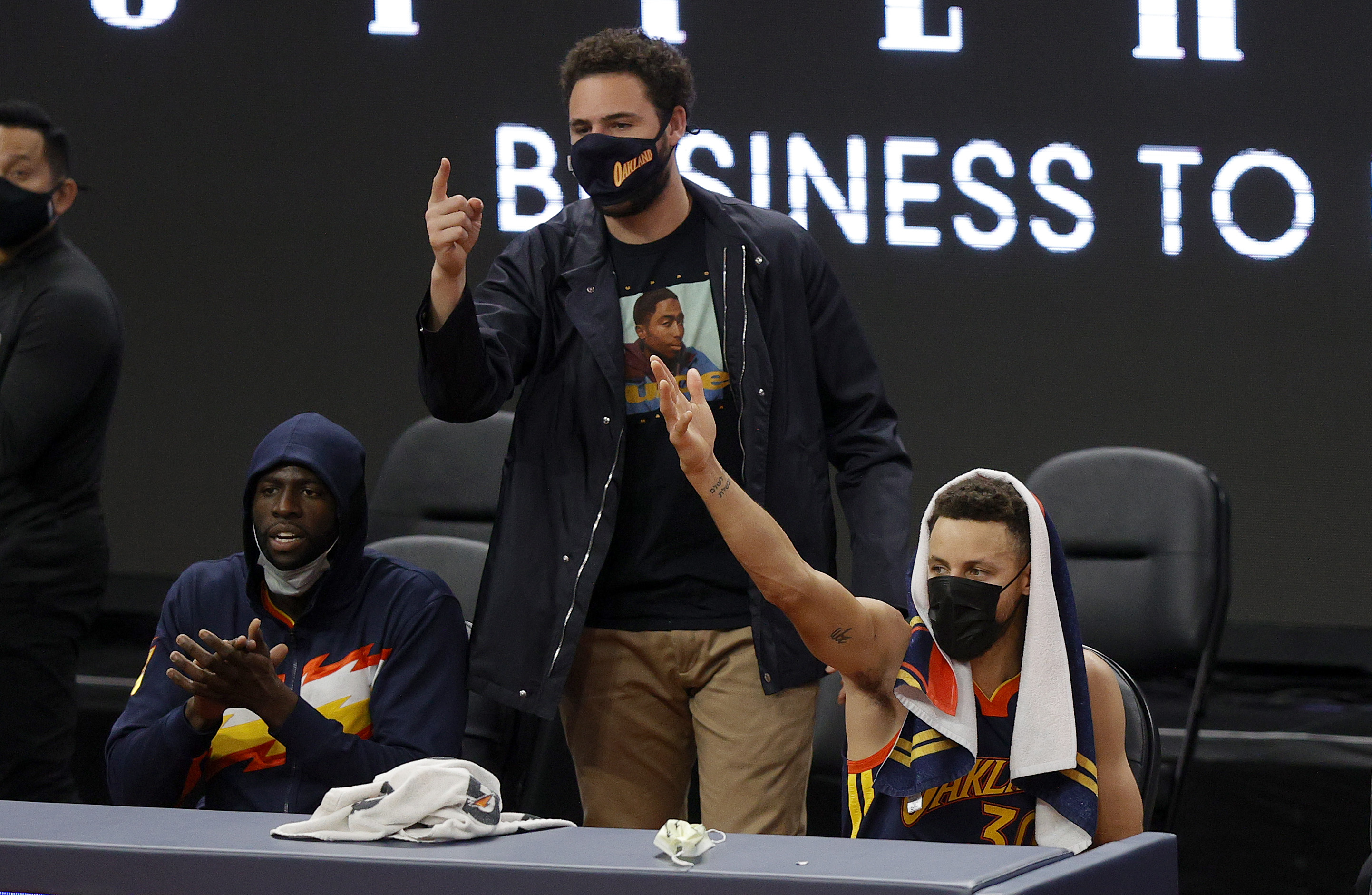 It might not be long before Green and the rest of his Warriors teammates can stop talking about Thompson's return.
Thompson continues to make good progress in his rehabilitation from an Achilles injury sustained last fall. Much speculation suggests Klay will be back sometime around Christmas, though the Dubs have yet to name a specific date.
In any case, his comeback is every bit as anticipated — if not more so — than Curry becoming the all-time leader in 3-pointers. Although Thompson will undoubtedly need time to get acclimated to his teammates and adjust to NBA game speed, Green and others know his importance to the team's foundation.
Draymond wishes Klay could have been in the building on Tuesday night. But he'd almost certainly rather Thompson be in uniform helping the Dubs hoist another Larry O'Brien Trophy in June.
Stats courtesy of Basketball Reference.