Draymond Green Finally Reveals the Truth About His On-Court Argument with Kevin Durant in 2018
The history is well known. Draymond Green and Kevin Durant didn't always see eye-to-eye as teammates with the Golden State Warriors. It didn't have anything to do, either, with Green being 6-foot-6 and Durant nearly being a 7-footer. Instead, it had to do with differences of opinion over plays made (or not made) by one or the other.
There was the shouting match after a Warriors' loss to the Sacramento Kings that snapped a 13-game winning streak. There were various disagreements in various games from early in Durant's tenure in the Bay Area, which began in 2016 and ended when he signed with the Brooklyn Nets in 2019. But the main event was a skirmish in November 2018 at the end of regulation against the Los Angeles Clippers.
Kevin Durant vs. Draymond Green: A last possession to forget
RELATED: Charles Barkley Isn't Done With Kevin Durant and Kyrie Irving, Not by a Long Shot
In the Nov. 12, 2018, game between the Warriors and Clippers at Staples Center in Los Angeles, things started to percolate late in regulation. Durant grabbed a rebound on the defensive end, came up the court, and almost immediately fired up a deep 3-pointer. That move made sense; it allowed Golden State to go two possessions for one as the clock wound down and assured the Warriors the last shot. Or so it seemed at the time.
After Lou Williams missed a long 2-pointer at the other end, Green got the rebound. Durant put his hands out for the ball, but Green wheeled up the court. He eventually slipped and lost possession, and the horn sounded without Golden State getting a shot off. Durant was furious, and soon he and Green were shouting over teammates on the bench. According to the Associated Press, the argument spilled over into the locker room after the Warriors' 121-116 loss, and Green drew a one-game suspension for his conduct.
At the end of the 2018­–19 season, the two-time defending champion Warriors lost their title to the Toronto Raptors, Durant ruptured his Achilles' tendon in Game 5 of the NBA Finals, and then he then committed to the Nets almost as soon as the free-agency period opened.
Green says Durant could have stayed with Golden State
RELATED: Kevin Durant's Lucrative Business Venture Just Gave Him a $100 Billion Reason to Smile
On an April 23, 2020, appearance on the All the Smoke podcast with former NBA players Stephen Jackson and Matt Barnes, Green said the superstar Durant had leverage if he had wanted to stay with the Warriors. According to Green, Durant could have just asked management to get rid of Green.
"This is f*cking Kevin Durant we're talking about," Green said. "Yeah, I've done some great things here, but let me tell you this: I know (Golden State president) Bob Myers. If it was such a big deal with Kevin being here and me being here—if Kevin really wanted to be here, all he would've done is went to Bob and said, 'Yeah, I'll stay, but Draymond got to go.'"
For his part, Durant said Green was a factor in him deciding to leave the Warriors for Brooklyn. Durant told ESPN's First Take in a Halloween 2019 appearance on the show that the heated exchange with Green the previous season weighed on his mind.
"Definitely," Durant said. "For sure. I'm not gonna lie about it."
Kevin Durant, Green talk it out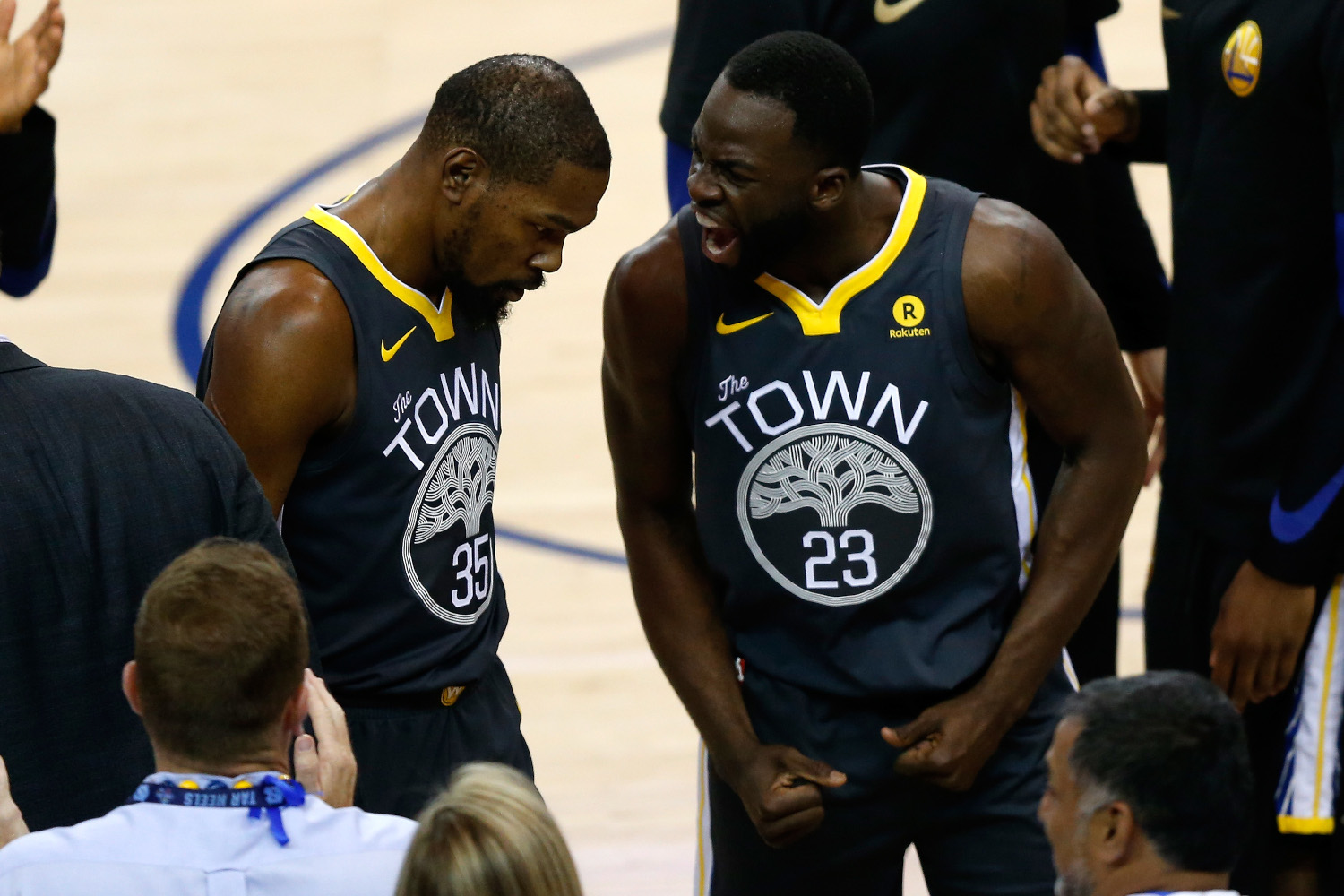 RELATED: Kevin Durant Blasts NFL Legend Shannon Sharpe for Spreading Fake News About Him on Live TV: 'Y'all Drunk Uncle Out Here Lying Again'
Fast forward to April 8, 2021. Durant is recording his podcast, The ETCs, and his guest? None other than Draymond Green.
The two discussed their complicated history, and each gave a strikingly similar recollection of the events at the end of regulation against the Clippers. Durant scolded Green for not passing. Green responded with a tirade.
"Hey, motherf*cker, I do this too!" Green recalled telling Durant. "I was going to give your ass the ball if you weren't b*tching! I do this too!"
At that point, Green said DeMarcus Cousins grabbed him and moved him out of range while telling him to shut up (just more colorfully than that). Green then got in the face of Cousins.
"No, that's bullsh*t," Green remembered saying to Cousins. "Nobody says sh*t to (Durant). All he had to do was f*cking run, and I would have pitched him the f*cking ball back."
Durant didn't disagree with Green's version of what happened. Despite the differences the two have had, they aren't the mortal enemies some would portray them as.
Green said he talked a lot to Durant during the former MVP's 2016 free agency, including an exchange of texts after the Warriors lost Game 7 of the NBA Finals to the Cleveland Cavaliers. Green then copped to sending Durant "too many" texts when the start of free agency came around.
The lesson: Teammates don't always get along, but it doesn't stop them from forming a championship-caliber team. Nor does it stop them from continuing on as friends after the dust settles.