Draymond Green Sent a Discouraging Message About the Warriors' Future, and Stephen Curry Should Take Notice
Stephen Curry and the Golden State Warriors officially missed the NBA playoffs, and Draymond Green isn't happy.
Curry, Green, and the Warriors lost both games of the NBA Play-In Tournament. Golden State has missed the playoffs in consecutive years, and their former All-Star forward has plenty of thoughts on the road ahead.
Draymond Green thinks the Warriors are 'a ways away' from contending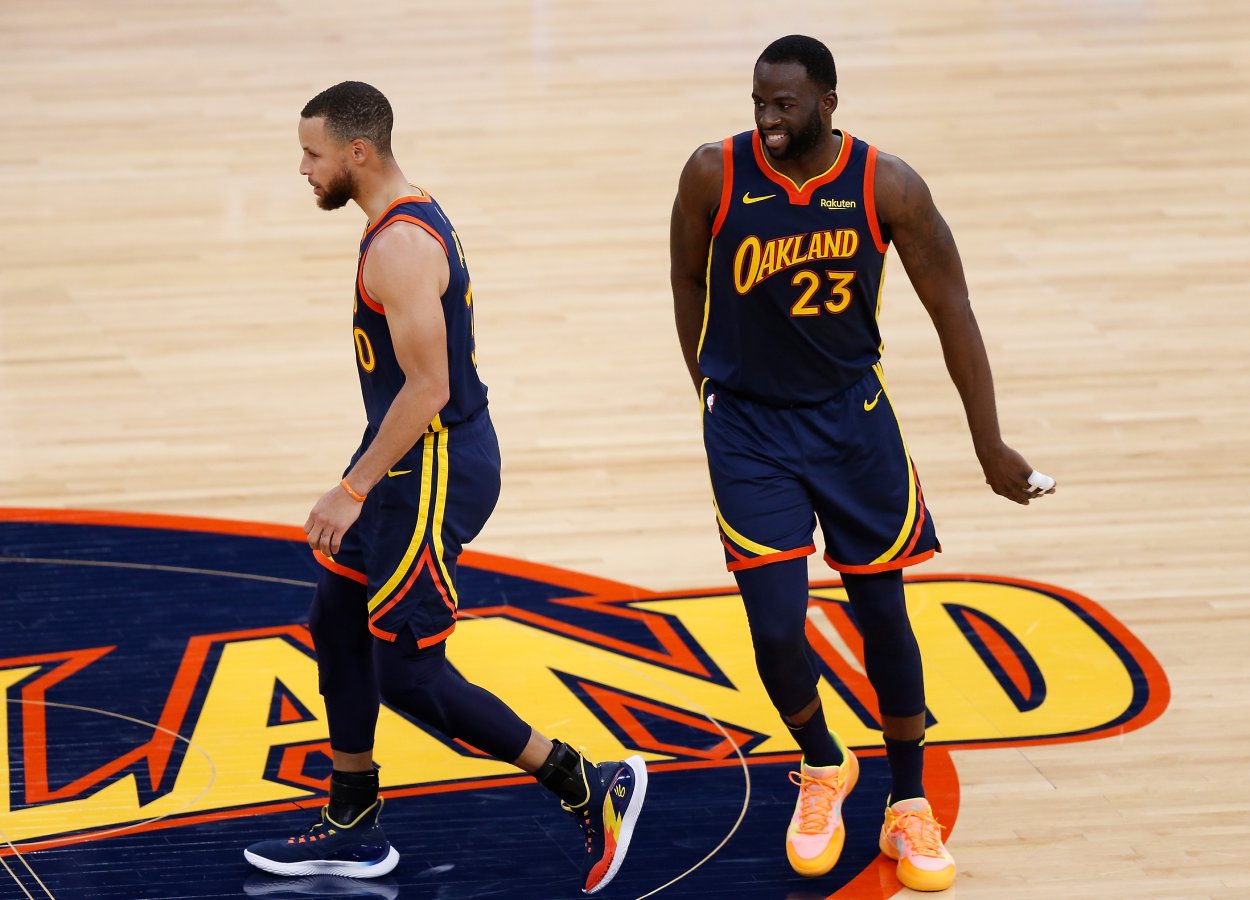 Draymond Green gave it his all on a night when the Warriors only had eight active players.
Green scored 11 points, grabbed 16 rebounds, and dished 10 assists in the Warriors' play-in matchup with the Memphis Grizzlies. However, Grizzlies star guard Ja Morant scored 35 points and led his team to a 117-112 victory.
No. 8 Memphis will face No. 1 Utah in the Western Conference quarterfinals, and Green is headed home — or, as he mused in a postgame press conference, perhaps on a trip. According to ESPN, Green told reporters that he'd potentially visit Mexico with his season over, even though the time there wouldn't make him happy.
"[Mexico is not] an arena. That's not flying to Utah, so we got a ways to go because we're not in the playoffs — so we're far away. Because in order to win a championship you got to be in the playoffs. So we're clearly a ways away — a few tweaks here and there, and we're not that far. But right now, we're a ways away because we're not in the playoffs."

Draymond Green
Golden State survived a litany of injuries, including All-Star shooting guard Klay Thompson's torn right Achilles, and finished at 39-33. The Warriors are nonetheless a long way removed from their days of constantly dominating the Western Conference en route to an annual NBA Finals appearance.
Stephen Curry should pay very close attention to Green's comments
Stephen Curry's ears should have perked up when Green addressed the assembled media.
The All-Star point guard scored 39 points in the Warriors' overtime loss to the Grizzlies. He is scheduled to hit free agency next summer and, barring a disaster, has an opportunity to receive one final, major payday.
Curry will hit free agency at 34 years old, and he already has three championship rings to his name. He is a lock for the Naismith Memorial Hall of Fame and is only 142 3-pointers shy of breaking Ray Allen's all-time record.
But if the Warriors are "a ways away" from competing for a championship, as Green put it, Curry may have to re-evaluate his long-term plans. Would the future Hall of Fame sharpshooter really want to re-sign with a team that may not approach the NBA Finals anytime soon? Even at an avanced age, he should have no shortage of suitors next summer.
Green paid tribute to Curry after the play-in tournament ended
The Warriors have had some internal issues over the years, but Green has always shown love and respect for Curry.
When asked about the point guard's overall impact on the Warriors, Green openly praised his teammate's leadership and dedication. Curry led the NBA in scoring with a career-high 32 points per game this year.
"He stood out in front of us and gave us all someone to follow," Green said of Curry. "That was the coaching staff; that was everyone. He gave all of us someone to follow."
Only time will tell if Curry, who turned 33 on March 14, continues being that role model for the Warriors or if he'll fill that role on another team in 2022.
Like Sportscasting on Facebook. Follow us on Twitter @sportscasting19.