Drew Brees and Michael Vick's Draft Class Is the Best in NFL History Hands Down
While every NFL draft is bound to have some stars and busts, some years have more than you can count while others have barely enough to remember. The 2001 class stands above the rest, however, with a combination of superstar talent across all aspects of the field. 
Other strong 'best draft class' contenders
NFL.com recently covered some of the most memorable draft classes. The level of talent within some of them is unbelievably deep. The 2007 draft class alone has surefire Hall of Famers like Adrian Peterson, Calvin Johnson, Patrick Willis, and Darrelle Revis, on top of memorable talents like Marshawn Lynch and Jacoby Jones. 
The 1996 draft not only introduced fans to Ray Lewis and Terrell Owens, but other superstars like Marvin Harrison, Keyshawn Johnson, Tedy Bruschi, and Brian Dawkins, too.
The 2004 draft class saw Ben Roethlisberger alongside fellow quarterbacks Eli Manning and Philip Rivers — plus a wealth of undrafted talent in Jason Peters and Wes Welker. 
More recently, the 2011 class has many players — Cam Newton, J.J. Watt, Richard Sherman, and Julio Jones — currently in their prime or just leaving it. Colin Kaepernick comes to mind in this class, as well as A.J. Green, Von Miller, DeMarco Murray, and Randall Cobb.
With so much talent, it's hard to outdo these classes. But 2001 found a way. Their roster of talent speaks for itself. With 34 Pro Bowlers — 17 from the first round — and many other accomplishments, this draft defined a lot of the modern NFL, even if many members are long gone from the game.
Michael Vick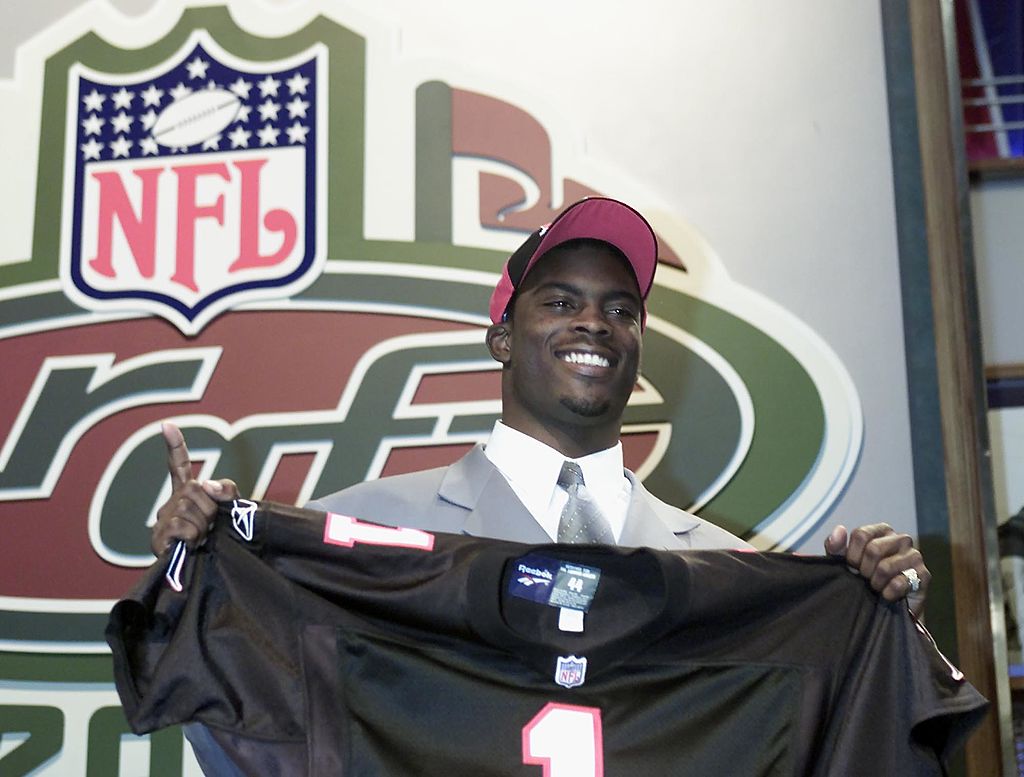 Vick was the sought-after No. 1 pick of the 2001 NFL Draft. With his penchant for running the ball — a skill that had yet to be done at his level — Vick offered a unique chance for the Atlanta Falcons. After a tumultuous career, he is now on TV as an NFL commentator.
LaDainian Tomlinson
The San Diego Chargers drafted LaDainian Tomlinson fifth overall. For the next nine seasons, he was the face of the franchise in many ways. The NFL MVP was never able to win a Super Bowl, but this wasn't an indictment. After a brief stint with the Jets, Tomlinson retired and can be seen on TV now. 
Drew Brees
Drew Brees might have been drafted by the San Diego Chargers with the first pick of the second round, but his best years have been in New Orleans. The iron man is still going strong 18 years after he was drafted.
Brees recently broke the NFL record for accuracy in a game. He also holds multiple spots atop the list for overall seasons. He is a Super Bowl Champion with countless other personal accolades. 
Steve Hutchinson
The 17th overall pick, Steve Hutchinson is easily one of the best players from the 2001 draft class. Beginning his career with the Seahawks before spending most of the latter part with the Vikings, his run between 2003 and 2009 included five All-Pro appearances and Pro Bowls every year.
Hutchinson leads a low-key lifestyle save for occasional appearances on television and radio since retiring. He will likely be a Hall of Famer in the years to come. 
Steve Smith
After being drafted by the Carolina Panthers in the third round, Steve Smith was one of the team's faces for 13 years. He was an All-Pro player as a rookie and a Pro Bowler off and on until the latter years of his career.
Smith spent the latter part of his career with Baltimore before retiring. Now he spends his time making media appearances and doing charity work around the country.
Who else was in the 2001 NFL Draft class?
The 2001 draft was too rich to fully cover. Aside from the aforementioned athletes, there were stars like Chad Johnson, Kyle Vanden Bosch and Reggie Wayne. From Justin Smith to Richard Seymour, Santana Moss to Adrian Wilson, 2001 was deep from the first round to the last. This is why it is the best draft in history.