Drew Brees Answers the Million Dollar Question on Potential Saints Reunion After Devastating Injury to Jameis Winston
The New Orleans Saints upset Tom Brady and the Tampa Bay Buccaneers in an impressive fashion on Sunday in the Superdome. PJ Williams picked off Brady and returned it for a score to seal the deal late in the fourth quarter as Sean Payton once again showed that he has the recipe for defeating Brady.
But, the biggest takeaway from that game is the injury to Jameis Winston, who left in the second quarter with a brutal knee injury. Reports followed that said Wintson is out for the year with both ACL and MCL damage.
A crushing blow to the Saints after a massive upset is not what anybody wants, and immediately there were thoughts of the next quarterback in New Orleans.
One name that popped up is Drew Brees; the recently-retired signal-caller turned broadcaster. But, Brees spoke on those thoughts during halftime of the Sunday Night Football game and answered the question everybody had.
A potential Saints reunion of Drew Brees?
On paper, this sounds brilliant. Brees knows the system, the team is 5-2, and he and Payton are perfect together in every way. But, there is a reason Brees retired, and returning after less than a year removed from the NFL would be a surprise.
Still, it is a fun thought to have Brees back on the field. Nonetheless, the future Hall of Fame quarterback answered those questions during the broadcast after Mike Tirico asked him on any looming return (h/t Patrick Magee of NOLA.com).
"I'll be there Saturday to call the Notre Dame-Navy game, and I'll be here Sunday."

Drew Brees on any potential return to the Saints
Still, take this with a grain of salt. Maybe Brees hasn't received any inquiries just yet. Or perhaps the Saints are holding out any last hope on some positive news on the Winston injury front. Unfortunately, Winston is officially out for the season.
Either way, Brees doubled down and even sang praise to Trevor Siemian, who stepped in as Winston's replacement.
Trevor Siemian might be good enough for Sean Payton to rely on
After Winston went down, Siemian was thrown into the game. Taysom Hill is still out as he deals with a concussion, and the only other option is rookie Ian Book.
Enter Siemian, who didn't play terribly and found a way to walk out of the Superdome with a monster upset of the defending Super Bowl Champions. Furthermore, Brees spoke highly of Siemian — after all, he knows best (h/t Patrick Magee of NOLA.com).
"I think he's going to do well. That's exactly why he brought him in last year when I got hurt. He's a cerebral guy who can pick up the system quickly. He can execute it. The bottom line is he has two really good running backs and a great defense. He'll play within the system and I think Sean Payton has a lot of confidence in him."

Drew Brees on Trevor Siemian
In all honesty, if the Saints have faith in Siemian, good for them. On the other hand, his performance Sunday wasn't off the charts.
But, this New Orleans team relies on the running game, led by Alvin Kamara, and the defense to win games. If Siemian can take care of the ball and manage the game at a high level, they might not need to look elsewhere.
A reunion of Brees would be something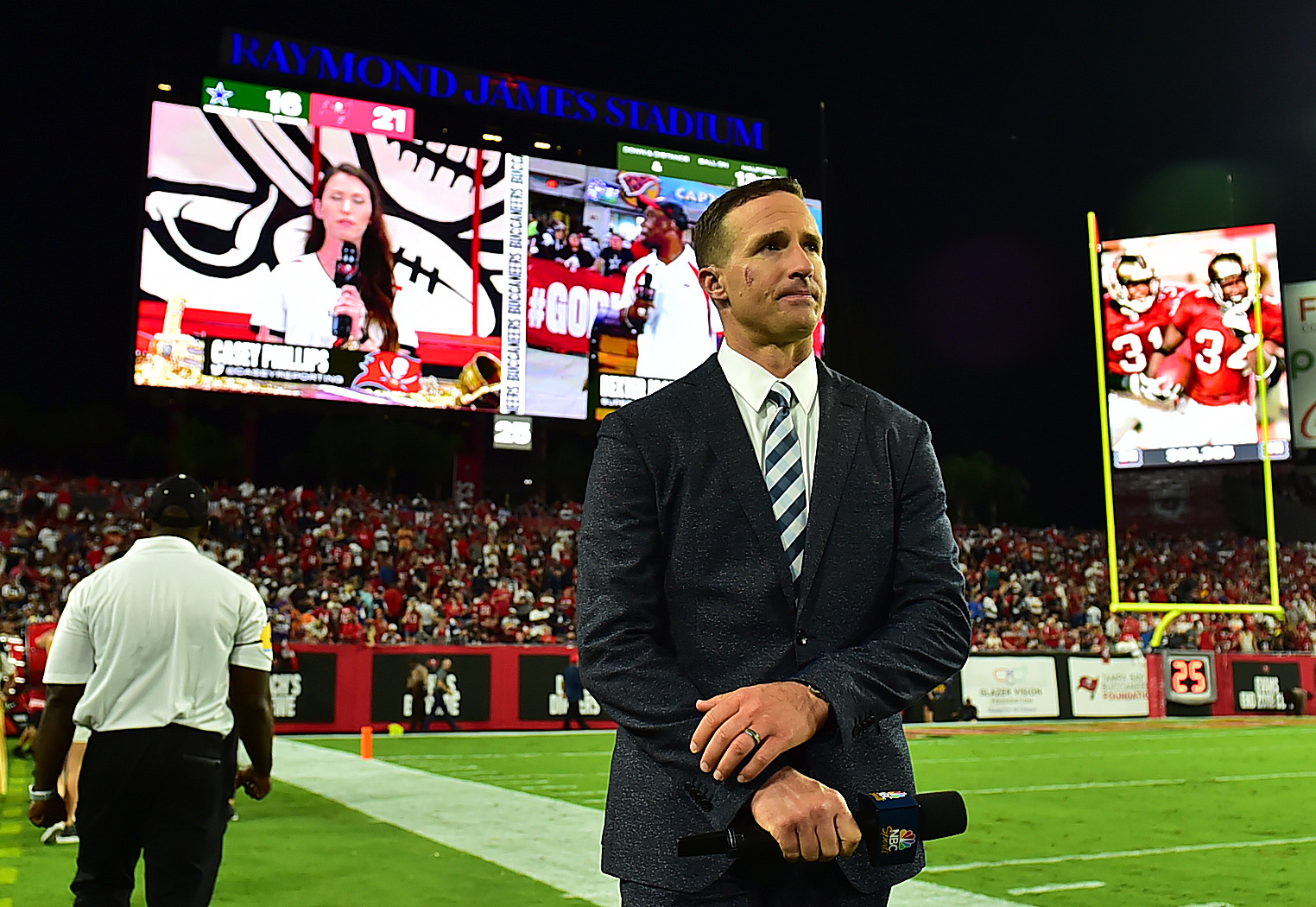 The return of the great Drew Brees would be fantastic to watch in New Orleans. He left on good terms, and he is and always will be regarded as one of the best players in the organization's history. However, there are valid reasons why he left the game, and it is tough to envision a comeback so soon.
With the Saints in the NFC Playoff Picture at 5-2, they need to find a capable starting quarterback. Last season when Brees was injured, Taysom Hill got the nod and was underwhelming.
However, everybody knows Payton's deep-driven love for the gadget-quarterback, and perhaps a Hill-Siemian timeshare is in order once the former BYU star returns from injury.
Regardless, the Saints have a busy week ahead of them to address the quarterback situation. For now, the return of Brees is out the window.
Stats Courtesy of Pro Football Reference
RELATED: The Latest Jameis Winston Injury Update Should Have Saints Fans Desperately Hoping for Cam Newton