Drew Brees, Brett Favre, and Peyton Manning Share a Rare Place in NFL History
There's no doubt that Peyton Manning was one of the best quarterbacks of his era. Yet like so many NFL players at his position over the last 20 seasons, he'll always be, historically, a step below a certain seven-time Super Bowl champion. Thankfully, there are individual records Tom Brady has yet to reach.
One benefit of moving on after two decades with the New England Patriots is the opportunity to go for one of the rarest individual quarterback records in existence: defeating all 32 NFL teams at least once. The feat has been accomplished so few times that only three QBs, including Manning, have ever pulled it off.
The incredible record only Drew Brees, Brett Favre, and Peyton Manning have in common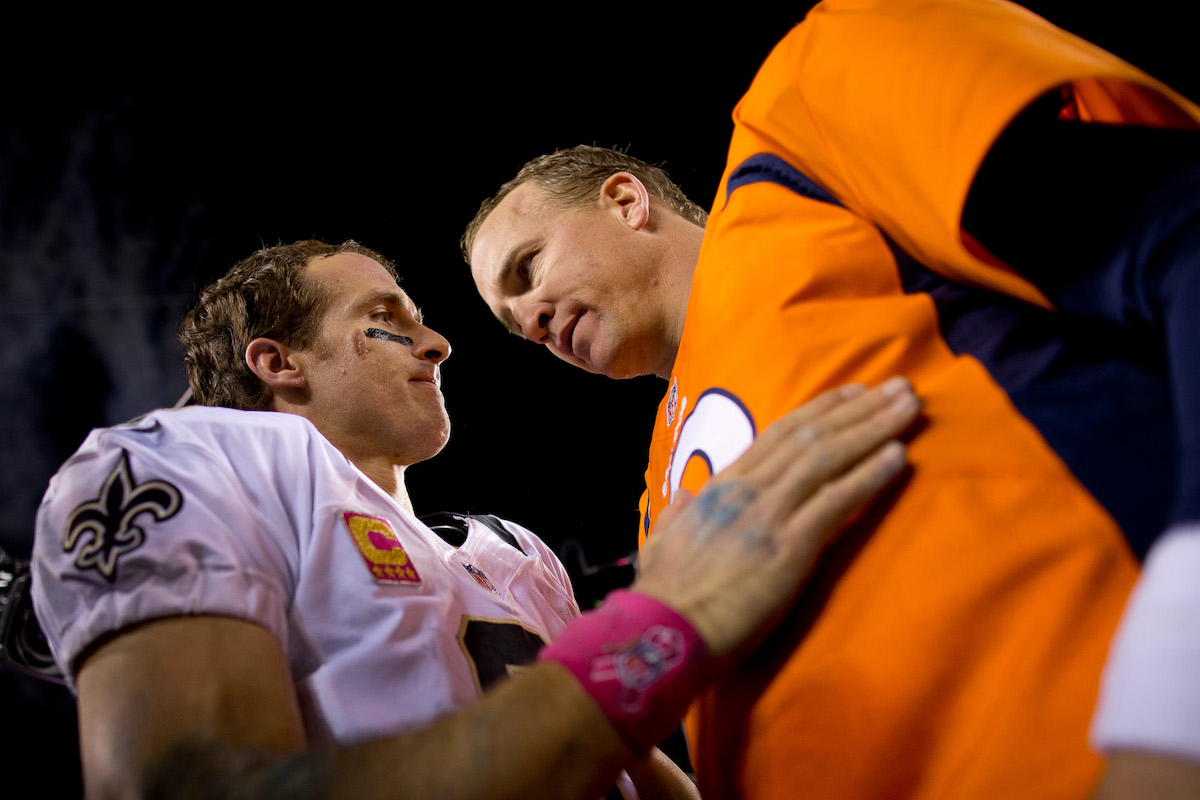 Drew Brees and Brett Favre are the only other quarterbacks to join Manning in defeating all 32 NFL teams during their football careers. CBS Sports reports that it's one of the most exclusive feats at the position, just below Brady's personal trophy collection. Like any record, it'll become less rare over time. But there's a major catch that will keep the club fairly small overall.
Late-career shifts gave all three the opportunity to go on revenge tours against their former teams. While trades are common, the best QBs tend to sign long contracts, a trend recently exemplified by Patrick Mahomes, reports Over the Cap. When a quarterback moves on, they're less likely to tear up every single team they meet, simply because they're not the players they used to be.
Team loyalty and historic quirks kept several star quarterbacks from beating every NFL team
Many of the best quarterbacks in the 32-team era of the NFL haven't accomplished the seemingly straightforward feat of defeating every single team in the league. Consider Aaron Rodgers, Ben Roethlisberger, and John Elway. During their careers, their Hall of Fame fates were assured early on. They defeated every team they faced at one point or another. Except their own.
Rodgers might get a chance to break the cycle, USA Today reports. As long as the disastrous first game of the 2021 season doesn't imply a rapid decline, this should be his final season in Green Bay. Packers fans may have to face the possibility of their longtime hero kicking his former team in the teeth in 2022.
Roethlisberger probably won't get that chance. His own "Last Dance" season will likely mark the end of his NFL career with the Pittsburgh Steelers. Elway was in the same boat, as was Terry Bradshaw. Ken Stabler had the opportunity but never managed to beat his longtime home team, the Oakland Raiders.
Joe Montana and Fran Tarkenton are the only QBs to defeat the entire league in their day. However, they aren't recognized alongside Brees, Favre, and Manning because the current slate of 32 active NFL teams didn't quite exist in their day. We'd be remiss to skip mentioning their accomplishment, of course, given nobody else did it before them.
This October, Tom Brady has his first shot at beating every NFL team
If Brady's career was exceedingly short, he may have found himself in the same context as Montana and Tarkenton. Incredibly, the 44-year-old has been in the league so long that the 32nd NFL team, the Houston Texans, wouldn't field a team until his second season in 2002. In the many years since then, he has at one point or another demolished every single team in the NFL, with the exception of his longtime ex-employer, the New England Patriots.
It's undoubtedly a bitter moment for Patriots head coach Bill Belichick. Four long years ago, he was already making moves to replace both the aging Brady and the injury-addled tight end Rob Gronkowski. On Oct. 3, 2021, he'll face down both after they spent 2020 and now the first week of 2021 ripping through the league. Brady's revenge — and his next rare QB record — will likely go down against his former boss next month.