Drew Brees Just Dealt a Major Blow to ESPN By Following the Money to NBC
In his retirement announcement, former New Orleans Saints quarterback Drew Brees stated, "This is not goodbye, rather a new beginning. Now my real life's work begins!" On Monday, he clarified just what he meant by confirming that he had joined the crew of NBC's Sunday Night Football. In so doing, he struck another blow at ESPN's Monday Night Football, a brand that had struggled for the past few years.
Monday Night Football on ESPN has gone through a rough patch
RELATED: One of the Best Players on the Saints Recruited Russell Wilson to New Orleans on National Television
Technically, the next round of NFL TV contracts have yet to be signed, so we're not 100% sure if Disney will even have the Monday night package in the future. It's probably gonna happen, though. The idea of ESPN not hanging onto the NFL would be ludicrous. The company would sooner put Magic Kingdom up for auction than lose the rights to the most prized possession on sports television.
In recent years, however, Monday Night Football has lost a little bit of its luster. Due in part to its placement on cable television, the package has been saddled with lackluster matchups compared to NBC's Sunday night timeslot.
Not helping matters is the rotating carousel within ESPN's broadcast booth. In their brief times as commentators, Jason Witten actively repelled viewers, and Booger McFarland may have been even worse.
ESPN has plenty of ancillary NFL programming not just on its main television networks, but on its over-the-top service, ESPN+. The league is also the centerpiece of the network's main programming such as SportsCenter, Get Up, and First Take, even during the offseason. Unfortunately, that doesn't translate to a great product when the actual games take place.
Drew Brees spurns ESPN for NBC
RELATED: Cris Collinsworth Tried to Stop NBC From Hiring His Son, Jac, Because He Didn't Want to Be His Co-Worker
On Sunday afternoon, Drew Brees finally ended months of speculation over whether or not he would actually retire. With this Instagram post, he brought his 20-year NFL career to a close.
Going back to the end of the 2019 season, both NBC and ESPN, like vultures, engaged in a bidding war for who would secure Brees' services whenever he retired. It seemed inevitable that he would transition into a career as a broadcaster as many former quarterbacks before him, such as Joe Theismann, Troy Aikman, Tony Romo, and Steve Young.
On Monday's edition of NBC's Today show, Brees made it official: he had chosen NBC over ESPN.
This was actually a foregone conclusion, as NBC had secured Brees' services all the way back in April of 2020. According to Andrew Marchand of the New York Post, the plan is for Brees to take over from Cris Collinsworth as the regular color commentator on Sunday Night Football by 2022. Mike Tirico will work alongside Brees as the play-by-play announcer, replacing the incumbent Al Michaels.
Drew Brees is not the first to say no to Monday Night Football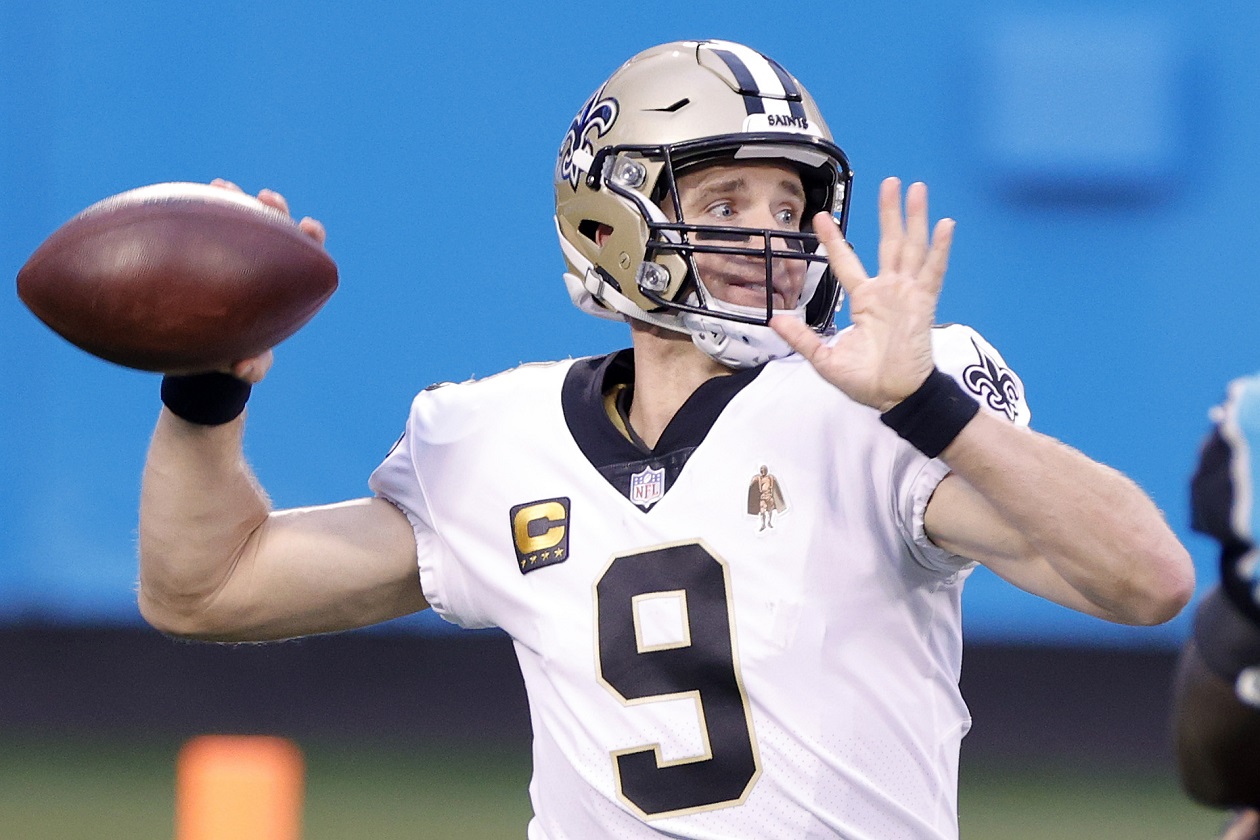 RELATED: ABC Is Inching Even Closer to Regaining the NFL Broadcast Rights
Drew Brees is not the first personality that ESPN has tried and failed to lure to the Monday Night Football booth.
Earlier in 2020, ESPN tried to seduce Tony Romo over to their side when his contract with CBS came up for renewal. Ultimately, CBS came through with a much bigger payday. According to the New York Post, it was $17 million per year over three years. Attempts to attract Peyton Manning and Philip Rivers also failed, although Manning does host a show on ESPN+.
Last season's trio of Steve Levy, Brian Griese, and Louis Riddick was a huge step up from years past. The loss of Drew Brees, however, will be a sharp blow to a product already suffering from a loss of prestige.