Drew Brees Delays Retirement for a Shot at the Super Bowl, But What Will the Saints' Lineup Look Like?
Despite a tumultuous season, the New Orleans Saints were among the league's most competitive for most of 2019. Entering the 2020 season, however, things will change. With Drew Brees on the wrong side of 40 and Teddy Bridgewater and Taysom Hill headed into free agency, the Saints' lineup will look different regardless of who stays and who goes.
What is Drew Brees' future with the Saints?
Drew Brees already expressed that he intends to not only return to the NFL in 2020 but stick with the Saints. Like fellow aging quarterback Tom Brady, Brees remains one of the NFL's best quarterbacks despite his age. Even scarier, he continues breaking records in his forties.
Brees will likely expect a decent offer from the team he brought a Super Bowl. But how long that deal is could be anybody's guess. 
Last year, he wasn't the only quarterback responsible. Bridgewater had a comeback season in his absence. Over a decade younger than the starting quarterback, Bridgewater may not exit in free agency if the Saints want his youth.
Brees is more than a quarterback for the Saints, however. He's a leader. Signing any quarterback in his forties comes with risks, but as Sports Illustrated points out, the risk of letting Brees go for a younger quarterback could do more damage long term. Brees is outperforming nearly every NFL quarterback and still has the best accuracy the league has ever seen.
The Saints will have to find the proper way to both pay their franchise player and keep options open for the future, although that future might need two different quarterbacks behind Brees.
What is Teddy Bridgewater's future with the Saints?
Bridgewater was once one of the most promising quarterbacks in the NFL, but a series of injuries led many to believe his career was over before it had a chance. After several years on benches and in rehab for his injuries, however, Brees's unfortunate early-season injury helped the younger QB have a comeback season. 
Bridgewater appeared in nine games and started five of them. During his five starts, he went undefeated. He threw for 1,384 yards, nine touchdowns, and only two interceptions. Even better, the 27-year-old gave Brees a run for his money with a nearly 68% completion rate. This breakout year was great for the Saints in 2019, but it could hurt them looking forward. 
Bridgewater will likely attract teams desperately seeking a quarterback. Although he's started in just six games since 2015, some experts believe he could get a massive deal this offseason that, at its best, is on-par with some of the best quarterbacks in the league.
Unless Brees signs for cheap, the Saints may be forced to let Bridgewater go unless they know Brees is gone after this season. In that case, they may pull the trigger and sign him, anyway.
What is Taysom Hill's future with the Saints?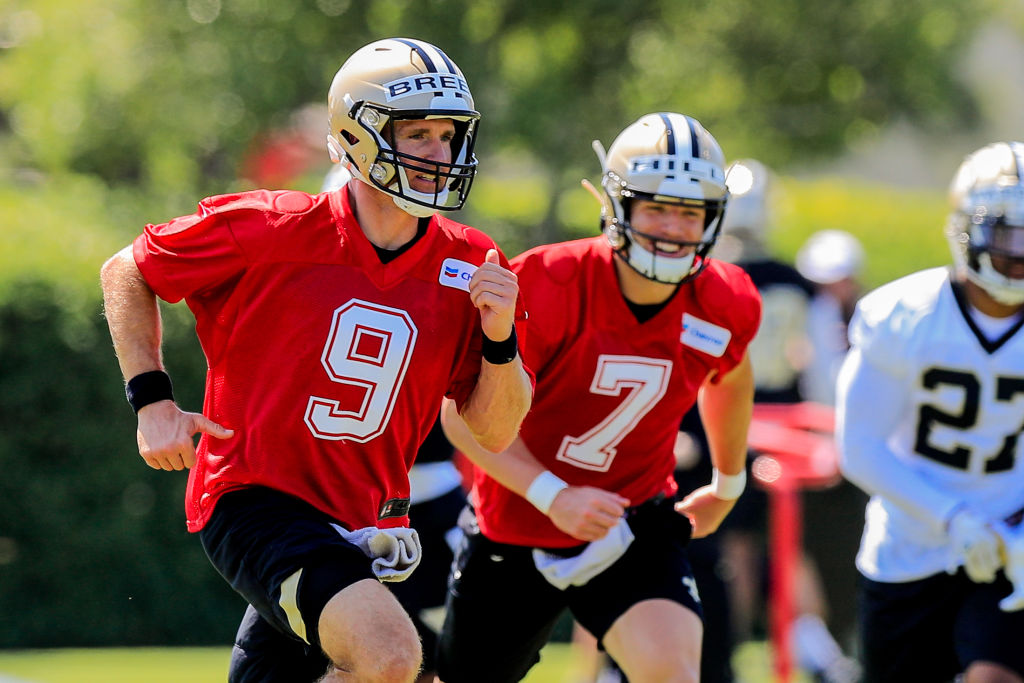 Taysom Hill is in a unique situation with the Saints. As a third-string quarterback, he rarely runs the team's office. Despite this, he is on and off the field throughout the season doing everything from pass-rushing to working with the special teams.
He is the NFL's ultimate utility player. While he might not excite many teams as a quarterback, his skills prove valuable to the Saints despite their unusual nature. Hill, however, wants to start playing at the quarterback position.
While he's been open to becoming Brees's backup in the near future, he wants to feel like he has an opportunity to become a franchise quarterback. At 30 years old, however, Hill is older than most who are still looking for their first shot at quarterback glory.
The Saints have a unique opportunity of having three incredibly valuable quarterbacks on their roster. By the start of next season, however, that number could dwindle. The team will have to decide what to do about their aging quarterback. If not, the Brees farewell tour could prove bittersweet and begin another brush with team mediocrity.
Follow more updates from Sportscasting on our Facebook page.