Drew Brees Drops a Major Truth Bomb on the Rest of the NFL Regarding Dak Prescott and the Cowboys' Scorching Hot Start
Heading into the 2021 NFL season, the Dallas Cowboys were an uncertain figure in the NFL landscape. Dak Prescott was coming off a nasty ankle injury and was dealing with shoulder soreness during training camp, and the team's defense was still largely unproven.
Throw in a controversial head coach in Mike McCarthy, and there was definitely a reason to believe the Cowboys weren't ready to contend in 2021.
Flash forward to Week 6, and nearly all doubts have been removed. The Cowboys have won five straight and sit atop the NFC East. Prescott is playing like an MVP candidate, and people are beginning to take notice.
Drew Brees is all the way in on Dak Prescott
During the Cowboys' Week 6 game this past weekend, former New Orleans Saints QB Drew Brees was involved as a commentator. At one point, he chimed in, saying Prescott is playing like a "top-three" quarterback at the moment.
That's quite the high praise from a player who was once considered a top-three quarterback himself.
Prescott lived up to Brees' lofty expectations during the Cowboys' win over New England, for what it's worth. He passed for 445 yards and three touchdowns, including the game-winner to wide receiver CeeDee Lamb.
It was another impressive performance from Prescott, helping the Cowboys improve their record to 5-1.
Is Brees correct to label Prescott top-three in the NFL?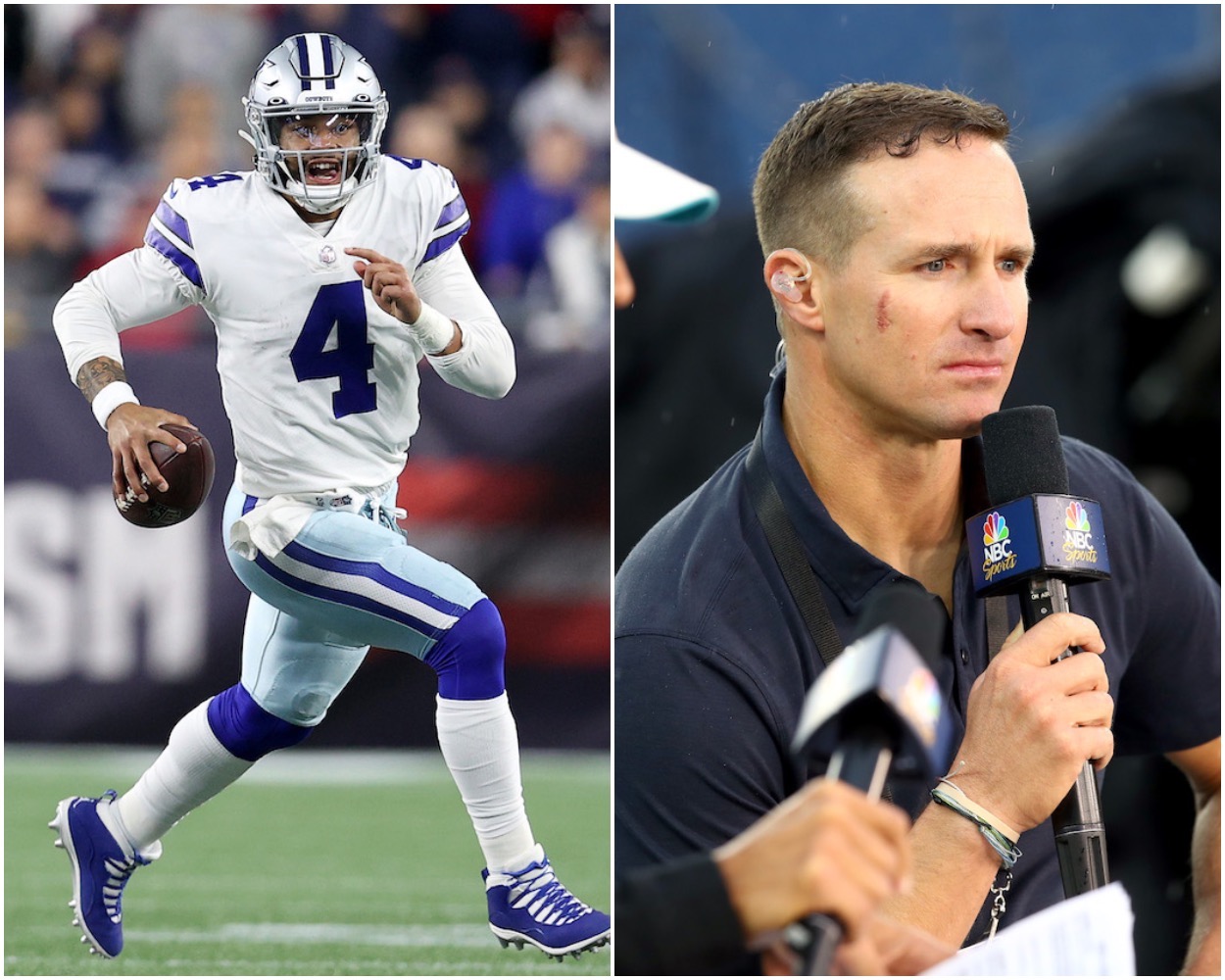 While Prescott definitely looked the part of an elite quarterback during the Cowboys' most recent win, it's worth questioning whether any real statistical data backs Brees' comments.
Coming out of Week 6, Prescott currently ranks fifth in passing yards, tied for third in passing touchdowns, fourth in passer rating, and 15th in QBR (quarterback rating). It's also worth mentioning Football Outsiders has Prescott ranked third in DVOA, a statistic that measures defense-adjusted value over average.
Depending on which numbers you value the most, you can definitely make an argument for Prescott being the third-best QB in the NFL at the moment (as Football Outsiders suggests). However, you can also safely argue that Prescott is more so a top-five or top-ten type talent. His QBR score really drags down his resume (QBR can be a very flawed stat at times).
The NFL contains quarterbacks like Tom Brady, Kyler Murray, Lamar Jackson, and Josh Allen. It's pretty challenging to be considered a consensus "top-three" talent. Regardless, Prescott is certainly playing like an elite QB this season. The Cowboys comfortably lead the NFC East, and Prescott is easily racking up the yards and touchdowns.
Super Bowl or bust for the Cowboys?
Prescott is playing the best football of his career, and the Dallas defense is starting to develop. The likelihood of a deep playoff run appears in the Cowboys' future.
The NFC East should offer little resistance over the next 12 weeks of football, which means Prescott and the Cowboys can start worrying about fellow NFC competitors, teams like the Tampa Bay Buccaneers, Arizona Cardinals, and Los Angeles Rams.
Those are the teams Dallas has to beat if they want to make the Super Bowl this year. Those are the teams Prescott has to beat if he wants to be considered a consensus top-three talent.
All stats courtesy of Pro Football Reference.
RELATED: Jalen Hurts Being Compared to Tim Tebow Is Proof the Eagles Need to Aggressively Pursue a New QB in the Offseason